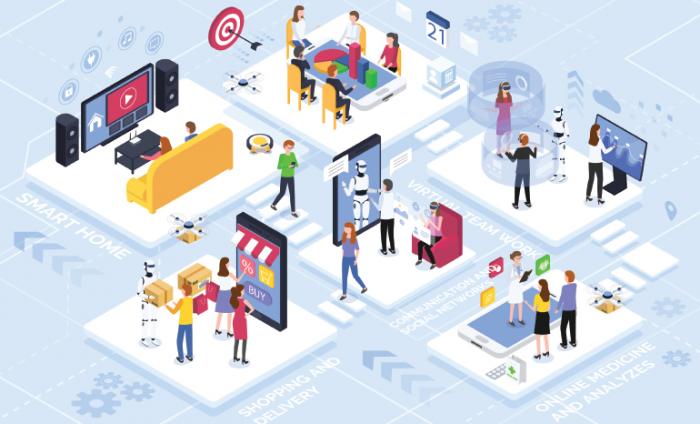 Due to the COVID-19 pandemic, many businesses around the world have struggled to survive in these new, harsh conditions that have affected industries across the board. Those that have managed to navigate through the rough seas, will now need to reset and adapt to the changed conditions. At this time, it is more important than ever that business and management schools make a concerted effort to bridge the gap between the classroom and the world of business.
The university experience for students and staff is changing rapidly in response to the new challenges posed by the pandemic. For the foreseeable future, all of us will have to find new ways of interacting and engaging with each other through virtual and digital platforms.
In this digital bubble, it is ever more important to help students connect with the world of business to give them an insight into and understanding of critical and strategic business challenges that organisations across industries are facing.
Blending academia with the world of business has always been essential for business and management schools. But now, as organisations have to reformat themselves in readiness for the post-COVID-19 era, there is a heightened need for connecting management students with strategic decision-makers and organisations in transition.
Connecting students with the world of business at UCl Som
There are many ways that the 'real world of business' can be brought into the classroom depending on the set learning objectives, time scales, level of involvement and expected outputs. Across UCL School of Management, students are introduced to organisations through consultancy projects, case studies, simulations, guest talks, panel discussions and more.
For several years, engaging with business has been a priority in my module design to ensure that students gain insight into how organisations operate, drive innovation and respond to digital transformation opportunities. This year, I organised a talk with a senior leader at AXA UK, a leading global insurer, for students to learn how the organisation is adapting to fierce competition and digitalising its product portfolio. We also welcomed the Chief Product Officer from the disruptive tech company, Molo Finance, to explain how he drives customer-led propositions that strike the right balance of commercial strategy and technology capabilities. As a new learning experience this year, I also developed pre-recorded video case studies with strategic decision-makers within my network, enabling students to 'step into the shoes' of those driving transformation and innovation and exposing students to critical incidents, decisions and considerations.
One of the highlights this year, was a live guest talk provided by a representative from IBM's Cyber Security and Threat Management team. Students were introduced to the cyber threat landscape and how IBM offers protection and support to organisations. To put this into a real-life context, we experienced a unique live 'hacking' demo using the latest digital tools and techniques often adopted by threat actors to exploit organisations. Students then learnt how IBM's intelligent software can be used to detect and prevent such security threats. This was a fantastic opportunity for students to 'get behind the scenes' of one of the world's largest tech companies and see for themselves what happens when an organisation is attacked by cyber criminals. The talk and live demonstration were in fact delivered virtually, as we had already entered lockdown in the UK.
As we explore new ways of delivering a high-quality learning and teaching experience for students across faculties and programmes, it is crucial that we consider how we can continue to engage with organisations and strategic decision-makers and infuse their knowledge and insight into our educational design. This means that some of the typically face-to-face opportunities that we offer our students will need to be digitally reformatted and designed to drive impact and insight across virtual learning and teaching formats.