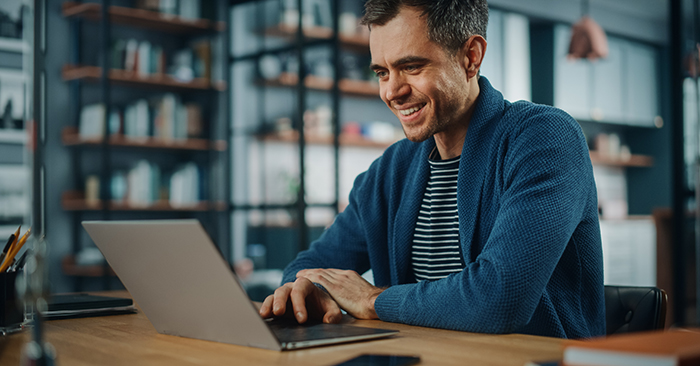 Overview
Start dates: The UCL MBA is a classroom-based MBA, delivered online with multiple start dates.
Duration: Depending on your schedule, you may complete your MBA online in as few as 24 months or as many as 60 months.
Tuition fees: £42,500. Scholarships are available.
Application deadline: Deadlines vary by desired start date. View upcoming deadlines.
Meet us at a QS fair near you
Programme
The UCL MBA programme is designed to give experienced business professionals the skills, insights and fresh perspectives they need to write their own leadership story.
The programme structure goes beyond traditional online MBAs by stressing the use of data, technology and information to forecast critical issues, guide business choices and navigate uncertain situations in a global context. It includes:
8 core modules (120 credits) that equip you with a strong foundational knowledge of business processes, practices and functions.
4 advanced electives (60 credits) that enhance knowledge accrued in the core modules and help you refine your expertise.
1 capstone project (30 credits) that utilises techniques learned in the programme to analyse and forecast growth potential for a focal organisation or industry.
View our modules and the complete programme structure.
The UCL MBA online learning experience
The University College London MBA delivers an interactive, data-centric, future-focused curriculum to busy professionals wherever they are in the world. The programme was designed to be delivered online from the start, rather than retrofitted from an on-campus programme. You will find seamless technological integration, helpful tools and easy access to academics – all within a digital campus that fosters relationship-building and live collaboration.
Orientations and immersions
The UCL MBA programme includes optional opportunities to connect with peers, academics and industry leaders. The orientation is three days, while immersions span four days. In-person gatherings typically take place in London right now, but there are plans in place for students to explore leading business markets around the globe, including potential destinations such as New York, Dubai and Hong Kong.
Learn more about Orientations and Immersions.
Applications
This is a competitive programme. When reviewing online MBA applications, we take a holistic look at academic history, professional experience, your personal statement, references and admissions interview. Our entry requirements provide the University College London Admissions Committee with information that is pivotal for choosing the best candidates for the programme.
Minimum entry requirements
A good undergraduate degree from a recognised university – a minimum of UK Second Class Honours (Upper Division - 2:1) or the international equivalent, as well as a minimum of five years' full-time work experience after completion of an undergraduate degree and before starting the MBA programme, or a minimum of seven years' work experience, with a least two years spent in a senior executive leadership role, if you do not have a good undergraduate degree.
A 'Level 3' English language qualification is required for this programme.
English as a native language or
Achieved an 'advanced' level of English in any English language qualification or test recognised by UCL.
Learn more about English language requirements
This programme does not require results from a GMAT, GRE or equivalent standardised test. Applicants who have taken a test are encouraged to submit their results if they feel their score will strengthen their application.
Application materials
Personal statement (3–4 essays)
Two references, one from a mentor or supervisor and one from a peer or coworker
Resume/CV
Official transcripts from all degree-granting institutions attended
Video interview
Meet the English language requirements
Application fee
View Admissions FAQs or connect with our dedicated admissions team who can help guide you through the application process.
Funding your MBA
Total fees for students starting in the 2023/24 academic year are £42,500 for the entirety of the programme, or £3,035 per 15-credit module and £6,070 for the final 30-credit capstone project. 
Students who are made an offer to study with us will be required to submit a £1,000 tuition fee deposit to reserve their place in the programme. The fees quoted here do not include costs related to books, immersion expenses or other materials. Additional costs should not exceed £500 over the entire programme.
Flexible payments
While many MBA programmes require a single, large payment up front, the UCL MBA offers pay-as-you-go tuition, as well as a number of other flexible payment options that allow you to fund your degree in a way that works best for you.
Connect with our dedicated admissions team who can help guide you through the application process
Career support
The UCL MBA is designed to prepare you for leadership success, and we are committed to helping you achieve that. We offer executive coaching, career support and access to our global network of more than 300,000 graduates.
Download a programme prospectus and connect with our dedicated admissions team to learn more about the UCL MBA difference
[1] QS World University Rankings 2023. Accessed October 2022.
Frequently asked questions
How does online learning work?
Our programme is designed to deliver the UCL classroom to you, with the same stimulating conversations and outstanding academics that you'll find in our on-campus modules – the only difference is the flexible mode of delivery.
Real-time discussions: You will be required to participate in weekly live classroom sessions hosted on the Zoom HD video conferencing platform. You will engage in dynamic discussions with other students and academics, share what you learned from required asynchronous work and learn from one another's diverse business experiences and perspectives.
Collaborative classroom features: In addition to lively discussions, students may use chat, breakout rooms and presentation-sharing options to communicate with others while mastering important concepts.
Recorded content: Most live sessions are recorded, which means you can review concepts and discussion points at length after class has ended.
Will I attend classes or will everything just be available online?
Yes, you will be expected to attend compulsory weekly live sessions for each of your modules. Live sessions are the best way to contextualise module information into actionable knowledge. By interacting with your peers and academics in a dynamic classroom, you are learning how the concepts taught in the programme apply across a broad range of industries and cultures. Attending classes also helps you broaden your personal and professional network-building relationships with your cohort.
These live classes are delivered via the Zoom video conferencing platform. The sessions are 90 minutes in length and are offered Monday through Thursday evenings (UK time).
How big are the classes?
Class sizes are limited to 20 students but typically range between 12 and 18 students. This allows for a variety of perspectives to be represented in the live seminar while maintaining an environment small enough for individual attention from academics.
Where can I see details for each of the modules?
Will I have access to the UCL facilities?
Yes, as a student taking our online MBA, you will be entitled to the same services offered to all on-campus students, which includes 18 libraries and learning spaces located across London, as well as a series of museums and collections. You are eligible for a student ID card, which can be obtained during your first campus visit. You will also have access to a wealth of remote tools, such as IT support and our e-library that provides additional access to journals, newspapers, databases and more.
What if I miss a live class session?
Live sessions are compulsory, but we also understand that life happens. There may be a time when you are unable to attend your live session due to unforeseen circumstances or work commitments. With a small number of students in each live session, we would expect you to communicate directly with academics, as well as your student success advisor, to help you catch up on materials. If you know you will be missing a live seminar, it is helpful to let the modules seminar leader know in advance if possible. The sessions are recorded so you will have the opportunity to view the valuable insights shared in the live session. 
What types of learning materials will I use?
The programme consists of asynchronous and synchronous learning materials.
Synchronous materials include required weekly live sessions for each of your modules. This is a great way to interact face-to-face with academics and peers in real time, building a solid foundation for networking with your peers.
These live classes are delivered via Zoom, a video conferencing platform. The sessions are 90 minutes in length and are offered Monday through Thursday evenings (UK time).
Asynchronous materials include content and classwork that is available via our digital learning platform for you to study when it's convenient for you. This content includes prerecorded/guided video lectures, interactive videos, presentations, module notes, discussion forums and written assignments.
I don't live in the UK. Will I be required to visit as part of the programme?
No, the programme is offered entirely online and you are not required to come to London. That said, all enrolled students are actively encouraged to join our optional on-campus orientation and immersions.
Note: Due to the flexible nature of the programme, University College London is not able to sponsor UCL MBA students for entry to the UK on a Tier 4 (General) Student Visa.