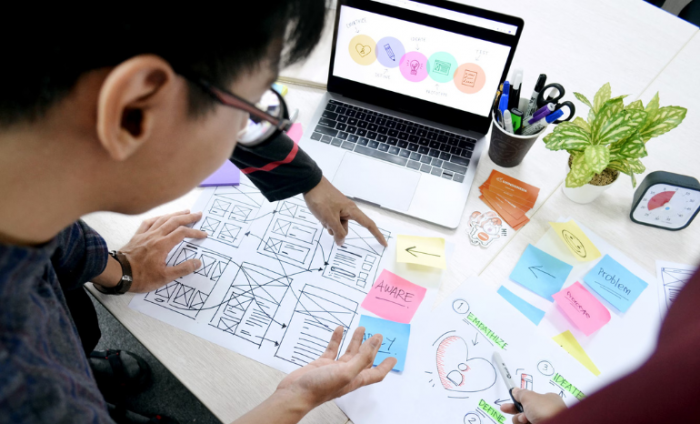 Earlier this week, Hayley Ward, Director of User Research and Insights at Deliveroo, shared her extensive experience on how research and insight can be gathered and utilised in order to drive customer acquisition and engagement, as well as support new product developments and market expansion. This industry-speaker session was specifically developed for students on the UCL Digital Conversations & Marketing module as part of the BSc Information Management for Business programme at UCL School of Management.
The Digital Conversations & Marketing module is led by Dr Rikke Duus and explores the transformation of marketing, communications and value creation in digital spheres. The module is delivered as weekly 3-hour workshop-based sessions, developing students' practical marketing skills and digital capabilities. Prior to joining Deliveroo as Director of User Research and Insights, Hayley gained extensive experience in senior marketing and customer experience roles with organisations such as Marks & Spencer and Telefonica/O2.
During the talk, Hayley explained the importance of research in organisations and how research teams help drive innovation, customer engagement initiatives, campaigns, and market expansion. The approach by the Deliveroo research and insights teams is to obtain a 360 customer view by drawing on a multitude of different data sources - from internal transactional data to secondary data sources and conducting in-house and agency-led primary research, which can guide and influence decisions made across the organisation.
To help students understand the role and impact of research in practice, Hayley shared several fascinating case examples that demonstrated how research at Deliveroo drives campaign development to ensure strong brand propositions in highly competitive markets. It also ensures real-time understanding of customer experiences, needs, preferences and emotions and enables competitive new market entry that takes into account the local and cultural context, consumer habits and specific market communications requirements.
Students on this module will now take this knowledge and insight forward as they work on their individual interactive multi-media platforms where they assess and evaluate the digital marketing strategy of a chosen organisation, leading to impactful recommendations.
Discussing the talk, third-year student Qasim Naqvi said, 'Hayley's talk was extremely engaging and, personally, gave me a great insight into a career area that I hadn't seriously considered before. She spoke about the methods that they use at Deliveroo and it was extremely valuable to understand their approach in the tricky market of food delivery. I found out about new and different research methods alongside new technologies, which furthered my understanding of the industry. Additionally, I think that Hayley set the foundations for anyone seeking or needing to gain insights from the market, and this is a skill that I value highly'.
Learn more about our BSc Information Management for Business programme.