Overview
Start date: September 2024
Duration: 3 years (Full-time only)
Fees: UK - £9,250 (per annum). Overseas - £37,500 (per annum)  
Application deadline: 31 January 2024 (18:00 UK time)
Entry: Grades AAA. Other qualifications are accepted.
Programme
Developed in close collaboration with some of the UK's most well-known companies, this pioneering degree programme offers a distinctive balance of IT, Management, and Business to ensure that you have the skills and expertise needed to thrive in the industries of the future.
At every level, UCL's Information Management for Business (IMB) undergraduate degree programme is underpinned by emerging research and practice. The School of Management focuses on the impact of innovation, new technologies, analytics, and entrepreneurship on business transformation. It delivers world-class research through four research groups: Organisations & Innovation, Strategy & Entrepreneurship, Operations & Technology, and Marketing & Analytics. These provide the cutting-edge context within which the IMB programme has been developed and continues to evolve.
This programme, which is a business and management degree programme, benefits from the close collaboration and know-how provided by our colleagues in the Department of Information Studies (DIS), an international centre for knowledge creation and transfer, whose research aims to develop the understanding and insights needed to shape the emerging information environment.
Hence, alongside the development of analytical tools and modelling skills appropriate to the business applications of IT the IMB degree is designed to develop you as an independent thinker and as a confident and creative problem solver who is ready and able to contribute to the next wave of business transformation.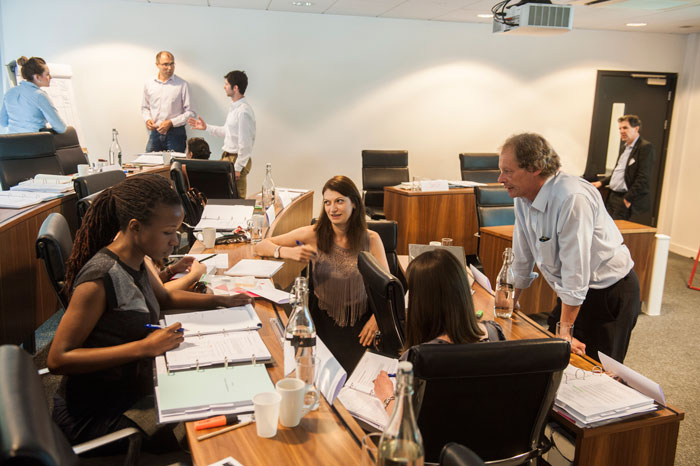 Programme for students starting Year 1 in September 2024
To view information about the modules on this programme, enter the module code (eg MSIN0002) in UCL's Online Module Catalogue.
Current students: if you wish to see your programme, please login to Moodle to access.
The purpose of the first year is to provide you with the best possible grounding in information technology, leadership and management. This serves as a foundation for the development of professional skills, knowledge, understanding and expertise throughout the rest of the programme. You will take eight compulsory modules in the first year covering both IT and management subjects.
The second year further develops core knowledge whilst allowing specialisation through the choice of an elective module from a set of options that reflect typical graduate destinations. In this way, you are able to develop the skills and knowledge most appropriate to your career aspirations. You will take seven compulsory modules in the second year covering IT, finance and management subjects and you will also select one elective module from a list of guided options.  
The final year consists of four compulsory taught modules, the extended project, and the opportunity to select a further two elective modules enabling you to further develop your skills and proficiency in areas most appropriate to your own learning and career ambitions.
Before the start of the final year you will be expected to identify a specific area for an extended project, which is often undertaken in close collaboration with one or more employers in our network. Project options range from more academically-oriented dissertations, through consultancy style, problem-oriented, projects to the exploration of new business opportunities in an enterprise project.
Teaching methods and typical contact hours
Teaching and learning is conducted through lectures, seminars and computer practicals and is supported by a developing digital campus. You will participate in business-focused workshops, industry guest lectures and scenario-based challenges, as well as a variety of activities including individual and group projects, timed examinations, quizzes and presentations. Extensive background reading and independent research are required throughout the programme.  
Students usually study 4 modules in each term. On each of the compulsory modules, there are typically 3 contact hours per week over 10 weeks, which are usually split into 2-hour lectures and 1-hour seminars. In addition, students spend 6-9 hours on independent study to further develop the skills and knowledge covered in lectures and seminars and 2-3 hours on assessment.  
The breakdown in relation to optional modules will vary depending on the optional modules selected.  
Part-time study programme
We do not offer a part-time study programme on the BSc Information Management for Business programme.
Extra-Curricular Activities
Throughout the programme you will be able to take advantage of extra-curricular activities and scenario weeks which reinforce your knowledge and afford the opportunity for you to work with academic and industry leaders.
As a student of the Faculty of Engineering you will also take part in the "How to Change the World " programme, where students from all engineering departments collaborate on challenge-based, problem-solving activities. Working with partners from organisations such as the Red Cross/Red Crescent, Department of Transport, Department of Energy and Climate Change, and the World Bank, students gain the chance to examine real-world challenges in creative, interdisciplinary teams.
We actively encourage students to engage with UCL's large and diverse range of societies. It shows commitment, teamwork, and self-development. If you want to go one step further, you can join your club or society's committee and get some management experience too.
The School of Management has its own student society whose core work consists of serving the best interest of the students of the school through a mixture of social and academic events including networking sessions and employer panel events. All students of the School of Management automatically become members of the School of Management society.
Diversity
UCL was founded in 1826 as a radically different university, opening up higher education for the first time to people of all beliefs and social backgrounds. It was also the first English university to admit women students on equal terms with men.
'A diverse intellectual community, who are engaged with and changing the world for the better; recognised for our thought leadership and critical thinking; and the catalyst for London to be the world's leading centre of learning, research, innovation and enterprise.'
We typically we have between 100-140 students join the IMB programme each year and currently, there are approximately 40 nationalities represented in the programme. Our ambition is to achieve an equal gender split of 50:50 females to males.
Employability & Careers
The programme will provide you with many skills, including: a solid core in business, project management and team-working; greater depth and breadth in technical capacities; and a foundation in excellent leadership. You will develop the professional, personal and inter-personal skills to enable effective communication at all levels within an organisation.
IMB graduates work with leading companies in the UK and internationally, in sectors as diverse as investment banking, computer programming & consultancy, advertising, insurance and management consultancy.
From the first week of your studies our close contacts with employers will provide you with opportunities to work with leading companies. The leadership, professional, technical and personal skills developed during your degree programme will provide you with a very broad range of employment and study options upon graduation.
The IMB Team provides bespoke and exclusive careers support throughout your time at UCL, and as you climb the ladder throughout your career.
Our Careers Consultants give you the skills to impress potential employers by providing careers coaching and guidance via 1:1s and group workshops, while our Employer Engagement Team facilitate connections with employers both in the UK and globally via bespoke employer event programmes.
This is an essential complement to our academic programmes, enabling us to best prepare you for your future careers, and support you to identify and achieve your goals.
Read more about Careers and Employability 
Student profile
Who is this programme designed for?
The UCL Information Management for Business undergraduate degree programme aims to develop you academically, professionally and personally, and to cultivate interpersonal skills and acumen to enable you to become creative managers and influential leaders. In this innovative programme, the development of effective business, project management, and personal skills are as important as technical skills.
If you are passionate about the how technology drives business and want to push yourself in your quest to forge a career in the industries of the future, or want to develop your knowledge of IT, management and leadership then this programme will be instrumental in achieving your goals.
What our students say
If you want to know why you should consider the BSc Information Management for Business (IMB) programme, read what some of our past students have had to say….
"I left here last July and since then I have been working for one of the 'big four' consultancies – and I have put into practice everything I learned on the programme."
"Having studied IMB at UCL, I am now on the education development PhD programme at Oxford University – and would not be here if it had not been for the top quality education that I received at UCL."
"The support we get from the programme director and teaching team is second to none. Everyone is friendly, approachable and supportive, and nothing is too much trouble."
"When I first arrived here, I wondered what to expect. I needn't have worried at all – the staff were all very welcoming, and within a week I had made friends who will stay with me for the rest of my life."
"It is a truly international programme with people from all over the world. And UCL is a great place to study."
"I would not have got my job at ITV without the breadth and depth of education that the IMB programme provides. It has set me up for the whole of my career."
Applications
The IMB programme is about connecting business with technology in the new digital economy and we are looking for students who are innovative, resourceful, and adaptable.
When we assess your application, we will be seeking to learn:
Why you want to study Information Management for Business at UCL;
How you perceive the interaction between IT, management and business;
Where you have undertaken specific activities with tangible outcomes, not simply your aspirations.
How to apply
Applying for BSc Information Management for Business
You will need to apply for this programme through the UK Universities and Colleges Admissions Service (UCAS) system. The earlier you apply the better, as the programme is very heavily over-subscribed.
Find out more about applying for courses through UCAS
Entry requirements
GGCSE requirements are for Home applicants who have been solely educated in the UK (ie they do not apply to International applicants completing their A Levels in the UK). We require English Language at grade B or 6 and Mathematics at Grade C or 5 (Mathematics at grade A or 7, if not offered at A level).
You will need AAA grades at Advanced (A) level; Science or Social Sciences preferred. This is the minimum requirement needed to apply to the IMB programme. You can find further details on preferred subjects here. 
A variety of other qualifications are accepted from the UK and worldwide. 
If English is not your first language, from 2024 UCL's English language requirement for this programme is 'Level 4'. Further details and a list of acceptable English Language tests can be seen here. 
Fees
You can find out about course fees here
Further information and contact details
For all admissions related enquiries, please see the Undergraduate Admissions Website. Remember to always include your UCAS ID number in your email.
Additional Costs
As previously noted, there are opportunities to study abroad or undertake a year in industry - these are not a core component of the programme. Please note that students who wish to undertake a study abroad or extra-mural year in industry opportunity are likely to incur additional costs. These costs are difficult to predict and will vary depending on the location you choose to study or work, your personal preferences and the prevailing exchange rate and cost of living.  
This programme may also include opportunities for students to undertake optional international study trips. The costs of such trips will be covered by students although grants may be available, depending on the destination, organisational and support responsibilities, etc. On average, costs would be around £1,000 to £1,750 depending on the trip location, personal flight preferences and spending habits as well as the prevailing exchange rates. Places on field trips are subject to approval and availability.
This programme does not have any other additional costs outside of purchasing books or stationery, printing, thesis binding or photocopying.
When to apply
You can apply to this programme through the UK Universities and Colleges Admissions Service (UCAS) system from 05 September 2022 for entry in September the following year. 
Open days
UCL provides regular open days and other forms of public access. Anyone wishing to visit to discuss the BSc Information Management for Business (IMB) programme and the opportunities that it provides is always very welcome to do so. Additionally, we provide open days for particular schools and other student groups by prior arrangement.
Scholarships
Scholarships are available through UCL for all years of study. Competition for scholarships is fierce, however, and to stand a chance of being chosen you will need to show evidence of commitment and the potential for high achievement.
Application for scholarships and bursaries must be made either when confirming your place before the start of your studies, or else at the start of each year of study.
Further information about scholarships and funding can be found here
Contact
For further information regarding the IMB programme, please contact Nicola Cockerton, Undergraduate Administrator, UCL School of Management.
Email: mgmt-imb@ucl.ac.uk  
Careers
Career opportunities
Our students have the world at their feet.
The Information Management for Business programme combines the highest quality of education, a pioneering and ground-breaking approach to the relationship between technology, business and management, and links to industry and commerce. As a result, IMB graduates go on to work in banking, consultancy, financial services and industry, as well as having the pick of postgraduate choices, including places at UCL and all of the top universities in the world.
As an Information Management for Business student, you will benefit from a bespoke Careers and Employer Engagement programme and a dedicated careers team who will help you present yourself to leading graduate employers with confidence.
Our portfolio of careers support for IMB students includes:
Individual career coaching sessions with Careers Consultants dedicated to the School of Management
Regular careers and professional development workshops on topics including marketing yourself as a candidate, interviews, internships and planning your next steps
Exclusive industry insight sessions and employer-led events accessible only by School of Management students to inform your career choices
Access to UCL School of Management alumni keen to support you with your career
For further information on the Careers provision for UCL School of Management, please see our Careers page.
In addition to the bespoke activities within the School of Management, you also have access to the central UCL Careers provision. Every year over 1000 employers/organisations attend events arranged by UCL Careers, including careers fairs, employer presentations and sector 'themed weeks', which may include employer forums, networking events, talks on how to get into the sector and one-to-one advice sessions.
Please click here to go to our careers support page.
Internships and work experience
Contacts with the companies and organisations which support the Information Management for Business (IMB) programme start early in the first year of the course. You will be introduced to people from the largest and most successful organisations in every industrial, commercial, consulting and financial sector right from the start of your studies. This means that you can begin to form your own impressions of the types of organisations that you would like to work for and the careers on offer – and, in particular, the careers that inspire you.
The companies offer a variety of work opportunities to suit all student requirements. These range from short periods of work shadowing and observing, to the opportunity to take a full year out on an industrial or commercial placement. There are also plenty of options for placements of between one and four months, which are taken during the summer vacation.
Students wishing to take a full year out need to arrange this with the programme director and the company offering the placement. A full year out is normally taken between the second and third year.
The list of opportunities for work experience, internships and industrial and organisation placements is growing all of the time. 
Video Library
FAQs
I'm interested in taking a degree in business studies or business management. Is this course for me?
This is not a generic business studies or business management degree programme. However, if you are interested in exploring how technology impacts on business then IMB is the programme for you.
I'm interested in taking a degree in computer science. Is this course for me?
Whilst coding does play a part in the curriculum, this is not a computer science degree programme. However, if you are interested in how technology impacts on business then IMB is the programme for you.
Do I need technical skills, such as coding, to undertake this course?
No. Whilst coding does play a part in the curriculum we assume no prior knowledge of programming or previous computer science studies.
How do I apply?
To apply for this programme, you need to do submit an applications via UCAS - 
https://www.ucas.com
 - from 05 September onwards for entry in September the following year.
When do applications open?
You can apply to this programme from 05 September each year, for entry the following year in September.
How much does it cost to study on this programme?
Do you run open days?
Yes, we run open days at the same time as the rest of UCL. For the latest information on dates and tickets, please take a look at the
UCL Open Day site
.