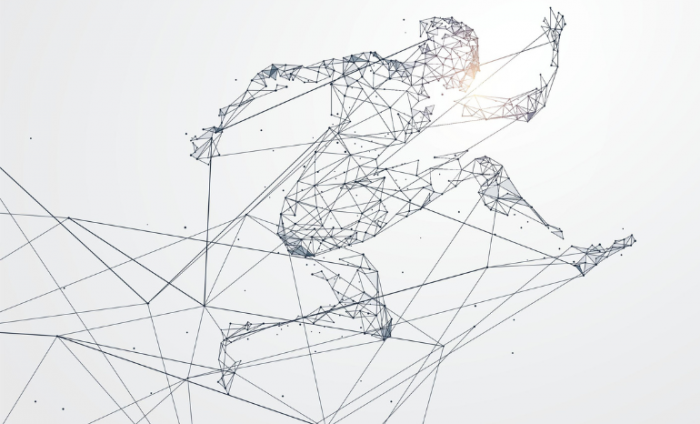 Last week, UCL School of Management's BSc Information Management for Business (IMB) students were given the opportunity to learn more about digital transformation strategies and digitally-enabled customer engagement from the Director of Wellness and Operations at Nuffield Health, Chris Scragg. The talk was delivered as part of the second year Digital Strategy & Transformation module, led by Associate Professor Dr Rikke Duus.
The module explores how organisations, including private sector, public sector and entrepreneurial ventures, create value to end-users and other stakeholders through digital transformation activities and initiatives. Part of the senior leadership team at Nuffield Health, Chris specialises in business models, strategy and organisational design, and also leads on the operating model that will turn Nuffield Health's strategy into tangible customer value.
During the talk, Chris provided an insightful breakdown of what it takes for a large, complex organisation, operating in a highly competitive and fast-moving industry sector, to digitally-evolve and identify new strategic paths to create solutions and offerings for customers. Students gained critical insight into the importance of reviewing and assessing the organisation's business model to drive innovation; embracing the shift to operating in ecosystems with diverse partners; and mapping customer journeys as a method to identify where and how to adapt the customer experience and product/service offering. Overall, the message shared by Chris was that digital transformation is by no means an easy undertaking. It requires a lot of resources, organisational restructuring, and typically a new strategic vision.
Students on this module will now take this knowledge and insight forward as they work on their own team-based digital transformation projects for a chosen client organisation. Discussing his thoughts on the guest talk, current IMB student Danial Ahmad shared the following: "When researching digital transformation strategies implemented by different companies, it was challenging to find the exact steps taken by these companies to achieve their transformation.
Mr. Chris Scragg demystified the digital transformation process, and guided us through Nuffield Health's journey to become more digital. The insights provided in Mr. Scragg's talk were unlike any information I had found through my research, and were extremely valuable for my understanding of the approach taken by companies to enter the digital sphere. Furthermore, Mr. Scragg introduced us to concepts such as complexity theory in organisations and ecosystems, which are topics I wish to delve deeper into in my spare time."
Learn more about the BSc Information Management for Business programme.