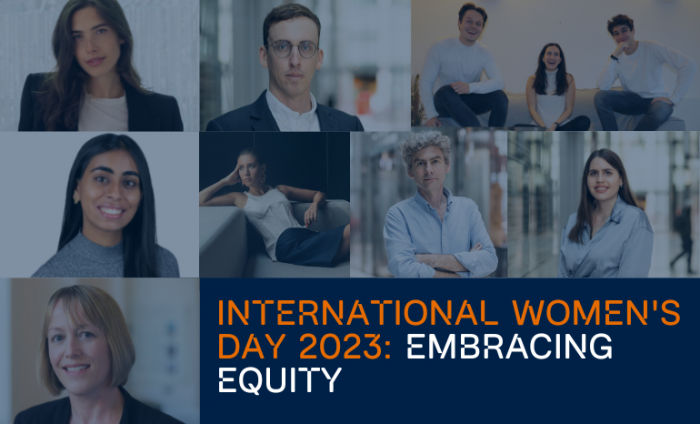 Celebrated annually on 08 March, International Women's Day commemorates the economic, social, political and cultural achievements of women around the globe. This year, the theme of International Women's Day is #EmbraceEquity, which serves as a gentle reminder that terms like 'equal opportunities' are not necessarily inclusive and equal to all.
While the term 'equality' involves providing a group of people with the same resources and opportunities, 'equity' recognises that each person's starting point and circumstances in life will differ, and instead distributes the appropriate resources required to create an equal outcome.
Over the coming weeks, we'll be sharing the stories and journeys of some of the incredible staff, students and alumni that make up the UCL School of Management community and will be asking the question: what does International Women's Day mean to you?
a message from davide ravasi, director
At UCL School of Management we strive to uphold diversity, equity, and inclusion as key principles, and we are committed to building a community in which these values are celebrated. I am proud to say that the UCL School of Management community has an almost even split of women and men, and we have been long committed to supporting and encouraging women and other minorities to achieve their maximum potential.
To celebrate International Women's Day (IWD), I would like to share some of the initiatives that we have championed to advance women's achievements. Our school is a member of the 30% Club, a global, non-profit, campaign to boost female representation in leadership roles in organisations, and we are proud to be a part of this initiative for the second consecutive year. We are one of the few business schools in the UK that has reached and exceeded this 30% target within our senior leadership teams.
Representation is a core part of creating a truly inclusive and diverse culture. Working with the School's Communications and Marketing Officers (Grace Gaywood, Daniel Waterfield and Ashleigh Topping), we have been actively monitoring our communications to ensure that the content we share internally and externally is diverse and inclusive. Taking this one step further, we have partnered with the BBC 50:50 Equality Project to systemise and expand our diversity monitoring and representation of women and minority groups. This partnership is unique as we are one of the few businesses schools involved.
This year's IWD campaign is dedicated to embracing equity, which reminds us to recognise that terms such as 'equal opportunities' are not necessarily inclusive and equal to all. The term 'equity' captures the notion that people's starting point in life will differ, and distributes the appropriate resources required to create an equal outcome.
Resilience can be much harder for people from minority groups as they face the general work pressures compounded with negative stereotypes and discrimination. I believe that awareness and education are the important first steps in preventing biases and discrimination. Working with the School's Diversity Team (Sunny Lee and Sinead Togher), we are developing training sessions for staff to collectively create a diverse, equitable and inclusive community. This year, within our Professional Services team, we are running workshops to create a collaborative community that is supportive and inclusive.
These are just some of the things we are working on at the UCL School of Management to advocate equality and to maintain an environment that supports staff from all backgrounds. I hope that today, and every day, we make small actions and changes that can help us to become more inclusive and supportive towards one another.
Read more about the research, achievements and experiences of the UCL School of Management community to commemorate International Women's Day:
For more information about EDI initiatives at UCL School of Management please contact Sinead Togher