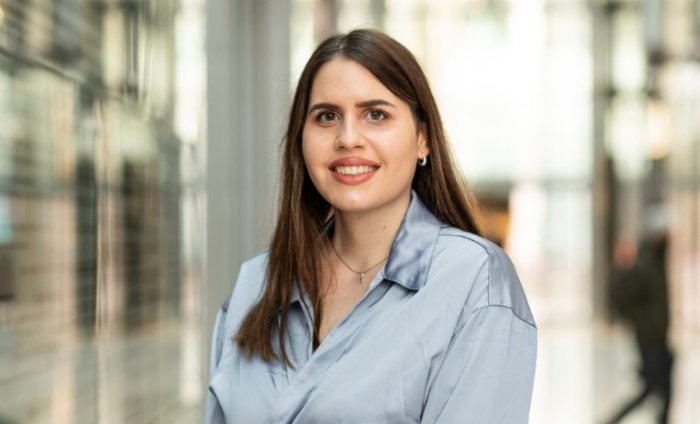 In honour of International Women's Day, we celebrate the achievements of women worldwide. This year's theme, #EmbraceEquity, inspires us to share the remarkable stories of UCL School of Management staff, students, and alumni. ​
We recently caught up with Martina Pizzinato, a second-year PhD student in Management under the Organisations & Innovation research group at UCL School of Management. Martina tells us about her experiences working in South Korea, shares her personal experience of harassment in the workplace, and why she vehemently supports women - and specifically women of colour - reaching the top of the workplace ladder.
Can you tell us a bit about yourself?
My name is Martina, and I am a second-year PhD student in the Organisations & Innovation group at UCL School of Management. I grew up in a small town in Northern Italy, but in my early twenties, I moved to South Korea, where I attended graduate school and worked as a Business Development Manager.
In my spare time, I enjoy capturing special moments with my beloved film cameras, trying new sports and creative activities (these days I am into reformer pilates and drawing) and exploring new coffee shops.
can you tell us about your research interests?
I use inductive, qualitative approaches to understand and unfold the work experiences of minorities and creators. In one stream of my research, I study the lived experiences of migrants at work. In particular, my co-authors and I are examining how migration shifts migrant employees' status, stigma, and identity and how they make sense of these.
My second stream of research investigates the development and elaboration of creators' identities and ideas at work. For instance, a co-author of mine and I are studying stand-up comedians and disentangling their idea elaboration process.
how have you found the gender split on your phd programme?
One of the things I am most grateful for is the diverse community I have here at UCL SoM. Doing a PhD is daunting, and it requires a lot of resilience and intrinsic motivation. On top of that, I am also a very ambitious person and I have set important goals for myself and my career. If I didn't have a supportive community (shoutout especially to Sarah, Colin, and Clarissa), it would have been even harder for me to emotionally go through this journey.
the theme of iwd this year is #embraceequity. do you feel that uclsom is an organisation that embraces equitY?
I think that UCL SoM is an organisation that embraces equity, diversity, and inclusion at its heart. The institution itself gives equal resources and opportunities to all students, but each of us is walking a very tailored and different path. Hence, we receive the same baseline benefits (i.e., scholarship and research budget), but there is a high degree of personalisation in terms of research projects, workflow, and external/internal opportunities that we discuss and negotiate with our supervisors. For example, I like working independently on my research projects, but I also need to frequently meet with my supervisory team to see that we are on track. However, other students have different experiences and might not need such frequent meetings, so opportunities and resources are tailored to each student's needs.
can you tell us about the women in management book club?
The Women in Management Book Club is a fantastic space created by some lovely staff (shoutout to Nina and Grace) here at UCL SoM. We meet every 3~4 months and discuss a book related to gender-specific issues in the workplace. It is honestly a very welcoming and safe environment, where I can share my experience as a professional woman and learn from the experiences of other women.
At one meet-up the group discussed The Second Sex by Simone de Beauvoir, a book I think every woman should read. This book talks about the social roles of women and how these have been forced upon us throughout history. Essentially, Simone defines us as 'the Other' and makes the reader understand how this othering has defined women for decades. It is not an easy read and lacks an intersectional perspective, but I still think it is one of those books that we all have to read once in our life.
have you experienced any bias or gender-specific challenges throughout your career?
I think what is interesting about my life as a woman is that I realised my gender when I started working. Growing up, I have always considered myself a feminist and raised my voice on gender-specific issues, but I think I was never aware of what it actually meant to be a woman. However, when I first started working, I faced several gender-specific challenges that made me realise my gender. I had clients making inappropriate comments about my appearance, individuals not taking me seriously and wanting to talk with my male colleagues, and men not listening to me during meetings.
I remember the incident that made me realise what it really means to be a woman in this world. During a work meeting, a client of mine kept looking at me in a very inappropriate way and asked me several questions about my personal relationships. I felt very uncomfortable, and I did not know what to say because he held the upper hand in that situation. What makes me even sadder about this is that my director dismissed this harassment by telling me not to 'think badly of him' and that 'that the client just thought of me as his daughter'. At that time, I couldn't do anything because I was in a precarious position at work and felt I was the one in the wrong.
what does international women's day mean to you?
International Women's Day is a day in which I remind myself to fight for everyone and celebrate the achievements of many brave individuals. It is a day in which I thank all those women who fought with courage for their and my rights. If it wasn't for them, I doubt I would be where I am in the first place.
It is also a day in which I reflect on myself and think about what I can do to create a place where everyone has a seat at the table. Historically, the focus on International Women's Day has been on white women, but I do not support white feminism. I want International Women's Day to be a day where we can all come together and think about how we can work towards equity and equality. I want this day to be about everyone so that no one has to experience discrimination anymore.
what do you hope to see in your industry in the future in terms of gender equality?
I would like to see more women at the top of the ladder and, in particular, I would like to see more women of colour. I think that we still do not fully understand how the experiences of white women at work are very different from those of Asian, Black, Indigenous, Latina, etc. women. A lot of times, those decision-makers at the top do not recognise these women's intersectional identities and struggles. In the future, I would like to see more awareness and empathy for such challenges and unique experiences.
what would be your advice to any women aspiring to get into your research field?
I am still in the early stage of my research career, so I feel a bit like an impostor talking about this. However, if you are a woman and want to pursue a PhD, I think the most important thing to do is to find a supervisory team that will fully support you and will care about your wellbeing. Regardless of who you are and what you do, you will, unfortunately, face uncomfortable situations and will be emotionally challenged. It is important to surround yourself with people that believe in you and will be there when things get tough.