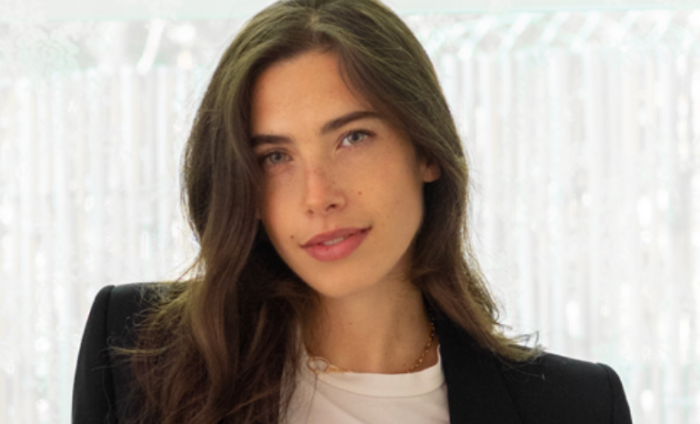 In honour of International Women's Day, we celebrate the achievements of women worldwide. This year's theme, #EmbraceEquity, inspires us to share the remarkable stories of UCL School of Management staff, students, and alumni.​
We recently sat down with current Information Management for Business (IMB) student Sofia Bobnev, who shared her career goals following graduation and her desire to enter the consulting industry after successful internships at Vogue and Cartier. Sofia also discussed what International Women's Day means for her and why she hopes to change the startling research that suggests that 78% of students cannot name a famous female working in technology.
Can you tell us a little about yourself?
My name is Sofia and I am currently pursuing my final year in BSc Information Management for Business (IMB) at UCL School of Management, and my professional interests tend to include Risk Management, Business Analytics and Programming. I have completed a range of online courses at Stanford University and Harvard University concerning sustainability and entrepreneurship, whilst gaining professional experience in the fashion and high-end luxury industries, where I worked in production and client relations.
I am fluent in English and German, as I was born and raised in Vienna, Austria, only moving to London in 2020 for my undergraduate degree. When I am not catching up on academic deadlines or preparing for another job interview, I like to attend workout classes and visit art galleries with friends.
Tell us about the information management for business programme. is there a strong female representation?
I was excited to meet so many intelligent and determined young women on the BSc IMB programme from over 45 countries. The university's ambition to achieve a 50:50 split between female to male students is unique in its nature and fosters an inclusive learning environment.
This diverse ecosystem enabled me to make real friends that share my passion for more than IT and Business. By engaging with UCL's hand-picked community, I was able to develop my interpersonal and academic skills, excelling towards my career aspirations.
the theme for iwd this year is #embraceequity. how do you think uclsom embraces this theme?
The UCL School of Management embraces equity both academically and individually. The curriculum consists of a diverse range of speakers and teamwork activities that drive inclusion among students.
Furthermore, the anonymous grading and feedback system allows each pupil to be assessed purely on their academic excellence regardless of gender, race and ethnicity. There are numerous resources available to manage mental wellbeing throughout the programme, including personal mentoring support and group seminars.
which area are you looking to go into after graduation?
Following graduation, I hope to become a successful Business Analyst and thus an agent of change within the consulting industry, alleviating the negative stigma around digital transformation that often prevents companies from embracing much-needed change.
Having interned at global firms, such as Vogue and Cartier, I have witnessed how integral information systems are in establishing a brand that is congruent with customer psychology. I strongly believe that the intersection between information systems and socioeconomics will benefit both small and large enterprises across numerous industries, and I aspire to assist in their transition towards becoming digital leaders.
how would you describe the current gender balance in this industry?
In recent years, there have been significant improvements for women in STEM, however there is still more work to be done by organisations and institutions to close the gender pay gap. Only 27% of women consider a career in technology compared to 61% of men, with less than 5% of leadership positions being held by women (PwC, 2017).
what does international women's day mean to you?
To me, International Women's Day means embracing and empowering women all around the world, no matter what industry. My mother has always been my biggest role-model, and I therefore associate the celebration of International Women's Day with her.
I urge everyone to say words of gratitude to their personal female role-model, no matter if it's their mother, mentor or close friend. We as women should build each other up, working towards a better future for generations to come!
what do you hope to see in your industry in the future in terms of gender equality?
The main change I hope to see within the world of STEM is increased female representation across all levels of management, whilst also closing the inequitable gender pay gap. I believe that through early education in secondary school and university on the available opportunities within the tech industry, young females will be motivated to consider a career in this field.
By reducing these information barriers, companies can recruit more female talent and change the fact that over 78% of students cannot name a famous female working in technology (PwC, 2017).