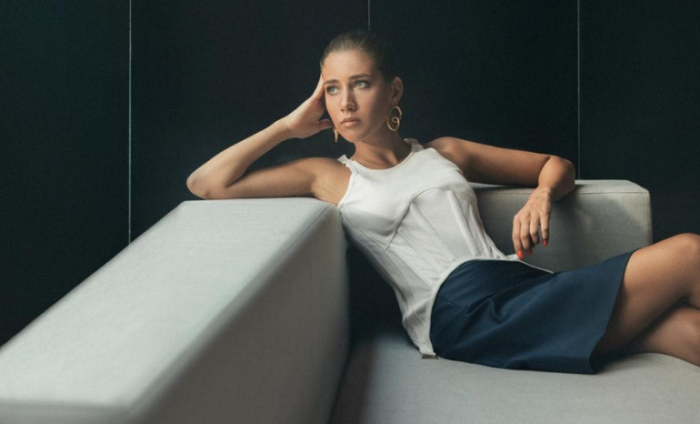 In honour of International Women's Day, we celebrate the achievements of women worldwide. This year's theme, #EmbraceEquity, inspires us to share the remarkable stories of UCL School of Management staff, students, and alumni.​
This week, we caught up with Information Management for Business alumna Mariam Sharangia. Currently working as a Project Manager at Meta London, she has previously served as the Head of Strategic Development at Georgia's Innovation and Technology Agency and is a regular contributor at Forbes Woman Georgia. Mariam shares her career journey so far, including the bias she has faced as a woman in tech, and the advice she would give to women just starting their professional careers in the tech industry.
Can you tell us a little about yourself?
My educational background and work experience are closely linked with innovation and entrepreneurship. After graduating high school with the highest honors from my home country of Georgia, I had an opportunity to pursue my undergraduate education in the UK at University College London. Ultimately, university shaped my character and allowed me to think and dream bigger.
Upon graduation, I joined a fantastic startup team at VIENI, a disruptive, UK-based bus sharing platform that connected like-minded people by enabling on-demand bus travels according to the travelers' needs. Our goal was to reinvent the way people travelled together while stressing community benefits, convenience, and environmental considerations. As the Head of Digital Marketing & Business Development, I helped VIENI to reduce costs, carbon emissions, and make trips more enjoyable.
After returning to my home country, I was hired to work for Georgia's state agency for Innovation and Technology (GITA). There, I managed different ICT training, Hackathons, Startup funding competitions, and STEAM boot camps for high school students. I found the most interesting part of my job at GITA was learning about the changes and developments in the startup world, observing how they tackled different issues, why they failed, and why they succeeded. I am proud to say that the projects I executed at GITA have benefitted up to 300,000 Georgians by introducing them to the basics of information technologies and entrepreneurship.
Subsequently, I won one of the most prestigious Fulbright scholarships to pursue my Master's degree at Rochester Institute of Technology (RIT), where I deepened my knowledge in technology, innovation, and entrepreneurship. While studying, I worked as a Business Analyst at Venture Creations incubator, helping tech startups to develop their products and expand to new markets. After graduation, I continued working at Georgia's Innovation and Technology agency, until I was offered a project management role at Meta London. During this time, I received the Grace Hopper award in the 'Emerging Leader' category, which was a defining milestone in my career.
As a feminist, supporting gender equality inside the tech field is one of my biggest passions. Therefore, a big portion of my time outside of work is spent contributing to Forbes Women Georgia, and most recently as a Programme Lead at Women in Tech Georgian chapter. I strongly believe that "women are the largest untapped reservoir of talent in the world," as Hillary Clinton once said, and being involved in the above projects allows me to promote my views to broader audiences, as well as view the tech world from a different angle.
you previously studied imb at uclsom. how did you find the gender split on this programme?
Studying at UCL on the IMB programme was an unforgettable experience for me. It was a place where I was encouraged to think outside the box and was given the freedom to pursue my dreams. The programme provided me with excellent academic support, resources, and opportunities to grow as an individual and a professional.
What impressed me the most was the lack of gender gap in the programme. As a woman in technology, I know that there are a lot of situations where the field is heavily male-dominated, and women are underrepresented. During my time at UCL, I was fortunate to be part of a programme where gender diversity was embraced and celebrated. This was refreshing and gave me the confidence to excel without any limitations.
Moreover, having amazing female role models in the programme was a game changer for me. Their guidance, mentorship, and support were invaluable, and I cannot thank them enough. They shared their experiences and knowledge, which allowed me to gain a better understanding of the industry and its challenges. They inspired me to strive for excellence, be confident in my abilities, and challenge the status quo.
can you tell us more about your experiences overseas?
Living overseas allows one to rediscover herself. Personally, for me it continues to be the way to revive myself and every time I move to a new place, I discover the parts of me that I never knew existed. I appreciate that everyone's experience is different, however I also value how similarly empowering it can be for all of us. Resilience, new perspectives, diverse views, intercultural communication are some of the skills that you may get while living abroad. Of course, one may be able to get all of it without, leaving her home country, but I think we can all agree, that moving overseas accelerates the process.
Most importantly, moving to a new place allows you to spend more time with yourself and others in a completely new environment, new culture, and new society. It allows you to free yourself from any labels, any expectations, any beliefs and allows you to question and break all of the socially constructed stereotypes, that you thought defined your reality.
can you tell us about your previous role as the head of strategic development at GITA?
I strongly believe that confidence and self-belief are essential for women in any setting, whether it is male-dominated or not. It is crucial for us to know that we belong there because we have earned our place through hard work, skill, and experience. We need to remind ourselves that we are more than enough and deserve to be there.
Being ambitious, resilient, and brave is crucial in achieving success, and we should never give up on our dreams. We must always remember that we are role models for younger generations and should act accordingly. Imagine a little girl looking up to us, and let that be a motivating factor to strive for greatness. Additionally, cheering for and supporting one another is equally important. We should strive to create a supportive community where we can help and guide each other to achieve our goals. As women, we should celebrate each other's achievements and lift each other up during challenging times.
have you experienced any bias or gender-specific challenges throughout your career?
All women that decide to pursue their careers in tech face some of the gender-specific bias and challenges along the way. From questioning their career choices to breaking the glass ceiling. Some face more challenges, while others face less. Having a positive mindset, persistently working towards my goals, and trusting myself have always been guiding principles for me to overcome any stereotype that I have faced on my journey.
Women in the tech industry face unique gender-specific challenges and biases that can make their career paths challenging. From the very beginning, women are often questioned about their choices and their abilities to succeed in the field. However, it is important for women to maintain a positive mindset and to trust in their own skills and abilities. Despite the challenges that may come their way, it is important to remain persistent and focused on our goals. While the challenges that women in tech face may vary, it is important to remember that every woman deserves a chance to succeed in the field.
what does international women's day mean to you?
In today's world, we work tirelessly to promote gender equality and women's empowerment daily. However, having a designated International Women's Day provides us with a valuable opportunity to pause and reflect on the progress that has been made so far. It also serves as a reminder to examine and plan for the actions needed to achieve gender equality on a larger scale, across all fields and sectors.
what do you hope to see in your industry in the future in terms of gender equality?
In terms of gender equality, the tech industry has historically been male-dominated, but there has been considerable progress made in recent years towards creating a more diverse and inclusive industry. However, there is still much work to be done to achieve true gender equality in tech through promoting diversity and inclusivity at all levels, from hiring practices to leadership positions.
Additionally, I hope that more women will be encouraged to pursue careers in tech, particularly in STEM fields, through initiatives such as mentorship programmes, scholarships, and educational opportunities. It is also very important to mention that female role models can be incredibly important in promoting gender equality, by inspiring, coaching, and challenging societal norms and expectations. All of this can help to foster a new generation of women in tech and create a more diverse and innovative industry.
what would be your advice to any women aspiring to get into the technoloty sector?
It's important to recognise that everyone's journey is unique and there is no one-size-fits-all formula for success. However, there are some key principles and strategies that can be helpful for women aspiring to enter the technology sector. One of the most important pieces of advice I can offer is to be confident in yourself. Be ambitious, brave, and persistent in pursuing your dreams. Take things one step at a time, with a clear vision in mind, and work to make progress every day. Educate yourself as much as possible, from a variety of sources, and never stop learning. Build relationships within the technology industry, seek out mentorship opportunities, and don't hesitate to ask for help when facing challenges.
Keep in mind that this is not an exhaustive list of what it takes to succeed in the industry, and there is no one right way to break in. As a woman in tech, you have the power to make a difference. Armed with the knowledge, advice, and guidance you have, you will carve out your own path to achieving your dreams and inspire others along the way. Good luck on your journey!