Overview
Start date: September 2018
Duration: 3 years (4 years for MSci)
Fees: UK/EU - £9,250 (per annum). Overseas - £25,960 (per annum)
Application deadline: Closed for 2018/19
Entry: Grades AAA. Other qualifications are accepted.
Programme
The BSc/MSci Information Management for Business programme is structured to provide a fully comprehensive coverage of IT, business, programming, operations and project management, and leadership and enterprise. The BSc programme lasts three years, while those signing up for the MSci programme will study for four years. The table shows what modules are currently covered in each term.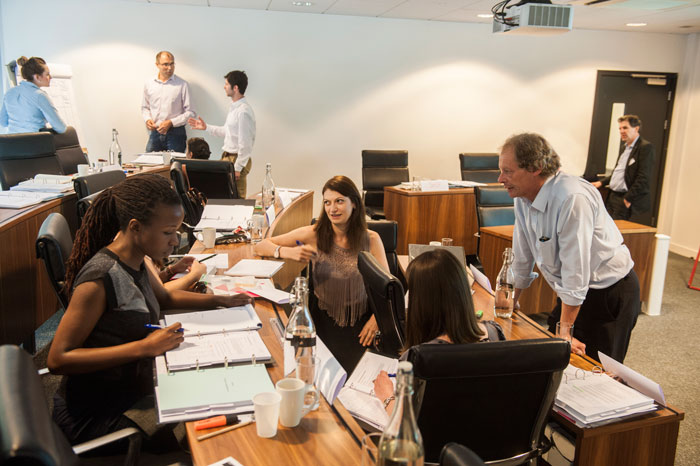 Part-time study programme
We do not offer a part-time study programme on the BSc/MSci Information Management for Business course.
Competitions and conferences
There are two annual Information Management for Business (IMB) student conferences each year; one at Manchester University and the other at the headquarters of Computer Associates (CA) in Slough. IMB students attend these conferences, which include competitions, presentations by employers, and careers and networking opportunities, including the chance to meet company staff and fellow students from other universities.
Additionally, there is an increasing number of opportunities for students to take part in business, enterprise and case study conferences and competitions in other parts of the world. In the past year, IMB students have been to Shanghai, Hong Kong and Singapore, and other opportunities are in the pipeline in Canada, Germany and the United States.
Applications
Student profile
Who is this course designed for
Are you interested in studying business, management, programming, information technology and project management? Would you like to have a management role or even manage your own business or a large organisation in a few years time? Do you see yourself as a leader? If you answered 'Yes' to these questions then UCL's BSc/MSci Information Management for Business degree programme is for you.
In close collaboration with some of the biggest employers in the UK including British Airways, BT, Morgan Stanley, HP, IBM, Fujitsu, Apple, Microsoft and Unilever we have put together a degree programme with a unique balance of IT, management, programming, business and leadership that is designed to ensure that graduates have the skills, qualities, education and understanding that they need to excel in, and lead, the industries and companies of the future.
How to apply
Applying for BSc/MSci Information Management for Business
You will need to apply for this course through the UK Universities and Colleges Admissions Service (UCAS) system. The earlier you apply the better, as the programme is very heavily over-subscribed.
Find out more about applying for courses through UCAS
Entry requirements
GCSE requirements, including Modern Foreign Language, are for Home/EU applicants who have been solely educated in the UK (ie they do not apply to International applicants completing their A Levels in the UK). The pass in a 4th A Level subject to at least AS Level applies only to UK educated applicants, not to international applicants educated abroad.
You will need AAA grades at Advanced (A) level. We do not specify the subjects you need to study as we take the view that this programme needs to be open to everyone who has a burning desire to change the world for the better, and who wants to make a high flying career in technology, business, management, leadership and enterprise.
A variety of other qualifications are accepted from the UK and worldwide.
If English is not your first language, from 2016 the English language requirement is for the 'Good' level. For acceptable English Language tests see here.
Fees
You can find out about course fees here
Further information and contact details
For all admissions related enquiries, please email undergraduate-admissions@ucl.ac.uk. Remember to always include your UCAS ID number in your email.
When to apply
Apply through UCAS - https://www.ucas.com from 1st September onwards for entry in September the following year.
Open days
UCL provides regular open days and other forms of public access http://www.ucl.ac.uk/prospective-students/access-ucl/open-days. Anyone wishing to visit to discuss the BSc/MSci Information Management for Business (IMB) programme and the opportunities that it provides is always very welcome to do so. Additionally, we provide open days for particular schools and other student groups by prior arrangement.
Scholarships
Scholarships are available through UCL for all years of study. Competition for scholarships is fierce, however, and to stand a chance of being chosen you will need to show evidence of commitment and the potential for high achievement.
Application for scholarships and bursaries must be made either when confirming your place before the start of your studies, or else at the start of each year of study.
Further information about scholarships and funding can be found here
Contact
For further information regarding the IMB programme, please contact Jemma Leahy, Undergraduate Administrator, UCL School of Management.
Email: mgmt-imb@ucl.ac.uk
For all admissions related enquiries, please email:
undergraduate-admissions@ucl.ac.uk. Remember to always include your UCAS ID number in your email.
Why choose us
Why Choose BSc/MSc Information Management for Business
The Information Management for Business (IMB) degree programme aims to:
provide students with a broad and comprehensive background of business operations, procedures and culture applicable to a career in a technology and business oriented environment
equip students with sufficient business, technical and managerial knowledge to play a key role in the companies and organisations of the future
encourage students to develop an innovative and entrepreneurial approach to recognising and grasping business opportunities
develop the interpersonal skills and acumen necessary to become effective leaders, managers and pioneers for the future
provide students with a set of analytical tools and techniques, and the probem solving and modelling skills appropriate to business and ITrelated operations and activities
provide direct links with companies and organisations that give the fullest possible range of opportunities within the business environment.
What our students say
If you want to know why you should consider the BSc/Msci Information Management for Business (IMB) programme, read what some of our past students have had to say….
"I left here last July and since then I have been working for one of the 'big four' consultancies – and I have put into practice everything I learned on the programme."
"Having studied IMB at UCL, I am now on the education development PhD programme at Oxford University – and would not be here if it had not been for the top quality education that I received at UCL."
"The support we get from the programme director and teaching team is second to none. Everyone is friendly, approachable and supportive, and nothing is too much trouble."
"When I first arrived here, I wondered what to expect. I needn't have worried at all – the staff were all very welcoming, and within a week I had made friends who will stay with me for the rest of my life."
"It is a truly international progrmme with people from all over the world. And UCL is a great place to study."
"I would not have got my job at ITV without the breadth and depth of education that the IMB programme provides. It has set me up for the whole of my career."
Study Abroad
UCL has a wide range of universities in all parts of the world with whom it has exchange and reciprocal arrangements. Students who sign up for the four year MSci Information Management for Business (IMB) programme have the opportunity to take a year or a term (semester) abroad following a programme of study, once this is agreed between UCL, the host university and the student.
Students interested in the study abroad year should read the module fact sheet in the first instance, MSIN3018 Study Year Abroad Project. Find out more by downloading the full study abroad guide.
Careers
Career opportunities
Our students have the world at their feet.
The Information Management for Business programme combines the highest quality of education, a pioneering and ground-breaking approach to the relationship between technology, business and management, and links to industry and commerce. As a result, IMB graduates go on to work in banking, consultancy, financial services and industry, as well as having the pick of postgraduate choices, including places at UCL and all of the top universities in the world.
As an Information Management for Business student, you will benefit from a bespoke Careers and Employer Engagement programme and a dedicated careers team who will help you present yourself to leading graduate employers with confidence.
Our portfolio of careers support for IMB students includes:
Individual career coaching sessions with Careers Consultants dedicated to the School of Management
Regular careers and professional development workshops on topics including marketing yourself as a candidate, interviews, internships and planning your next steps
Exclusive industry insight sessions and employer-led events accessible only by School of Management students to inform your career choices
Access to UCL School of Management alumni keen to support you with your career
For further information on the Careers provision for UCL School of Management, please see our Careers page.
In addition to the bespoke activities within the School of Management, you also have access to the central UCL Careers provision. Every year over 1000 employers/organisations attend events arranged by UCL Careers, including careers fairs, employer presentations and sector 'themed weeks', which may include employer forums, networking events, talks on how to get into the sector and one-to-one advice sessions.
Please click here to go to our careers support page.
Internships and work experience
Contacts with the companies and organisations which support the Information Management for Business (IMB) programme start early in the first year of the course. You will be introduced to people from the largest and most successful organisations in every industrial, commercial, consulting and financial sector right from the start of your studies. This means that you can begin to form your own impressions of the types of organisations that you would like to work for and the careers on offer – and, in particular, the careers that inspire you.
The companies offer a variety of work opportunities to suit all student requirements. These range from short periods of work shadowing and observing, through to the opportunity to take a full year out on an industrial or commercial placement. There are also plenty of options for placements of between one and four months, which are taken during the summer vacation.
Students wishing to take a full year out need to arrange this with the programme director and the company offering the placement. A full year out is normally taken between the second and third year, or between the third and fourth year for those who wish to continue with the full MSci programme.
The list of opportunities for work experience, internships and industrial and organisation placements is growing all of the time. From 2012, we have had a formal link with Cisco Systems, and this includes the opportunity for IMB students to work for the company for a year, either in the UK or in California. The first student to go out there was Amna Asghar.