Our careers team work exclusively with UCL School of Management students to enhance their employability, provide tailored individual careers support and facilitate connections with employers globally. This is an essential complement to our academic programmes, enabling us to best prepare our students for their future careers and support them to identify and achieve their goals. We have a team of 6 Career Consultants (4 FTE), 1 Employer & Alumni Engagement Manager, 2 Employer & Alumni Engagement Officers and 1 Internships & Vacancies Officer (Management Science).
Alongside the UCL School of Management wide careers events and initiatives detailed below, there is also programme specific careers support. Please refer to individual programme pages for these details.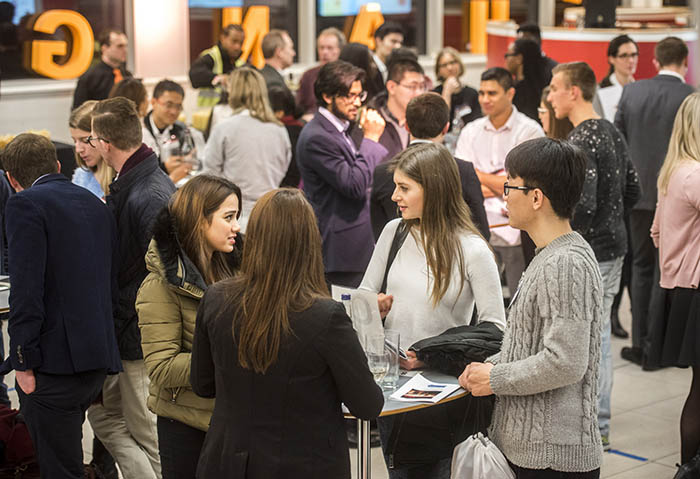 Meet Employers
Working closely with a broad range of employers from all sectors, we organise a programme of activities designed to maximise opportunities for our students to network and build strong connections with employers. Our students participate in activities which allow them to develop a highly competitive skillset, and strong and current commercial awareness.
As part of the dedicated employer engagement programme, our students enjoy exclusive access to:
Industry Insight Sessions
Employer led business games and skills sessions
Employer presentations
Employer led CV checking, mock interviews and mock assessment centres
Employer involvement in academic teaching
Access to the wider employer activity programme organised by UCL Careers
Employers who have previously participated in the School's programmes
Accenture
Bank of England
Barclays Capital
Bloomberg
Deloitte
Capco
Capgemini
Deutsche Bank
EY

IBM
Nestlé
Oliver Wyman
PA Consulting
PwC
Proctor & Gamble
Sainsbury's
Sapient Global Consulting
Unilever
UCL School of Management Alumni
The UCL School of Management is keen to maintain strong ties with its alumni community. Our first UCL School of Management Alumni Networking Evening Reception took place on Monday 24th March 2014 and was a great success with over 140 alumni, current students and faculty staff in attendance.
Thanks to Gizem Topoglu (MSc Management 2011), Business Analyst at M&G Investments, Paul Varga (MSc Technology Entrepreneurship 2013), Co-Founder & CEO of Playbrush, James Windsor (MSci Information Management for Business 2014), European Corporate Foreign Exchange Sales at Barclays and Blaga Milosheva (MSc Management 2013), Head of Resourcing at The Financialist Academy for giving such engaging updates on their lives since leaving UCL School of Management, and on their current roles and projects in industry.
We are currently planning new ways of specifically engaging our alumni so further information will be coming soon on a dedicated alumni section on our website, and regular newsletters will sent where we will share the latest faculty news, keep you posted on the huge range of exciting events and activities coming up, and promote new job and business opportunities relevant to you and the wider UCL School of Management community.
If you have any queries, or ideas or news to share please contact Shak Chowdhury, Employer & Alumni Engagement Manager at s.chowdhury@ucl.ac.uk.
Women in Management Society
Established in 2013, the UCL School of Management founded Women in Management society aims to inform, inspire and connect our students through workshops, skills sessions, networking events, discussions and competitions. There is an ongoing gap in gender equality when it comes to executive positions, and our Women in Management society aim to improve that in the future through giving our members the necessary support and inspiration and working closely with partner companies backing the initiative.
Join the Facebook group at www.facebook.com/groups/uclwomeninmanagement/ or get involved on Twitter @WiM_UCL. Website to be launched soon!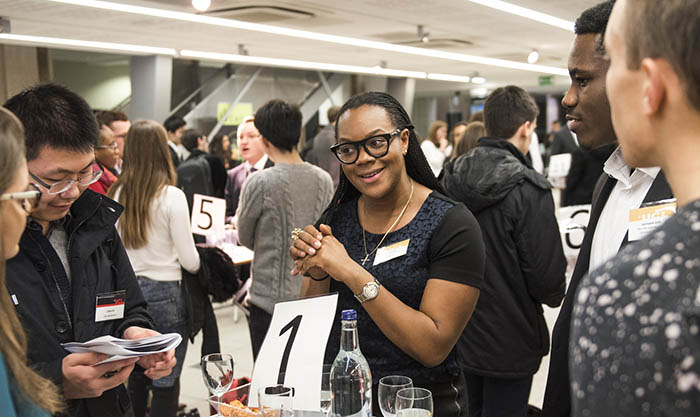 Recruit our Students
Whether you need to recruit for permanent graduate level positions, projects or internships, our global student community can meet the most diverse recruitment needs. Our rigorous selection criteria across our courses mean that, as a recruiter, you can be confident that much of the initial work has already been done for you.
Ways you can engage with our students:
Advertise your vacancies: target your opportunities, internships and placements to specific courses and year groups. We will advertise your opportunities free of charge.
Raise your profile: attend our industry insight sessions, deliver company presentations and support students by offering CV / application checking and mock interviews. You can get involved in these activities throughout the year.
Industry Projects: benefit from an independent perspective on strategic issues by harnessing the expertise of our students. We welcome projects from all industry sectors and will be happy to discuss your needs further.
Student Societies: our student societies are a vibrant part of the UCL School of Management community, led by students for students. Our Women in Management Society for example organises events designed to support our female talent reach their full potential.
Contact Shak Chowdhury at s.chowdhury@ucl.ac.uk for more information.
If you would like to recruit students from the Management Science programme, please contact our dedicated Internships & Vacancies officer Rhiannon Williams on rhiannon.e.williams@ucl.ac.uk.