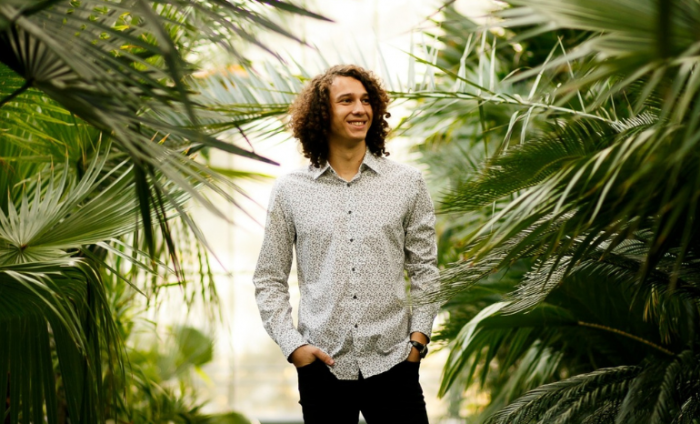 During their third year of study, BSc Information Management for Business (IMB) students are given the opportunity to undertake a placement year at a company of their choice to enhance and develop the skills they have learned on the programme.
IMB student Radu Gradinariu has recently completed his one-year placement at Accenture. One of the world's largest global services and consulting companies, Accenture specialises in strategy, technology, management and digital consulting. We recently caught up with Radu to hear all about his placement year at the company, including the ways in which it has enabled his personal and professional growth and the advice he would give to students considering a placement at Accenture.
can you give us a summary of your role at accenture?
My current title is Business Analyst for a cosmetics industry client, a role I took on 4 months ago. My key duty during this time was to revamp some of the most heavily-used Project Management tools of the account, spanning from contracts tracking to moderating resources allocation and availability. Lately, I have been supporting the account's leadership with creating a new way of delivering projects to the client, aiming to shorten delivery lead times and improve our team's agility.
how would you describe your entire year at accenture?
Looking back at the past year, I see it as one of the most intense and rewarding periods I have ever experienced. I have felt welcomed by this community of professionals and have felt accommodated by my team, colleagues and managers. The work put towards solving the tasks that seemed unsolvable always paid off, and my team always made sure to acknowledge my efforts and motivate me further, being by my side whenever I have needed it.
It was also a lot of fun! The travels to offices outside of London and the many social events were a great way to meet colleagues outside of the office and it really strengthened the bonds within the team. Most importantly, going through this experience makes me feel much more prepared for finishing my university studies and getting into the industry.
what have been your professional highlights?
The highlight of my placement happened 6 months ago - back when I was doing a Release Management role for a telecommunications client. After 1 month of carefully planning over 80 subtasks in my release and another 2 months of conducting daily checks for the progress of over 100 resources working on these subtasks, as well as solving multiple blockers, training new team members to support with my work and countless hours of liaising with the client's managers to solve escalations, the attempt to deploy the release had become available for the whole world to see. All the checks had been approved and the second software release I have ever managed was finally been given the green status of a successful "Go-Live" operation.
have you found that your role has changed over time?
Not only did my responsibilities change over time, but both my roles and clients have also changed. This was exactly what I was hoping for, as I set myself a target to explore as much as I could during this time. My first role was of a Release Manager for a telecommunications company.
After I had finished my assignment there, I was taken onto a Business Analyst role for an IP Services client by my previous project's director. Finally, the current role that I am in is of a Business Analyst as well, but for a cosmetics company this time. During my placement, I have been able to take on duties from various areas - from those leaning towards project management to those in the technology and delivery solution planning space.
has this experience also supported your personal development?
This experience has proven to be a great way to explore my limits, passions and particularly my weaknesses. In such a short span of time, it has taken me through great achievements that I've celebrated, showed me a lot of doors that can be opened in the future of my career, but has also taken me through introspective situations that helped me discover the areas that I want to work on personally, to prepare myself for taking on future challenges with a higher view.
would you recommend accenture to students considering a placement year?
I would definitely recommend Accenture - they are a great company to pursue your placement year with. The key benefit of being part of such a large organisation is that you will have direct access to thousands of projects and professionals across most services and industries in the world, which is the best way to explore countless options for your career - from the roles you want to pursue to the industry you prefer to work in.
Accenture provided me with the freedom to explore my interests and gradually gain responsibility for the projects I took on board, giving me a chance to make a real difference in my teams. At the same time, the experience opened doors to opportunities with clients that I would have most definitely struggled to achieve outside of the company at this stage in my career. People and connections are vital in getting that chance to make a difference, so I would say that the best piece of advice for anyone joining Accenture is one that I have taken from my manager and have tried to live by: "Start building your network early".
Find out more about the BSc Information Management for Business programme.