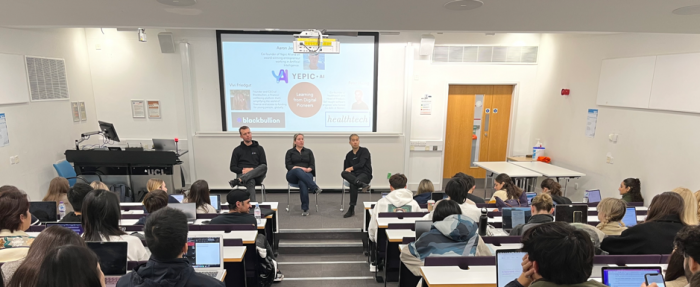 This week, Associate Professor Dr Rikke Duus and Teaching Assistant Csongor Mathe invited three entrepreneurial tech companies to our Bloomsbury campus to join our IMB students as part of their second-year Digital Strategy and Transformation module. Each entrepreneur delivered an impactful pitch to students and outlined their companies' solutions, all of which involve the use of digital technology to solve existing 'painpoints' and deliver new value to end-users.
The session was designed to provide students with a valuable insight into the experiences of dynamic tech entrepreneurs and how they use digital technologies to meet customer needs and demands. This information is vital to second-year IMB students, who study the digital transformation of consumers, organisations and societies as a part of this particular module.
The session included pitches from the following entrepreneurs:
Peter Huang from Healthtech1 - 'healthcare automation for the NHS'
Vivi Friedgut from Blackbullion - 'financial wellbeing platform for younger people'
Aaron Jones from Yepic AI - 'real-time video translation service'
The session kicked off with an introductory welcome talk from Dr Rikke Duus, followed by a pitch from each entrepreneur, who had 15 minutes to explain their business and its key solutions to the students. Each presentation was designed to highlight the 'problem' facing these businesses and the ways in which digital technologies are used to facilitate the solutions. These short presentations were then followed by a Q&A session with students.
Key takeaways
There were many insightful take aways from this session, with each entrepreneur generously sharing their experiences of identifying a 'problem' worth solving, experimenting with solutions, building the business proposition, getting the tech to work behind the scenes, pitching to clients and VCs for funding, and the excitement of seeing customer and end-user numbers starting to grow.
For other budding entrepreneurs, Peter, Vivi and Aaron shared what they believe has been key to their businesses' success:
Building a team that rallies around the same vision, shares similar values and with whom you can battle through the hard times with – while keeping your spirits high!
Finding a problem that is worth solving and where a solution can make a real difference to people's lives.
Embrace experimentation and be ready to not succeed in the first 'go'.
Obtaining a 'first-mover advantage' can be beneficial as your solutions are not competing 1-2-1 with others and you may be successful with a 'lower' level tech solution
Reflecting on the sesion, module leader Dr Rikke Duus shared:
"I wish to thank Peter, Vivi and Aaron for taking the time to come and share their experiences of being tech entrepreneurs with our students. Each of the presentations were delivered with high impact, clearly demonstrating how the businesses have evolved, the proposition on which they were built, and how digital technologies are fuelling the design and delivery of solutions. Importantly, Peter, Vivi and Aaron gave us an honest and unfiltered view into the lives of tech entrepreneurs and the amount of tenacity and creativity it takes to build a business from scratch into something that clearly adds value to customers and end-users. I also wish to thank Csongor Mathe for all his assistance in organising this exciting session."
About the Entrepreneurial Tech Companies
Healthtech1
Peter Huang, Co-Founder & Head of Product
Peter is a self-taught software engineer who honed his skills at Monzo. He is also an alumni of the School of Management, having graduated from the MSc Technology Entrepreneurship programme (now MSc Entrepreneurship) in 2015.
Raj Kohli, Co-founder & Head of Growth
Raj is an NHS Clinical Entrepreneur and drives growth at Healthtech1. He is also the Patient Experience Lead at First 4 Health Group.
Peter and Raj have been friends for 18 years and Healthtech 1 is their second business together. Healthtech1 is building a platform of health care automations and their first service, 'Sanny', fully automates the end-to-end registration process, saving NHS staff 15 minutes per patient. By inputting patient data directly into the clinical system, Healthtech1 empowers NHS staff to spend less time on administrative tasks and more time on meaningful patient care.
Find out more about Healthtech1.
Blackbullion
Vivi Friedgut, Founder and Chief Executive
As a tech leader, Vivi is a huge champion for the startup community and an active commentator within the fintech community. She also recently featured in FinTech Magazine's Top 100 Women. Her second book, Stay Financially Healthy, was published in 2022. Vivi is also a member of Edtech UK, a new strategic body set up to accelerate the growth of the UK's education technology sector both in Britain and around the world.
Blackbullion.com is a financial wellbeing platform that is simplifying the world of finance and access to funding for young people globally. Vivi launched Blackbullion.com to provide digital financial education that develops financial confidence, knowledge, skills, and empowers better decision-making. Vivi and her team are working towards their goal of improving outcomes for millions of young people by partnering with universities across the globe.
This year saw the launch of Blackbullion Futures, a partnership with the Bank of England and Pearson. The online programme aims to give 16–19 year-olds the skills, knowledge, and confidence to make the right decision for their financial futures. Over 700,000 students worldwide can currently access personal finance courses and university funding through the Blackbullion platform.
Find out more about Blackbullion via their website or watch their recent Sky News interview.
Yepic AI
Aaron Jones, Co-Founder and Chief Executive
Aaron Jones is an award-winning entrepreneur working in Artificial Intelligence, who also co-founded Yepic AI. He was recognised in the Queen's Birthday Honours list, making him the youngest person to receive a British Empire Medal for services to Industry. He was also awarded Alumni of the Year 2018 by Essex University and shortlisted for Forbes 30 under 30.
Yepic AI's flagship product, vidvoice.ai, is a state of the art video translation technology that dubs the speaker's lips in real-time. Vid Voice is being used in business meetings, telehealth, live events and film dubbing and can translate videos into many different languages with high quality lip-sync giving everyone a native experience. Yepic's research team partners with CVSSP at University of Surrey, an internationally recognised leader in audio-visual machine perception research.
Find out more about Yepic AI via their website or check out their Vidvoice and Slush projects.