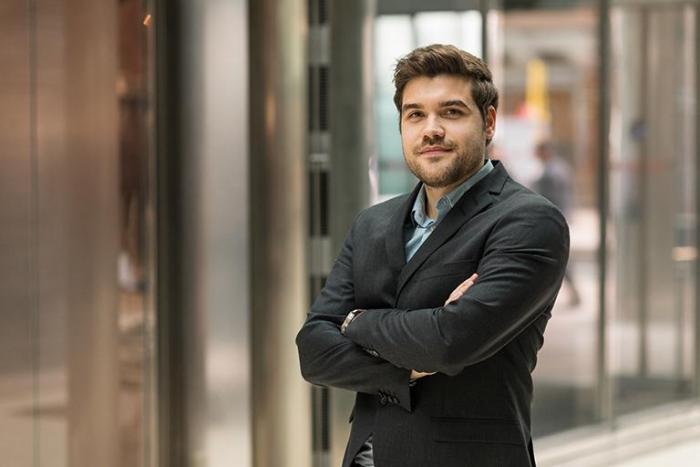 At UCL School of Management, PhD students pursue studies in the following research groups; Operations & Technology, Strategy & Entrepreneurship, Marketing & Analytics, Organisations & Innovation, and Finance, Accounting & Economics. All five groups offer a unique education and research experience to a small number of highly motivated students, with the intent of preparing them for scholarly careers at the highest level.
Third Year Strategy & Entrepreneurship student Joe Ploog tells us about his experience at UCL School of Management and shares what he thinks are the most important things for anyone considering taking on a PhD.
What is the most rewarding thing about studying for a PhD at The School of Management?
The schools' clear focus is a big advantage, although there is variation within the different research areas and faculties expertise, the core focus runs through all the research groups which enables the faculty to share their knowledge and expertise, facilitating all kinds of conversations. The PhD programme is a good example of this collaborative approach to working as the small cohort size allows you to get to know everyone on a personal level creating a tight-knit community. This is completely different to my previous experience studying at Rotterdam School of Management, which has over 500 PhD students, making it impossible to connect with your peers in the same manner. And of course, the phenomenal view from Level 38 does make the perfect backdrop when studying.
What is the most challenging thing about the PhD programme?
The first year of the programme is definitely the most challenging, as there is a lot to balance between coursework, developing your research idea and attending classes. Although the professors are extremely knowledgeable and supportive, the coursework is intense and hard to manage alongside other academic projects. However, it does prepare you for a life in academia. The level of intensity varies throughout the programme, for example, second-year is slightly easier in comparison, as you do not have classes to attend and in third-year you get more freedom to explore your research interests, and then in the final year it intensifies again as you must balance completing your research whilst navigating the job market.
How have your past and present experiences outside of the programme supported your learning and research?
My research focusses on digital platforms and network effects in the empirical setting of the video and board game industries. Before coming to the UCL School of Management I completed a Master's in Strategic Management at Rotterdam School of Management, which is not the usual trajectory for PhD students as most dive straight into a research Master's or consider pursuing an academic career after some years as professionals. I was fortunate that my knowledge of the video game industry and previous academic experience were extensive enough for me to enrol on the PhD programme without a research-focused Master's.
You recently had your first paper published, can you tell us more about that?
This has been a fantastic experience and is one of my greatest achievement's to date, as it is still relatively early in my career to have a paper published. I actually started working on this project with my supervisor before I officially started my PhD. The paper is titled: Coevolution of Platform Dominance and Governance Strategies: Effects on Complementor Performance Outcomes and looks at multiple cases of leading platform ecosystems over time to consider how a platform's increasingly dominant market position affects performance outcomes for complementors.
Big digital platforms like Google, Facebook, Apple IOS and Amazon, are intermediaries for the developers and end-users, for Apple IOS, for example, you have the developers who upload their app to the platform and the end-users, like us, who use the product. In the paper we find that as those platforms become increasingly dominant, they actually change the ways in which they govern their ecosystems which in return affects the performance of complementors.
The whole experience has been an excellent learning curve and has given me an insight into the entire process of publishing a paper. It's an intricate process with lots to consider in terms of submitting the paper. Most if not all journals adopt a peer-to-peer review system, where the paper is revised by peers in your field who provide feedback and suggest changes. This process can go on for multiple rounds before finally being published in the journal. Overall, it has been an exciting experience and it is great to see the end product printed in the journal and we also have this excellent video abstract too.
Have you had any unexpected changes that have made you revise your research since starting the programme?
I think it's normal to start out with one research question and then adapt this as your research progresses. For example, I had a very specific idea for my PhD but my actual dissertation topic has moved into a different direction of what I had originally planned - so rest assured it is normal to develop your idea!
What is your key takeaway from your time studying at UCL SoM so far?
There are a number of different elements that I have found to be extremely useful. One has to be the interaction you get with the professors, they have excellent theorising skills and they encourage you to think about the actual mechanisms that drive the findings you observe in your data. Before, I used to think the data would speak for itself but there is more to it, you have to think and engage with it on a much deeper level.
Another aspect I particularly like about the programme, and in fact the school overall, is that although at times studying a PhD can be lonely as research can be quite solitary work, the PhD community is extremely supportive and social. So contrary to popular belief it does not have to be lonely, but you have to make the most of teamwork and social interactions.
What are your future career goals?
Personally, I would like to stay in academia and become a professor at a leading Business School. The PhD is designed to prepare you for this career path, so I would strongly recommend thinking about whether a career in academia is what you want before you start a PhD.
what advice would you give to someone considering studying a PhD?
Firstly, identify your research interest! You have to have something in mind that you are passionate about and interested in, initially to be successful in applying for the programme and then to ensure you can engage with the topic on a daily basis and on such an intense and intricate level.
Secondly, research different institutes and chose the right school and faculty for you. Look at the skills and expertise of the faculty to ensure there is someone you share an interest with and would want as your supervisor. You will work closely with your supervisor throughout the entire programme, so having a good working relationship is key! This for me is the most important consideration when choosing where to study, as I actually started in Rotterdam School of Management and moved to UCL School of Management because my supervisor relocated and invited me to join him.
Making the move to UCL School of Management was definitely a good decision, for several reasons; I still have my contacts from Rotterdam School of Management and have further expanded my network, and the overall institution is a much better fit for my research as the school focusses on technology and innovation which is much more closely aligned with my work.
What are your favourite non-academic and academic books?
As a 90s kid, the non-academic book has to be Harry Potter, particularly the 4th edition, The Goblet of Fire. I am a very competitive person and therefore enjoyed the Triwizard Tournament and I personally think this is where the series transitions from children's books to adult books as the story gets slightly darker.
This really does depend on your research, however an academic book I have recently found interesting (although it has a terrible title) is An Introduction to Computational Models in the Social Sciences. It helps break down complicated interactions and intricacies into an easy-to-understand mathematical language, which I have found useful as I am considering introducing a mathematical model to one of my research projects.
When you first start a PhD programme, it can be challenging to understand academic texts as there is a lot to read and you have to find the specific information relevant for your research. The first and second year involve ample reading, which prepares you for the rest of the programme as by the third year it becomes much easier to read academic texts because you understand the structure and the key bits to pull out, so you can get faster at getting a sense of the paper.
What is your top tip for people trying to stay focussed during the lockdown and remote working period?
I have to admit, the German in me comes through here, I have a really structured routine and I work from 08:00 am -17:00 pm, sometimes longer if needed, but generally, I stick to this schedule. It helps me to have a cut-off point, I work hard throughout the day to get my work done in that time-frame and then I can relax. Of course, it depends on what works best for you, as I have colleagues who prefer to work late at night so it does depend on your preference, but personally, I have found a clear routine works well for me.