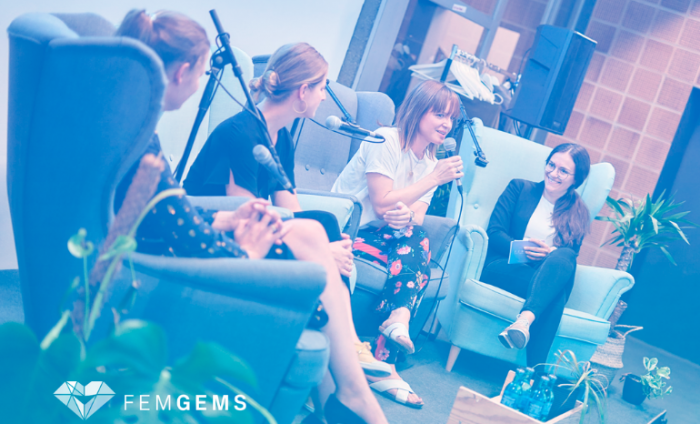 Like many of us, for me, the start of lockdown was pure chaos, as all the structures in my life seemed to fall apart in a blink of an eye.
But, I've learnt a lot over the past few months and I hope this blog will help you to find (new) role models, mentors, and a community you can align yourself with and be supported by - a fantastic network no matter whether you are a student or professional.
When the pandemic hit my summer plans, such as the exciting opportunity to work on the UCL Global Citizenship Programme1, got cancelled, I suddenly had time to think, reflect and start to make more mindful choices and decisions for my future.
I did some research and pretty quickly realised that the economic fallout of COVID-19 will disproportionately affect women2. With the economic crisis3 just having started, we need to support women on all fronts at home and in the workplace. While we need to take action on so many levels, the pandemic has taught us that women especially, in leadership and businesses, require support in these times of crisis. It's proven that women's economic equality is good for businesses and contributes to economies growth, backed by The United Nations 'economic empowerment'4 movement which 'sets a direct path towards gender equality, poverty eradication and inclusive economic growth' - an essential part of achieving the 2030 Agenda for Sustainable Development.
In times of crisis, entrepreneurs lead the way with innovation. While women are often underestimated and have to prove themselves more than that expected of men, statistics show that women-led companies perform three times better5 than their male counterparts. And still, I did not know any female entrepreneurs. Until recently I could not even name female role models that really inspire me, and that are accessible – so not celebrities. Those who have a career path that inspires, those who work on fascinating projects.
I needed to make important decisions but lacked the necessary knowledge, experience, and mostly inspiration. I just did not have those role models in my network and had no idea how or where to find them. I didn't even know where to start. Then, I found out that it's not just me: 'Less than half of young people could name an entrepreneur who inspired them and among those who could, 85% named a man'6. No wonder I couldn't name anybody.
Connecting with my female role models
So, whilst in lockdown, I decided to finally track down some incredible women. I realised that most of my academic experience has been dominated by men and I now sought new ideas from women. Those in leadership positions in all my previous workplaces, during, and after my degree were men. I was craving a change in my surroundings.
My starting point for female inspiration was a Google search: 'UCL female founders' such as Jillian Kowalchuk, founder of Safe and the City7, Leyanis Diaz, founder of Major Marketplace8, Kaitlin Fritz, founder of Musemio9 or the sisters Raissa and Joyce De Haas with Double Dutch Drinks10. Check them out - their companies are incredible! Followed by hours clicking through Google results and LinkedIn Profiles, I came across the first podcast in Europe featuring female founders11 - this was a life-changing discovery and opened new doors to me. Quite literally.
Fast forward a few months later, I interviewed Dora Petrova, the founder and host of the podcast talking about the launch of FemGems Club. Because what started as a podcast, turned into a result-driven support system for early-stage female founders helping them make their startups fly by creating impactful connections and driving real results with strong support and accountability systems and mentorship.
What I learnt is this: reach out to those you want to connect with and get inspired by, actively seek to extend your network. Networking is not easy but research suggests that successful women share the characteristic of having a tight-knit inner circle of other well-connected women12. And this is what can happen when you do: I became a team member13 and have been supporting FemGems Club for the opening of the soon-ending applications process14 for a few months now, completely blown away by the incredible network of early-stage female founders that is growing in the Club.
Taking action and reaching out meant that back when everything got cancelled due to COVID-19, I found the network of inspiring women I was looking for. All the stories and experiences of rising women in entrepreneurship featured on the podcast are so applicable to everyone's life and deeply resonated with me. Their thoughts are uplifting and exactly what I had been looking for - inspiration, motivation, perspective. I had a community of incredible women I did not even know personally – at my fingertips.
As Viola Davis said: 'When women support women, amazing things can happen', and if I had to name another thing I learnt in the past few months, it would be this. Incredible things can happen when you put yourself out there.
Effect of Coronavirus on female led start-ups
Many businesses have already or will die in the next few months, but a recession is also a time for new projects and companies to emerge, aiming to drive change through innovation. Do you have an idea in your head but never dared to give it a go? This might just be the right time! 'Following the disruption caused by the 2008 financial crash, many innovative businesses emerged - from Airbnb to Uber'15- you don't need to be the next Airbnb or Uber, but starting to work on something you are passionate about or think it does not exist, can be improved or needs to be changed is so worth it! Go ahead with your idea and surround yourself with inspiring people, network, get help and support others. Don't let COVID-19 widen the startup gender gap. We need entrepreneurs now more than ever.16
While governments, institutions, and companies17 are developing and implementing their support strategies, we can do our share. Networking is crucial and a way to take action instead of waiting for support systems to magically emerge overnight. By building out networks for women and creating change, society flourishes. Encourage your friends to start the project of their dreams, encourage your sister, aunt, and mother to go ahead with their idea. Encourage people around you to join existing networks or build new ones so they get the support they need. Even if you don't want to become an entrepreneur, network anyway! Reach out to new people every day! Ask questions, be curious, listen.
I learnt that support networks are crucial for making the right decisions. Role models, mentors, and accountability partners are key, being surrounded by those who've done what we want to do massively helps to choose the right path. Give it a go, because 'you are the average of five people you spend the most time with' (Jim Rohn)! And asking for help is okay, we do not have to figure everything out by ourselves.
References