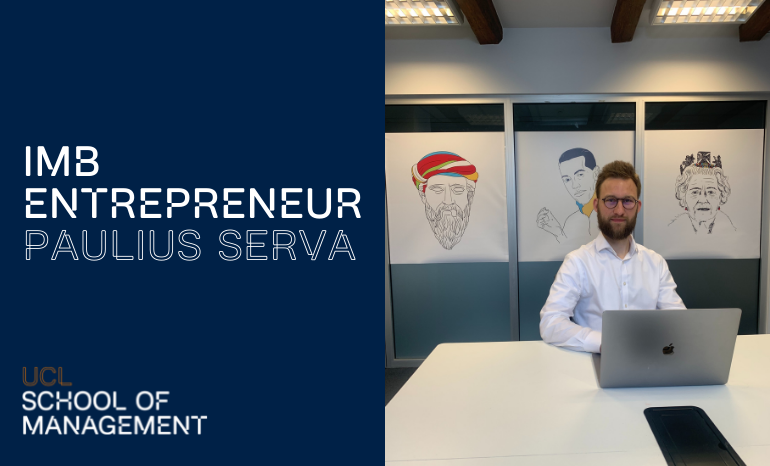 As a part of our BSc Information Management for Business (IMB) Entrepreneurs Series, we are catching up with IMB students and alumni to learn more about their entrepreneurial journeys, the challenges and successes and why they feel the IMB programme helped them prepare and succeed in the competitive environment.
Third year BSc Information Management for Business student, Paulius Serva​'s startup, Alfa Klase, a tutoring agency that is disrupting the education sector in Lithuania is now set to expand across the waters and innovate private tutoring across the globe. Paulius shares how the IMB programme has helped him understand business structures and how to keep his long-term ambitions at the forefront of the company's growth.
What does Alfa Klase do and how did the idea come about?
Alfa klase is a tutoring agency that was established in Vilnius, Lithuania by a couple of young entrepreneurs that were keen to innovate the local private supplementary education sector in 2017. I had been working as a tutor during my first degree, which was medicine at the time, and realised that the local market had been operating in pretty much the same way for more than a decade. There was a gap in the market for how private afterschool tutoring could be delivered so my partner and I decided to attempt to change it. At first, it was all low scale, no external funding, one office space, a couple of tutors and lots of personal effort to cover all admin duties. Over the years it expanded to a well-organised company that is profitable and consistently growing.
What have been your biggest challenges as an entrepreneur?
I have a love-hate relationship with change. I genuinely love to move things forward and think of innovation as one of the most exciting things in business development. This drives me every single day, although colleagues are often annoyed with how rapid some changes are required to happen. The biggest challenge in terms of change is managing its pace. I've had to slow myself down on multiple occasions in order not to overdo and give it some time to see if introduced changes work or not. I hope to find balance someday!
Do you think the skills you learnt on the IMB programme helped you navigate the entrepreneurial process and overcome these challenges?
Oh yes, definitely! IMB develops so many soft skills surprisingly well. When the entrepreneurial process shifts from a solo effort to team management, these soft skills are used on a daily basis. The programme also helps to look at business as something that has so many uncertainties, even though it does follow certain rules. The knowledge of those guidelines has allowed me to approach each challenge with a sense that no situation is to be handled with stress. It's given me a stable foundation and an ability to look from a far perspective which enables me to make the right decisions.
Why did you decide to study IMB at UCL SoM?
I enjoyed developing Alfa klase without having any knowledge of what business should look like. After a couple of years I understood that while it can all be fun, when the numbers get bigger one needs to have methodical knowledge of how to further operate and lead an expanding business. Prior to applying to UCL, I had some other business ideas for the future and I initially thought that IMB would help me make them a reality. During the period I figured that I haven't achieved everything I wanted in the Education field, therefore the upcoming years are to be spent on Alfa klase's foreing expansion, instead of starting new ventures.
What is it that you think makes the IMB programme so unique?
The balance between technical and business management modules is great. It's clear that the world has reached a point where middle-top managers must have decent knowledge of how the IT field works to make proper decisions. Companies are constantly trying to identify which engineers have soft skills and promote them to management positions so that they could talk the same language with their teams. IMB has the balance that ensures that anyone wanting a managerial position will have huge advantages over other candidates because they'll be able to manipulate the company's moving direction fully understanding the underlying processes.
What were your top three takeaways from the programme that enabled you to pursue entrepreneurship?
Firstly, it's about time to fail. Most successful entrepreneurs have failed multiple times and my wish to reach my goals without failures simply means that the dreams aren't big enough.
Secondly, networking is so important. A manager can't go far without talking to others. New connections help broaden the view towards already familiar things and that greatly helps to develop a company towards the right direction.
Finally, the structure is boring but crucial. I'm one of those dreamt about it yesterday, executed today types of people which is great fun but rarely helps to meet those ambitious, long-term objectives. For that, consistency is needed and a structured approach helps to keep the ship moving.
What are your future aims for Alfa Klase?
Alfa klase has outgrown the local market, so it's time to hit the big waters. A huge project is on the way that I hope will change how children learn. For me, proper education is all about perceptual learning, let's see how far we can push those senses.
Learn more about Alfa Klase and read our BSc Information Management for Business Entrepreneurs blog series.