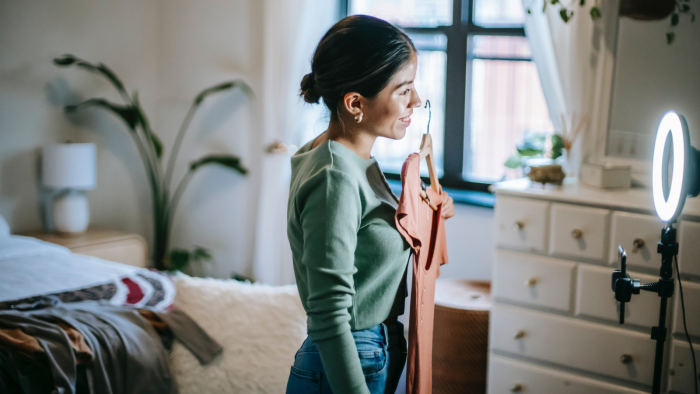 Head of the Paid Media team for Europe at TikTok, Brian Cheung delivered an insightful talk on how to drive hyper engagement through impactful digital content and brand building. The session was delivered as part of the final year Digital Conversations & Marketing elective module, led by Dr Rikke Duus.
This module explores how organisations can create impactful digital experiences to acquire, engage and retain customers. The module is attended by School of Management's BSc Information Management for Business (IMB) students and students from departments across UCL, including Arts & Sciences, Chemistry, Mathematics, Mechanical Engineering, Statistical Science and School of European Languages, Culture and Society (SELCS).
Prior to taking on the role of leading the Paid Media Team for Europe at TikTok, Brian gained extensive experience from world-leading creative media agencies, including ZenithOptimedia and OMD. He then joined Burberry where he rose to Director of Media Planning & Buying and was part of the brand's efforts during the successful digital transformation and brand rejuvenation phase.
In his talk, Brian shared his extensive experience from working on the agency-side of marketing and how agencies work with corporate clients to create impactful content and drive customer engagement. Brian also shared how large, established brands, such as Burberry, need to be ever-vigilant to protect the brand and acquire new generations of customer fans. The talk concluded with a fascinating insight into what it is like to work in marketing in high-growth companies, such as TikTok.
Student feedback
Students thoroughly enjoyed the session and found it extremely insightful, with some sharing their feedback:
"I found Brian's talk very interesting. He showcased what a media agency does and the different skills required to operate in this sector effectively. I found his examples from Burberry and TikTok particularly interesting as these are two very different companies. Burberry's community platform on trench coats and their monogram campaign across China were examples of how the digital marketing concepts learnt on the course were applied to real-life scenarios. Brian also shared his insight on TikTok, a company that is still relatively new. This was really fascinating especially as our group had proposed the use of TikTok for our own digital marketing campaign just a few weeks earlier. Lastly, it was good to see Brian touch upon some of the growing issues related to privacy that marketers must take into account."
"I found it really interesting to learn about how Burberry has managed to shift its brand perception through engaging with customers and building a completely remodelled, positive reputation with a community-based campaign. Thank you again to the module leaders for making it possible for us to have a look into how real-world marketing works through the lens of industry-leading professionals!"
"Brian Cheung's talk was highly stimulating, sparking a discussion surrounding the consumer's privacy concerns with TikTok. He addressed the company's aim to increase transparency and trust to maintain its competitive position while government regulations are reinforced".
Learn more about our BSc Information Management for Business programme