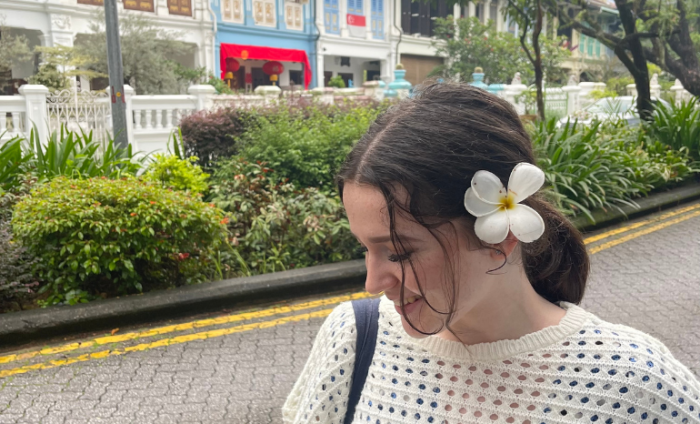 As part of UCL School of Management's BSc Information Management for Business programme, students are given the opportunity to study abroad to enhance the skills and knowledge that they have learned on the programme, whilst also enabling their personal and professional growth.
This year, IMB student Isabella Grant spent the summer in Singapore with Singapore Management University. We recently caught up with Isabella to learn all about her experiences in the country, which included a site visit to the Walt Disney offices, a sustainability talk at Singapore's leading energy and urban solutions provider, Sembcorp, as well as a visit to the SMU-Sydney-HKU Law & Sustainability Conference Series.
tell us about your overall experience at smu
The global summer school was a four-week long programme held at Singapore Management University. The opportunity of not only exploring a new destination, but also delving into subjects closely connected to my own interests is ultimately what drew me to this experience. Additionally, Singapore's reputation as an eco-friendly city was another main reason for me applying, as I was excited to witness the sustainability efforts there first-hand. I am thankful to the UCL School of Management for selecting me as one of the UCL students to be able to have the chance to be part of such a memorable journey!
what is smu like as a university?
During my time at SMU, I took two courses from the Asian Insights and newly-launched Sustainable Futures tracks. The first day of the programme introduced the main theme of sustainability, where I had the opportunity to listen to Professor Tommy Koh's presentation on the global issues surrounding the environment and the importance of teamwork to leverage skills for all countries to create a better future together.
From this point onwards, I was presented with multiple other opportunities to understand SMU's role in sustainability and I was continuously impressed by the university's efforts in this area. Being invited to attend the SMU-Sydney-HKU Law & Sustainability Conference Series, held in Singapore this year, was one way that allowed me to explore this and I was able to connect with a global network of people with a common interest in future sustainability targets. The conference presented the need for innovative laws to address sustainability challenges in a rapidly-evolving global context and, for me, the bringing together of leaders from diverse industries to undertake in thought-provoking panel discussions was greatly inspiring. I am grateful for the insights I have gained from this event on topics which are of great interest to me, and I look forward to witnessing its continued impact.
what did you get upto while you were there?
While in Singapore, I had the opportunity to partake in several company visits, including to the Monetary Authority of Singapore, the Walt Disney offices, and Sembcorp – Singapore's leading energy and urban solutions provider. A personal highlight for me was during the company talk at Sembcorp where I was able to gain first-hand insight into how sustainability is being paired with their business objectives through a focus on increasing their renewable energy projects. I am grateful for the opportunity to engage in such in-depth conversations surrounding the challenges and opportunities faced by the companies I visited, as I was able to draw comparisons with company initiatives back home.
what were the key takeaways from your trip?
At the Law and Sustainability Conference, I took note of Singapore being described as 'a garden in a city'. This description remained in my mind throughout the whole of my journey there and allowed me to open my eyes to understand the uniqueness of Singapore. The mix of sustainable architecture and green spaces made me realise that there are so many fantastic lessons or ideas that countries could take from Singapore when considering their path to a sustainable future. This was not limited only to the architecture, as witnessing the collective effort from all organisations in the city who were meeting (and even exceeding) green targets and requirements, inspired me. Studying sustainability in the context of international law in the perfect place to observe real world green efforts made me feel that I could gain a more comprehensive understanding of sustainability in a global business context. I look forward now to bringing the insights I have gained from studying at SMU into my future endeavours in order to contribute positively to our global community.
how has this experience supported your personal development?
For me, one of the most enriching aspects of the programme was the opportunity to connect with individuals from diverse cultural backgrounds. I received fantastic opportunities to collaborate with my international peers both inside the classroom during class projects and discussions and outside of the classroom through cultural exchanges and activities. I'm so happy to have made these new connections and friendships and I know they will continue beyond the programme and long into the future.
The programme was also a way for me to further my global perspective and experience the challenge of getting used to a whole new environment while studying at the same time. These are invaluable experiences and I've been able to test my adaptability and embrace a whole new unknown, which allowed me to push my limits and now come away from the programme feeling an enhanced capacity in navigating these uncertain situations which come up in life and feeling confident that I can thrive during diverse contexts.
what advice would you give to students who are considering studying abroad through the imb programme?
For me, one of the amazing things about studying abroad was having a real-life opportunity to experience new cultures first-hand and also experience opportunities to expand my horizons through connections with students and professionals from around the world. These connections not only provide valuable insights, but also open paths to global collaborations and multicultural understanding – experiences which I am sure are invaluable in the global business environment. I would recommend anyone who wishes to invest in their own personal growth or who wishes to further develop their academic interests to consider applying to one of the study abroad opportunities offered by IMB.
Find out more about UCL School of Management's BSc Information Management for Business programme.