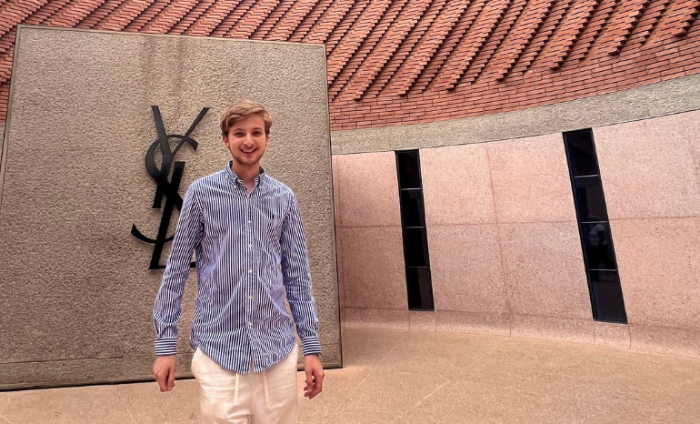 As part of UCL School of Management's BSc Information Management for Business programme, students are given the opportunity to study abroad to enhance the skills and knowledge that they have learned on the programme, whilst also enabling their personal and professional growth.
This year, IMB student Allen Ilica spent the summer in Rabat, Morocco with ESSEC Business School. We recently caught up with Allen to learn all about his experiences in the country, including the well-known ESSEC Integration Trek across the Atlas Mountains and a start-up tour in Marrakech. Allen also shares his advice for students thinking about studying internationally and why the experience was one he will remember for life.
How was your experience at essec overall?
The exchange was wonderful - full of so many different events and experiences that boosted our understanding of not only African culture, but also the mindset and business skills needed to succeed in such a market. I was there for 3 weeks, travelling across the entire country, from Rabat to Marrakech, Fez and other beautiful places in the Atlas Mountains. I picked ESSEC as it is one of the best business schools in Europe and has a reputation for being one of the best in the European Union. Being part of a world leading university in London, I was curious to see the environment in the neighbouring France!
what was essec like as a university?
The university's network is extremely impressive - from the teachers who are former INSEAD MBAs (one of the best MBA programmes in the world) to former United Nations C-level Executives or even CEOs of top European companies. During my time at ESSEC, the university arranged a number of talks and conferences with diplomats from Morocco, including a special meeting with the Ambassador of France in Morocco! The quality of the campus and the education showed me a face of France that I enjoyed a lot!
what did you get up to while you were in morocco?
During my trip, there were so many interesting meetings and activities that I got to be a part of - I would mention all of them, but we would discuss it for days if I did so here! Firstly, we were immersed in trips around Rabat with a teacher who taught us about religion, culture and gastronomy. After this, we were taught basic Arabic in classes that saw a trip to a Moroccan household to cook traditional couscous!
We then prepared to go on the well-known ESSEC Integration Trek, an adventure which took us all the way to the Atlas Mountains at 2000m high, being completely remote from any internet and phone signal, living in a campsite with only basic necessities for 4 days! It was definitely a challenge for me as I haven't been camping or trekked in the mountains before but afterwards, I felt much more relaxed and ready for another one! It was also an excellent way for the group to get to know one another much better and truly talk to people as we haven't had anything else to do! We also had workshops and other activities planned by teachers, but I think these come second to our takeaways. Finally, we visited the beautiful city Fez, which included a tour around the different souks and medinas as well as an ancient leather tannery and the oldest university in the world based in a mosque!
Then we returned to the campus in Rabat, had courses on AI & technology, geopolitics and business in Africa before going on our last trip to Marrakech on a start-up tour! We visited CAEDEL, an initiative of the local university in Marrakech where we helped accelerate a young Moroccan start-up into finding its key product and how to pitch it to investors in an impactful way! We also visited the city of Rabat, which was amazing, one of the best I have seen in my life!
what were the key takeaways from your trip?
After this experience, I believe I better understand the art of doing business in Africa, as well as the differences compared to conducting business in Europe and how to find and assess opportunities in developing countries. This is so different from studying and conducting business in a location like UK or Germany, for example, as the challenges you must try and solve are the complete opposite. While in Germany, your focus would be to innovate or beat your competitor, whereas here in Africa, the emphasis is more on how to bring a certain technology to a population that is very conservative and doesn't necessarily want to change unless they understand the technology.
had you ever visited morocco previously?
While I had't visited Morocco before, I did have some assumptions about the country - mainly that it was a very important player in agriculture, that it is mostly desert and that there aren't any winter locations (i.e. places to skiing or snowboarding during the winter).
I was so wrong - It is one of the most diverse places I have seen! From the ocean where you can surf to the mountains where it is actually very similar to an alpine climate and the very hot desert environments like Marrakech, they all are so different! The country is also very developed in my opinion - some shops have self-checkouts or internet options. Credit card usage is low so just remember to take some cash. While big shops and malls accept cards, small vendors and restaurants typically don't.
what were your top 3 experiences at essec?
I think the start-up incubator was my favourite experience, as we were able to understand the different types of entrepreneurs in Africa and help them and their business to go further. This was an incredible experience, as it was an example of how we had directly helped an entrepreneur, which was unmediated by any teacher. We found their problems, what they are facing, how are they financing projects, etc. and I couldn't have learned more from any interaction!
In addition, I loved the Arabic and Moroccan culture classes, where we learned so much about the differences between conducting business there versus the European market. Our classes touched on Islamic banking, religious considerations and the cultural implications that can affect the business background there.
Finally, I also really valued the geopolitical projects and the insights on conducting business in Africa, which showed us how resource-heavy the continent is! In my opinion, companies should develop the logistics to use petrol and produce here, but they should also be aware of the processing plants and important manufacturing capacity that would ensure a better future for their citizens. Africa has tremendous potential, and it should be utilised ethically.
how has this experience supported your personal growth?
This Summer Exchange has been one of the best decisions I have done throughout my time at UCL! It has made me more confident in conducting business in Africa by giving me the information and knowledge necessary to succeed here. Also, I think the process of sitting in the country for almost a month has provided a strong foundation for my business knowledge. Just by visiting the country, you can start to see the differences and understand how they operate by discovering how Moroccan people live. I also made a lot of friends throughout this process and we keep in touch all the time. We also recently started meeting up with everyone that I met in Morocco from London who participated in the socials and movie activities.
In relation to travel, I think this experience really confirmed my opinions about living in a country for some time in order to understand how to do business there. I have always loved travelling and will continue to visit more exotic destinations because of my adventure to ESSEC Africa! But the essential takeaway is that the most important information about a country can only be found by immersing yourself in their culture and cities! Only in this way will you find what problems they are facing and what the solutions can be. In my opinion, this is how you become a successful entrepreneur and innovator - by coupling these experiences with a theoretical background and internships!
what advice would you give to students who are considering studying abroad?
Don't even hesitate to apply. Trust me you will have the best time of your life and these memories will never die! The lessons and knowledge you learn through a study abroad programme are unquantifiable. Instead of studying in classes, you are taken on so many of these journeys and adventures where you are exposed to how life is conducted in a country that you had no prior knowledge of. You understand why card adoption is low in less developed countries or why continents can't process their resources, but you also discover that there are technologies much more advanced than the UK, such as the Moroccan French High Speed (TGV) rail, which runs at 300 mph!
As for advice, I would definitely recommend researching the business environment in Africa and think about why you want to become an entrepreneur. What drives you to take this path and do you have all the knowledge necessary? If not, how will this programme enhance it? You will be amazed at what you learn if you start with a list of goals and questions - before even applying - as you will be able to tell your teachers what you are interested in learning about. For me, the exchange has improved my creativity, my understanding of different problems in Africa and how to bring technology there. It is a must-have experience for the next wave of entrepreneurs at UCL.
Find out more about UCL School of Management's BSc Information Management for Business programme.