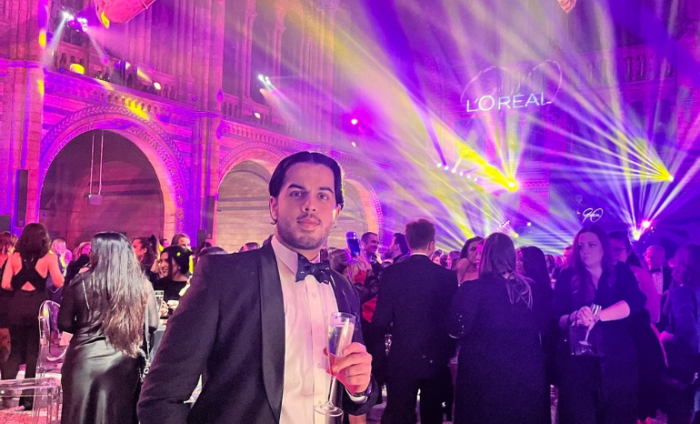 During their third year of study, BSc Information Management for Business (IMB) students are given the opportunity to undertake a placement year at a company of their choice to enhance and develop the skills they have learned on the programme.
This year, IMB student Gurshaan Sethi completed his placement year at L'Oréal, the world's largest cosmetics and beauty company. As the Digital Marketing Intern, Gurshaan played a fundamental role in the development and maintenance of website content for L'Oréal Paris UK and supported with an array of exciting product launches.
We recently caught up with Gurshaan to find out more about his experience at L'Oréal, as well as the ways in which the placement has supported both his professional and personal growth and the advice he would give to students considering a placement year at L'Oréal.
tell us about your role at l'oréal
I worked as the Digital Marketing Intern with L'Oréal Paris, which is one of the 35+ brands under L'Oréal. The main part of my role involved managing the website content for L'Oréal Paris UK. This included supporting various brand categories with new product launches, highlighting the brand projects that L'Oréal Paris are actively involved in (such as Cannes Film Festival, Movember, Stand Up Campaigns against Street Harassment), and modifying the brand's digital content constantly so that it remains in line with best practices for search engine optimisation (SEO). I am also responsible for working with L'Oréal Paris' review panel to gather product reviews ahead of key product launches.
how would you describe your year at the company overall?
To sum up the experience, I would say that it was exciting and fast-paced. It was my first time working full time in a multinational company so every day was a new day. The exciting part was the anticipation ahead of each day. In my previous blog post for UCL School of Management, I mentioned that I have a preference towards roles where I can show my creativity and I am glad that most of the projects I was involved with throughout the year helped me to showcase and polish my creative ability.
Before starting at L'Oréal, most of the people I spoke to from the company all said the same thing: 'Be prepared for the fast-paced environment' but, until I started working, I didn't really know what they meant. As a global top beauty brand, there are regular product launches at L'Oréal, which for the digital team meant being on top of all the deadlines ahead of the go-live dates and ensuring smooth digital activation.
have there been any standout professional moments over the past year?
L'Oréal is known for giving some big responsibilities to their interns, which gave us a perfect insight into the professional world. For me, it was managing the front end of the entire website's content. A key highlight whilst working on it was being asked to give the entire homepage a new look, which involved extensive research on website best practices and finding the best methods of increasing traffic and appeal to a wider audience.
We launched the new website earlier this year and, just a few weeks later, all countries were on a call with the brand's Global Headquarter Digital Team to look into website best practices. In their presentation, they were highlighting how all countries should build their homepage. I was surprised to see the homepage I designed for the UK website was used as a 'best practice example' for other countries to follow - and we're not done yet! I'm in my final few days of the internship and, before I go, I'm looking to give the website another new look - I am always striving for more!
have you found that your role changed throughout the year?
My role largely remained the same throughout the year, as I knew that my key responsibilities would fall to developing and maintaining the website. However, what has changed is my proficiency in carrying out all the tasks. For example, if I'm supporting a category's key launch, I became their main point of contact in the digital team.
I have also had an amazing team who helped me explore other parts of the business to give me a clearer idea of what roles are there and which ones out of these spark my interest.
has this experience enabled your personal development as well as professional development?
Yes, yes and yes! I have received feedback from the team and all of them have highlighted that they saw an improvement in my ways of working. I have been more organised when it comes to deadlines and managing my time to be able to handle various projects at once.
I have also been more attentive towards even the finest of details for each piece of content that I'm handling, word-to-word and regularly re-checking all visuals before they're set live. I have noticed all of these experiences reflect on a personal level as well when it comes to managing my personal tasks outside of work.
would you recommend l'oréal to students who are thinking of pursuing a placement year?
Yes! L'Oréal has been rated as a top student employer on RateMyPlacement and I can now see why! A placement year gives a deeper understanding of a professional experience when compared to a summer internship. With companies, their placement year interns are often given big responsibilities so that, by the time you finish your placement, you're guaranteed to be a pro in your tasks, which give you a practical understanding of the course you're studying! This will have you prepared for your return to university where you can apply all of this newly-gained practical knowledge into your course.
My main piece of advice for anyone thinking of applying for a placement year would be to make sure your interest for the role and company you're applying for reflects throughout your application. It is very important that you are interested in what and where you want to work. For my application at L'Oréal, I knew this is the company I wanted to work for and worked hard for my interview and case study presentation. Once you're working on something you're very interested in, the work won't seem like a tedious task!
Find out more about the BSc Information Management for Business programme.