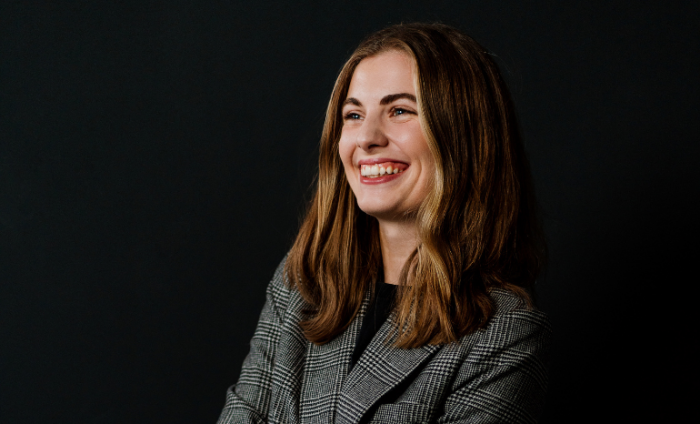 UCL School of Management BSc Information Management for Business alumna Elizabeth Dlha has recently been named in Forbes Slovakia's 30-under-30 2023 in recognition of her work in the tech start-up industry.
With a background in consulting and a passion to drive growth both personally and at an organisational level​, Elizabeth made significant contributions as a founding member at Deepnote and as Business Development Manager at Notion. Her expertise in data science, exploratory programming, collaboration, and productivity have shaped successful companies and established strong go-to-market strategies. Elizabeth's dedication and talent continue to make a significant impact in the field.
We recently interviewed Elizabeth where she shared valuable insights into her journey and experiences in the industry. ​
How did you feel when you first learned about your nomination?
When I learned about the nomination, I was obviously excited but also humbled. It is an incredible honour to be recognised alongside so many talented individuals who are making a difference in their respective fields, many of them close friends whose work I've had the opportunity to observe up close for a long time.
What inspired you to pursue the particular endeavours that led to the nomination?
The two most recent projects prior to the nomination came from my work as a founding member at Deepnote and a Business Development Manager at Notion. Both are tech start-ups in different stages of growth - one in the field of data science and exploratory programming, the other one in the area of collaboration and productivity. Each of these projects inspired me for a different reason and came at a time, when I was optimising for different things in my career.
My background was in consulting, I joined McKinsey right after university and wanted to learn more about what it meant to build a product and a company. Deepnote was exactly that - a rare opportunity to join an early, seed-stage venture with close friends of mine as the first non-engineer. My mandate was to build out the go-to-market foundations for the company and establish the company in San Francisco, which was our primary market at the time. This taught me key principles of building a company and hiring a team from scratch.
At Notion, I joined a start-up in a much later stage (series C), to enhance my skills in partnerships and business development. My role here is to grow our partner ecosystem and tools that developers can use to extend the platform, ultimately helping users bring the tools they use into one place. A common denominator on both of these projects has been the opportunity to collaborate with incredibly talented individuals and learning from some of the best in the field, which I'm immensely grateful for.
do you think your university education or experiences played a role in your journey towards this nomination?
At UCL, I studied the BSc Information Management for Business programme. As a UCL student, I was fortunate to have access to some of the best resources and mentorship, which helped me develop a solid foundation. What I found most valuable were the opportunities that UCL facilitated outside the curriculum - real-life projects, Spring Weeks and internships that allowed me to gain practical experience and build a network of connections within the industry. Without these experiences and the network, I would not have been able to develop the skills or the confidence necessary to pursue these projects.
What advice would you give to other university graduates who aspire to make a significant impact in their field and potentially be nominated for prestigious accolades like Forbes 30 under 30?
While accolades like Forbes 30 under 30 can be a nice validation of one's work, I believe it's important to focus on personal development, health and energy first and foremost.
For me, that currently means creating meaningful work that sustains me, helps others, and furthers my team. I'm hopeful that if you're disciplined about what you do and are striving to improve yourself and what's around you, the recognition will follow naturally.
Can you discuss any memorable or influential mentors or role models who have supported and guided you along your journey?
There have been too many to name, but some of the most influential mentors always came from my work experiences. There is always a myriad of things to improve about oneself, but what has worked for me is not getting bogged down in what you're not good at, and instead focusing on one single thing that can accelerate you right where you are. Right now for me, it's learning how to stay grounded and giving myself space to develop personally alongside work. At Notion, I have an opportunity to observe founders and managers with an incredible vision, work ethic and passion, who are incredibly humble and human at the same time, which has been very inspiring.
What were some unexpected or unique lessons you learned during the process of working on your projects?
One of the most unexpected lessons has been the importance of cultivating a truly diverse set of skills and experiences. While my academic background focused primarily on business and management, my work with Deepnote and Notion required me to drop into fields from product management, data science, to marketing and customer success. Especially in early stage projects, the ability to work cross-functionally and execute across the board regardless of your background, experience or title is invaluable.
Can you share any exciting or groundbreaking developments you foresee within your industry?
AI is definitely one of the most exciting and ground-breaking developments in our industry. At Notion, we are constantly exploring how we can use AI to improve our product and enhance the experience for existing users, but also how to make AI accessible and easy-to-use for anyone. In the area of integrations and partnerships, we are experimenting with AI features that can help automate tasks and streamline workflows between Notion with third party apps. It's exciting to think through how our product integrations and partner ecosystem can help create even more powerful and intuitive experiences, and what a truly connected, AI-first workspace looks like.
Learn more about the BSc Information Management for Business programme.