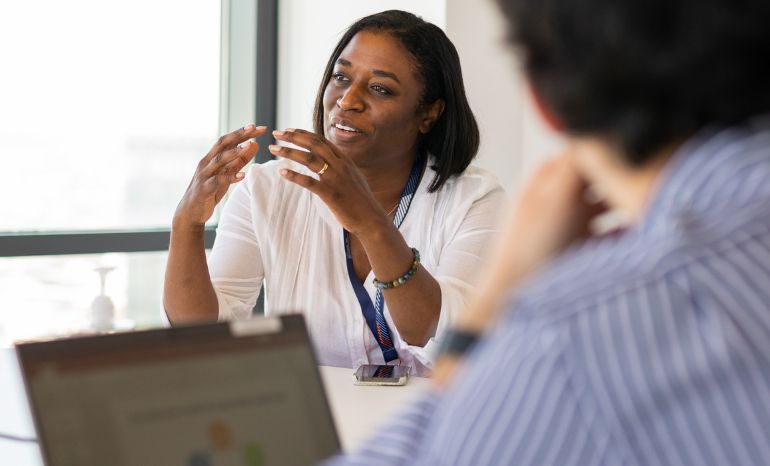 The UCL MBA Mentorship Scheme is a new student-staff initiative that aims to pair up experienced MBA students with undergraduate and postgraduate students at the UCL School of Management. UCL MBA students work in a range of industries at senior levels and the Mentorship Scheme co-founder, Tom Weston, wants to harness his peers' expertise to support the up-and-coming talent at UCL School of Management.
What is the aim of the mentorship scheme?
When students choose to study at UCL School of Management they are also becoming a part of a growing community of talented industry professionals and the future generation of leaders. The UCL MBA Mentorship Scheme aims to connect MBA students with extensive industry experience, with those who are just starting out their careers to support them with industry specific knowledge and access to networks to help them develop their skills and expertise in their preferred sector.
Mentors have a wealth of experience to share, with on average, 16 years of work experience in global private or public organisations as well as many having founded and successfully grown their own businesses.
The benefits
Co-founder and UCL MBA student, Tom Weston said: "We hope the scheme will prepare mentees to quickly and efficiently assimilate into a highly dynamic business environment. For mentors, the scheme will facilitate employee development and engagement."
Mentees will have an opportunity to investigate a specific industry or field of employment, gain confidence and skills for the workplace, as well as make connections with industry leaders to create powerful professional networks.
For mentors it is an excellent opportunity to build on their own knowledge and further develop their communication and leadership skills, whilst gaining a different perspective on industry problems from mentees.
"Lorenzo Todorow, the staff co-founder of this project, helps to train mentors to give the right support and said: "Mentorship has so many advantages for both parties. Mentors can help students set and achieve goals, but they can also offer feedback and encouragement to help them grow and feel more confident in their pursuits. For mentors, they get to reflect on their development and learn how to support others with their strengths. I firmly believe that helping others succeed is one of the most rewarding experiences you can have."
Mentors
Tom Weston

Senior Project Manager

Multi-industry expertise in digital technology and the built environment across strategy, innovation and transforamtion projects.

Joanne Carmichael

Global Skills Lead

Civil engineer and trsnport planner, with significant global experience in multi-disciplinary consulting, advisory, planning and design projects.

Brad Thornton

Dentist and Entrepreneur

Published author and entrepreneur with experience launching and growing businesses in regulated environments.

Dino Mariutti

European Head and Entrepreneur

Experienced professional with knowledge in management, leadership, finance and business. Founder and co-founder of several businesses.

Wendy Kent

Operations Director and Entrepreneur

Supply chain expert with significant experience in global operations, and account management - primarily in retail.

Neshat Sajedi

Compliance Specialist

Expertise in compliance, e-commerce and transforamtion (focused on driving growth with key stakeholders) in both law and business.

Ian Cooper

Senior Finance Director

Taxation and finance expert, with significant global experience within large and complex B2B publicaly listed multinational corporations.

Emily Wallace

Senior Clinical Placement Specialist

EdTech specialist and co-founder or a non-profit, passionate about inclusion and representation in the classroom and workplace.

Cheraya Alam

Associate Director

Extensive experience in the pharmaceutical industry focusing on business development, marketing and stakeholder management.

Ben Gamble

Venue and Events Entrepreneur

Experienced professional with global veune and event management expertise. Founder of commercial property consultancy.

Charlotte Taylor

Global Digital Commerce BU Acceleration Director

Experienced marketing professional with expertise in digital marketing and digital commerce and strategy development.

Themis Ploumidakis

Senior Manager at an International Marine Insurer

Practicing solicitor in the UK and Greece, with experience in shipping and logistics, as well as acting as a legal advisor for the Greek government.

Hanoof Al Doseri

Head of HR

Experienced HR Manager in investment banking and auditing. Expertise in policy management, recruitment, training, as well as performance management and assessments.

More mentors to join soon
HOW IT WORKS
Students first select a mentor they think best suits their expertise and ambitions, and then arrange an appointment to meet and discuss what they hope to achieve from the mentorship programme.
Ahead of the first meeting mentees must review and agree to the Code of Conduct UCL Mentoring and Mentee Guidelines on the booking page. Without this you will not be able to book your slot with a mentor.
All documents can be seen in full here:
All mentors are committed to providing students with a minimum of one hour a month, this may vary depending on the mentor's availability.
Mentors are there to share their experience and expertise to support both your professional and personal development, but please note this scheme is not designed to target a specific company via a mentor.
Further Information
This a pilot scheme, and is only open to UCL School of Management Master's students, however, we plan to expand and open this opportunity up to undergraduate students after the pilot phase.
For further information regarding the mentorship scheme please contact Tom Weston or Lorenzo Todorow.
Learn more about the UCL MBA programme and UCL Careers.