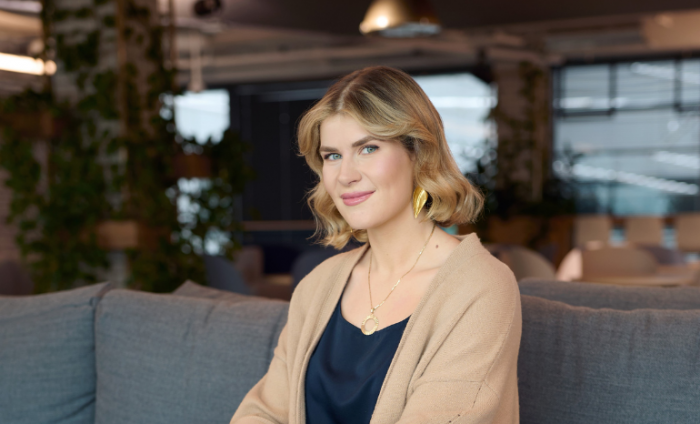 In 2016, Marta Gasik graduated from UCL School of Management's BSc Information Management for Business programme and has since gone on to take the tech industry by storm. After being introduced to Microsoft's grad scheme by an IMB alumni, Marta joined the company as a Project Manager in the EMEA Consulting division, and has since led projects in France, Italy and Poland.
Currently the Data Centre Lead at Microsoft Poland, Marta played a vital role in the implementation of the company's cloud strategy in the Central and Eastern Europe (CEE) region - an investment worth $1 billion, making it the largest tech investment in Poland's history. She was also named in the American Chamber of Commerce's 30-under-30 list recognising Poland's most promising young talents.
Throughout her time at Microsoft, Marta has also launched the company's Empower Women Programme, a scheme designed to provide women in non-technical roles with technical skills to support the advancement of their careers. We recently caught up with Marta to find out more about her incredible career journey so far and the advice she would give to students and graduates aspiring to break into the large organisations at the forefront of innovation and change.
how did your career in microsoft come about?
Of course, Microsoft is a huge company and I too grew up using their tools throughout my childhood. It was such an inspirational brand and I never seriously thought it is a career option for me until one of my IMB peers pursued a placement year at the company. Talking with her, I got to know the company culture and liked it so much that I decided to apply. Because I didn't know any current employees at Microsoft at the time, I actually took the usual online application path without any shortcuts or references.
Have you always been interested in tech?
I was lucky enough to receive an early education that treated tech as something that is just as natural for 10 year olds as math or literature, learning Logo and HTML programming in primary school. This demystified tech to me, but I was never 'interested' in this enough to pursue it at later education stages.
My interests brought me closer to management, and it wasn't until I learned about the IMB degree that I considered pursuing a career that was more tech-focused. I really liked the 50/50 gender split on the programme, as well as the learning of programming from scratch and the tech market connections the degree offered, so I decided to give it a shot.
what have been your career highlights so far?
Definitely bringing all the international learning and experience I gained at UCL and during my first years working abroad with Microsoft and applying it to my work in Poland. I am so lucky to have been part of Microsoft Poland since 2020 and work on what we call the Polish Digital Valley.
It is such a unique opportunity to bring the power offered by a world-leading company to change the market reality of your home country. Receiving the offer for my current role as Data Centre Lead, as well as the opening of Microsoft's first Cloud region in CEE, Azure Poland Central, were such rewarding moments! You can read more on the impact this project drove for Poland in our latest press release.
you've worked internationally on several projects. would you say this is an important skill?
Absolutely yes! I learned so much from each of the cultures that I worked with and having worked on global projects, I actually worked with many more cultures besides the countries that I lived in. For example, while living in Paris, our development team was partially based in India, our customers were split between France and Japan, and our project management office was made up of experts from a number of countries, such as Canada, Turkey and Australia. Working with such diverse teams, you really learn to see people via the lens of shared values.
It also forced me to adapt my working style to best connect with my stakeholders, teaching me flexibility and quickly putting my communication skills to test. For example, what worked in the UK ( such as using a first name basis in professional emails helped to get work done), wasn't as effective in Poland (where I had to relearn to write in a very official reports style). On a personal note, packing my whole life and moving abroad not once but three times, and starting from scratch alone in a new place, taught me how to be more open with new people, and really how to be my most authentic self at work and open up to new connections.
what is the gender split like in your current industry?
The technology industry is committed to creating an inclusive environment for all and, even if over the years I was in teams where I was the only woman, I never felt out of place. And with time, the industry is continuing to become more inclusive still. Funnily enough, when we opened the data centre, which is an overtly engineering-intensive project, we ended up in a team where almost all key stakeholders were my incredible female peers. An accidental v-team make-up, but one that shows even the most technology-intensive projects are confidently run by women.
CAN you tell us more about the microsoft empower women programme?
Launched in 2021, the Microsoft Empower Women Programme is an upskilling scheme designed to offer women in non-IT roles the opportunity to develop skills in technology. Participants of the programme have been training in four main areas within the company: Teams, PowerBI, Power Apps and artificial intelligence, and the scheme enables women to participate in the digital transformation of businesses.
Find out more about the Microsoft Empower Women Programme.
what advice would you give to students that are trying to break into these big companies?
Connect with alumni - I know how excited I was in my first years to see my younger IMB colleagues joining Microsoft for internships or graduate schemes. Everyone on the other side of recruitment is excited to help talented and motivated young people kick start their careers and being a sponsor for early in career joiners is a truly rewarding experience.
Don't be afraid to be bold and don't be afraid to talk loudly about what you want to do and what you want to learn. Nobody expects you to have all the skills for the job when you graduate, but as long as you can show you know what you will have to pick up on the job and we see you are enthusiastic about the journey ahead, it is a very promising start.
have you got any exciting projects in the pipeline?
For the moment we are looking forward to seeing the market impact that the opening of Azure Poland Central will have. After that, we'll see!
Find out more about UCL School of Management's BSc Information Management for Business programme.