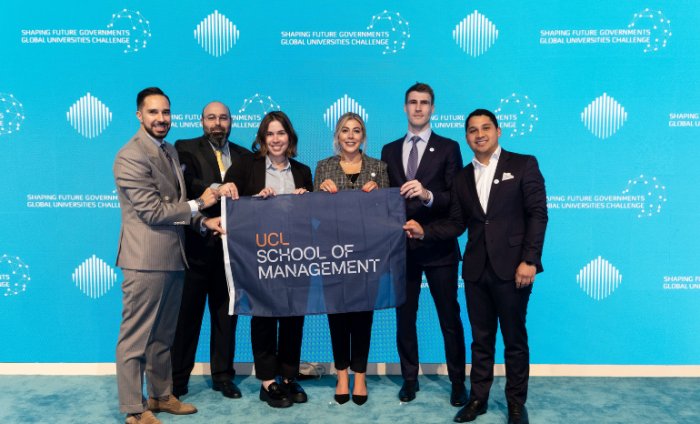 UCL MBA students have finished in the top three at the Shaping Future Governments: Global Universities Challenge held in Dubai. The annual challenge is part of the World Government Summit, an event that brings thought leaders, global experts and decision-makers together to develop the tools, policies and models that are essential to shaping future governments.
An integral part of the Summit, the Global Universities Challenge focuses specifically on bringing together the leaders of tomorrow with the policymakers of today in order to address the future of government, governance and policymaking. UCL MBA students, who participated in the Challenge by exclusive invitation, competed alongside eleven other teams from world-renowned universities including Harvard Kennedy School, MIT Sloan and London Business School and were tasked with drafting a Charter of Universal Digital Rights that could be adopted on a global scale.
The UCL School of Management team consisted of UCL MBA students Fadi Bastaki, Hollie Gates, Sebastian Varela Garcia, Emily Wallace and Tom Weston, with guidance from UCL School of Management Professor Paolo Taticchi. Together, they developed a comprehensive framework, inspired by the structure of UCL's portico. The charter focused on six pillars: access, knowledge, safety, ownership, sustainability and agency, and the team finished in the top three alongside Tuck School of Business and the winning team, IE University's School of Politics, Economics and Global Affairs.
Discussing their momentous achievement, UCL MBA student and Challenge participant Emily Wallace told us, "Sharing time and space with such brilliant and innovative minds from around the world has been a privilege. This week in Dubai was unforgettable and we're all deeply grateful to both UCL and the WGS for providing us with this once-in-a-lifetime opportunity."
Professor Paolo Taticchi also stated that, "Participating in the competition against some of the world's top schools and collaborating on a significant undertaking like crafting a Digital Human Rights charter was an unforgettable experience for all of us. The dedication demonstrated by UCL MBA students who worked day and night tirelessly on this project was a true reflection of the values and entrepreneurial spirit that define our School."