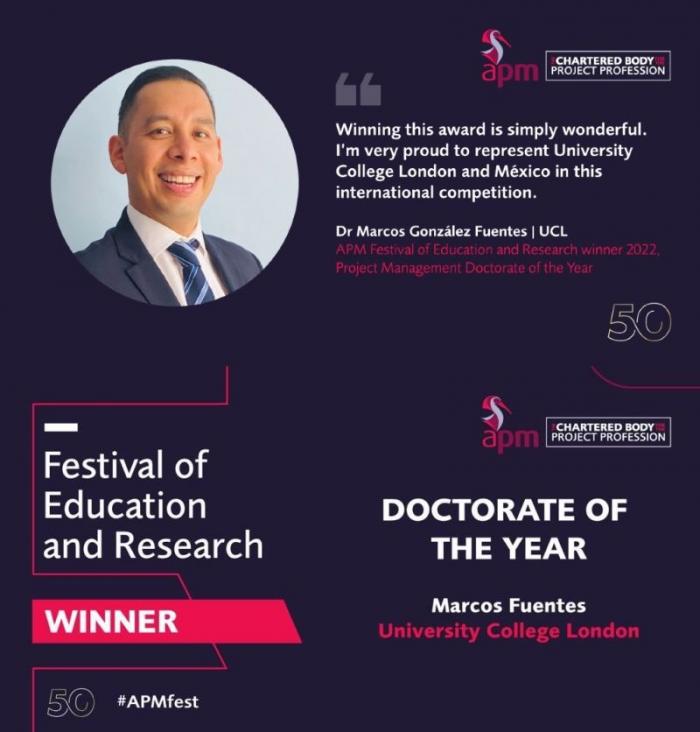 Representing UCL and UCL School of Management, Dr Marcos González Fuentes has been awarded the Doctorate of the Year award by the Association for Project Management for the best doctoral thesis in a project management related subject.
The award recognises Marcos' excellent doctoral thesis in a project management related subject. The paper titled: The co-creation and co-destruction of value outcomes: a client perspective on service provision in projects, focuses on how to co-create value for the long-term, from the initial planning stages to the development cycle.
Since joining the school in 2016, Marcos has been an exemplar member of the faculty, especially in the Teaching Project Management module and we are proud of Marcos. He has shared some words with us about this milestone in his career:
What does the award mean to you?
Being recognised with this award is a wonderful feeling. UCL has been home of many award winners in different fields, so it feels great to contribute to the decorated community. On a personal note, this is the first time the award has been given to a Mexican scholar, which fills me with pride. It also recognises the many years of sacrifices I've made for my career, I have lived 10 years abroad in five different countries so winning this award is an acknowledgement for all the effort involved in my life.
How did you find out about the award?
This is one of the awards that everyone wants to win in academia. Over the years, I saw prestigious researchers winning in a range of categories from the Association for Project Management, so I decided to apply for it once I finished my PhD. Due to Covid, the awards were paused, but when they resumed in 2021, I was selected as a finalist competing with a Doctor from an Australian University.
Upon hearing the news Marcos said: "Winning this award is simply wonderful. I am very proud to represent UCL and Mexico in this international competition.
What are the key findings from your research?
My research focused on how project value can be co-created throughout the project life by the people working on it. I believe one key part of winning the award was the thesis' focus on the co-destruction of value as well. Much of the project literature is set on a positive tone. Yet, I pointed out destructive practices that people do when carrying out projects in real-life. Although it's sad to say not everyone is an angel in the industry, my research showed how to avoid destructive practices that can affect the performance of the project in the long term. In addition to this, I focused on exploring wider aspects of project value such as environmental, social, and even emotional. This expanded the traditional views of a project that mostly consider time-cost-quality elements as the most relevant to achieve success.
What advice would you give to other scholars hoping to get their work recognised in such a way?
Firstly, dream big and embrace those moments when you catch yourself daydreaming because this is how all adventures start. Secondly, don't become obsessed with comparing your work to others, just try to ensure your work is the best it can be for you. And finally, work on your mental health - this is really the driving force that keeps you going in difficult situations. And as a general rule to love by professional and personally being an honest and integral person is an absolute must, even if it does mean the path might be longer to achieve your dreams.
What is your best memory from your PhD?
Arriving in London and meeting ao many intellectual practitioners in the project management field. I thoroughly enjoyed the fact that academics, students and my colleagues were all extremely talented were all down to earth, normal people ready to have a drink in the pub.

Learn more about the winning thesis.