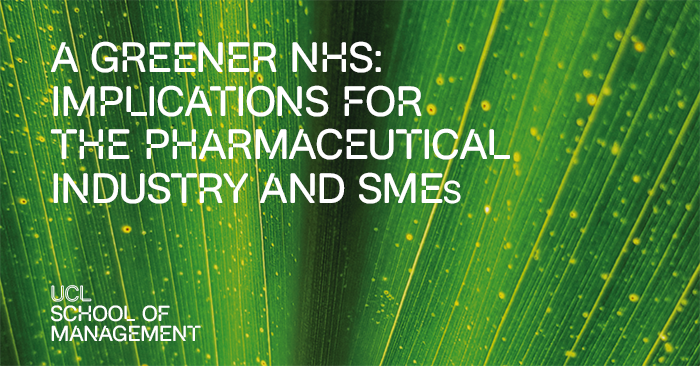 UCL School of Management Professor Paolo Taticchi and Research Assistant Melina Corvaglia-Charrey have co-authored a white paper in light of the NHS's decision to unveil its Greener NHS report. Entitled, "A Greener NHS: Implications for the Pharmaceutical Industry and SMEs", the paper investigates the ways in which pharmaceutical small and medium enterprises (SMEs) are impacted by, and responding to, the NHS's move towards sustainability.
On October 1 2020, in the midst of the COVID-19 pandemic, the NHS published its Greener NHS plan, which not only highlighted its goals and objectives over the coming years, but also its roadmap to becoming the world's first net zero health service. Closely linked with the NHS is the UK pharmaceutical industry, which, as the white paper notes, represents more than 98% of the UK prescription medicines market. Among those facing pressure from governments and the NHS to adapt and become more sustainable are hundreds of SMEs, many of whom are currently supplying the UK's pharmaceutical industry.
In order to assess the ways in which SMEs are engaging with this process of transformation, the authors interviewed a number of pharmaceutical organisations, such as Consilient Health, B.Braun, and Accord healthcare, and found that more sustainable adjustments have been made across the board. Consilient Health, for example, developed a comprehensive sustainability strategy in 2020 and, in 2021, the company measured its carbon footprint for the first time.
However, all three SMEs indicate that it may be more challenging for organisations to achieve Scope 3 of the NHS plan, which requires reporting about activities that take place in countries outside of where they operate. Ian Duncalf, Head of Anaesthesia and I.V. Pharma at B. Braun notes that, "With this ambitious plan, the UK is hindered slightly. The NHS is leading the way globally. However, we are almost running before we can walk. I think, to meet the changes the NHS is asking for, some of these changes need to happen globally before locally. I understand why they are doing it, but they are probably three years ahead of where the rest of the world is."