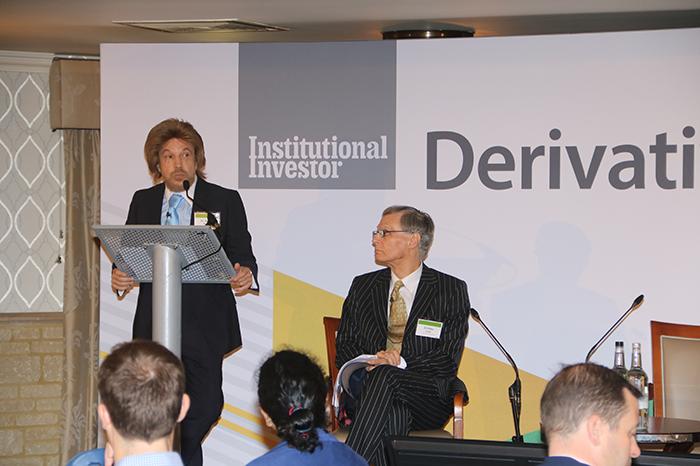 UCL School of Management's Dr George Namur and Dr Pete Clark were invited to discuss a recent, pivotal acquisition at the 13th annual Derivatives Summit.
The Summit, which took place at Pennyhill Park Hotel, focuses on exploring the many functions of derivatives management and operations, bringing members into close contact with leaders in the field.
Heads of Fixed Income, COOs, Heads of Derivatives and Risk are often in attendace, as well as other officers throughout the industry who are interested in debating best practice in both the front office and operations infrastructure for derivatives.
One of the topics of discussion at the event was the recent acquisition of Charles River Systems by State Street Corporation, which marks a pivotal step in the industry with the formation of one cohesive platform connecting the front, middle and back office together will improve internal operating functions and standardise systems across the investment lifecycle amongst numerous asset classes.
Senior Teaching Fellows George and Pete led a talk on the second day disussing what the takeover means for the ecosystem for the long-term, whether this is a trend that we will see more of within the market, and how this will change impact buyside data analytics.
They discussed the competitive landscape in buy-side analytics, and State Street's trailing BlackRock and Vanguard in asset management, and tied the acquisition to BlackRock's flagship platform Aladdin, which upped the ante in analytic software used by asset managers.
The duo also concurred with State Street Chief Executive Jay Hooley's assessment of cost cut synergies from this deal yielding an internal rate of return of 14%, despite shareholders questioning the value of the deal, as well as pointing that other analysts suggested that State Street's asset base would swell by $12.5T thanks to the deal, to a total of almost $46T.
Comparisons were also made with the acquisition of Tableau Software by Salesforce.com, announced earlier this summer, as a validation of the Charles River takeover by State Street, due to Salesforce.com's CEO's excellent acquisition track record.
They did, however, finish by warning that as the deal may have come late in the merger wave with markets providing mounting evidence that the cycle is getting long in the tooth, but did suggest that there could be some attractive M&A opportunities in the second half of any forthcoming recession.