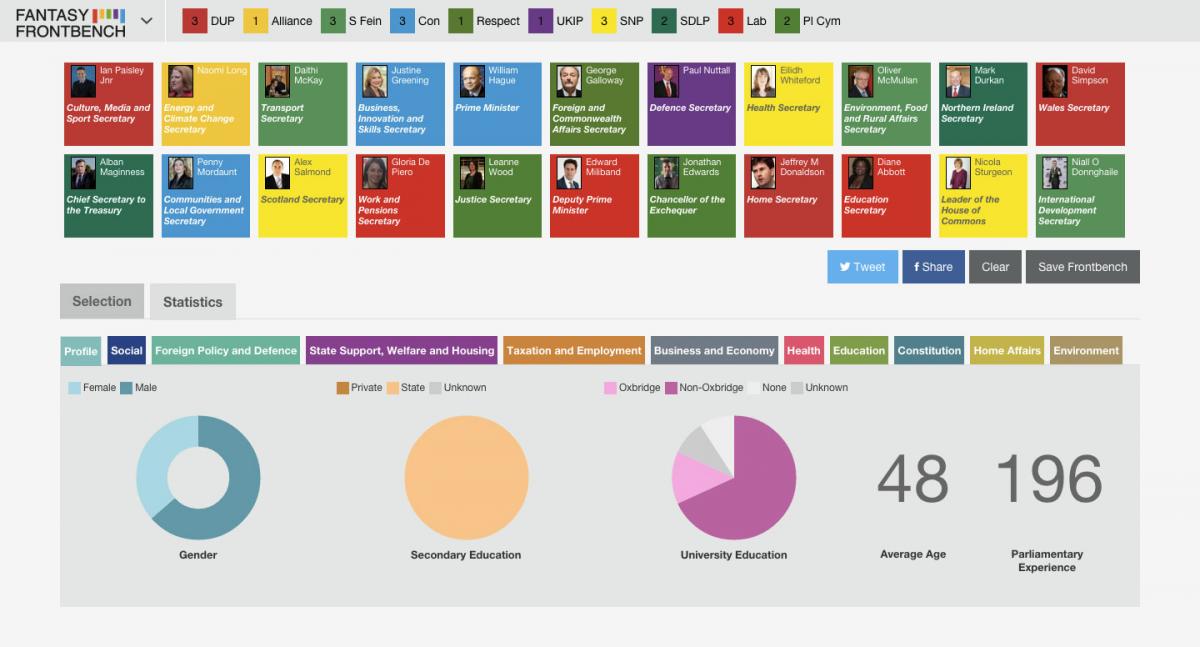 (Click for full image.)
Ever wished you could play the part of Prime Minister and pick the politicians that most closely represent your views? Well now you can. Last week, Matt Smith, Learning Technologist for the department of Management Science & Innovation, launched Fantasy Frontbench (www.fantasyfrontbench.com) - a web app which aims to provide the public with an online platform for directly comparing politicians. A twist on the popular fantasy football concept, users create their own 'fantasy' cabinet of 22 ministers – sorting and selecting them by gender, education, age and experience, as well as how they have voted in Parliament on 75 key policy issues such as EU integration, NHS reform, Trident and Same-sex marriage. Once created, users can see how their fantasy frontbench statistically breaks down and can then share and debate their selection on social media.
According to Matt, the aim of the project is to present political data in a way that is engaging and accessible to those who may traditionally feel intimidated by political media: "We wish to empower voters through information and provide them with the opportunity to compare politicians on the issues that most matter to them. We hope the tool will encourage political discourse and increase voter engagement." Furthermore, Matt feels that the tool has significant educational value: "The site features explanations of the electoral system and will hopefully help learners to easily understand how the cabinet is formed, the roles and responsibilities of cabinet ministers and the primary processes of government. Moreover, we hope as learners use the site, it will raise questions surrounding the way in which MPs vote in Parliament and the way in which bills are debated and amended."
In the run-up to the 2015 general election, Matt and the Fantasy Frontbench team will be creating a number of frontbenches which aim to demonstrate how different groups and demographies of politicians would work together. Such frontbenches include an All Female Frontbench, Labour-SNP Coalition Frontbench, Youngest Frontbench, Most Experienced Frontbench, State Educated Frontbench, and a Pro Same-sex Marriage Frontbench, to name but a few.
Fantasy Frontbench is a not-for-profit project supported by MySociety and funded by the Joseph Rowntree Reform Trust Ltd. Visit www.fantasyfrontbench.com now to create your own political dream team.