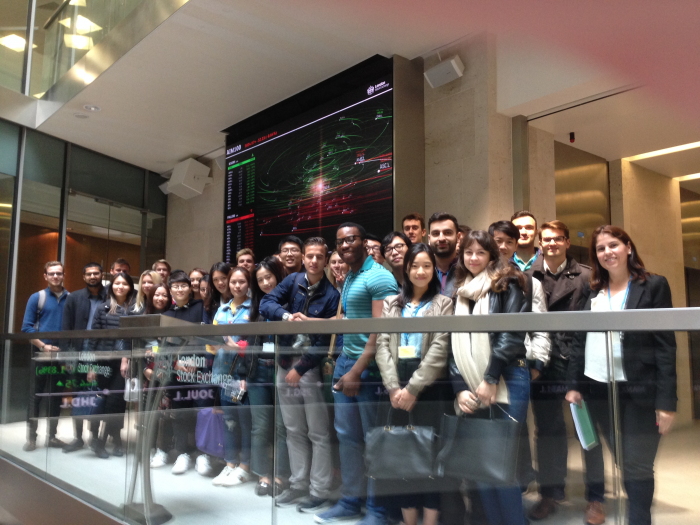 When I introduce myself as an UCL MSc Finance student, I clearly feel external admiration because of the reputation of UCL and competitive candidate selection in the programme. But what about myself?
After two terms, I would say yes as I learn with talents, gain from opportunities, and grow stronger for my early career. The small class size makes me truly feel that I am cared about in the group, and everyone gets the chance to shine! I hope my experience in this new-born programme will help you learn more about it!
How cool an Induction Week for MSc Finance can be?
The five-day induction week was the warm welcome and great kick off. For the first two days, we networked with classmates and tutors, had a tour in the Canary Wharf campus at Level 38 One Canada Square (amazing view up there), and briefings about the programme and modules.
Day 3 was my FAVOURITE DAY since we had an industry visit to the London Stock Exchange and Thomson Reuters (Canary Wharf). You may imagine brokers and dealers are shouting in the busy trading floor, but now orders are placed online. From the talk it was interesting to know more about what businesses that London Stock Exchange has been involved and the insights about different markets. During the visit to Thomson Reuters, it was exciting to get the opportunity to learn the basic functions about financial analysis terminal, Eikon, and visit the offices where analysts and journalists generating financial news. What a meaningful day for finance students!
Career Consultation Induction was also one of the key features as we had alumni sharing their career success in high profile financial organisations. At that networking session, my motivation grew so I started company and role research, aiming to become a professional after graduation.
In the last day of the week, we had the simulated accountancy game about running an airport business. On the final night we were invited to a BOAT PARTY with other programmes at the School, and it was an enjoyable way to build relationships with school mates and end the week!
Theories, Mathematics and Programming
One of the reasons why I feel proud is the design and opportunity of the programme. You may notice that quantitative and technical skills are on the desirable trend in financial industry, and as such talents with those as part of a well rounded skillset will stand out from the crowd. The programme is made up of a great combination of paper work and practical applications, giving you the opportunity to learn R, Matlab and Python. Maths is also the key part of the programme, since we would price an asset, evaluate companies and projects, understand stock price dynamic, presenting the beauty of finance. Sounds challenging and demanding? Good things come to people who wait, but better things come to those who go out and get them!
You are never alone on your career preparation path
Graduate jobs can be the new beginning after submitting dissertation, and early preparation will be the key to opening the door to your desired career. Comparing with my previous university, I found out that the School of Management's career services are bespoke, consistent and student-oriented. I honestly feel supported from our programme EXCLUSIVE career mentor who held weekly employment sessions, introducing process of recruitment, editing CVs and cover letters, as well as sharing tips on interviews and assessment centres. Besides that, I had a few one to one meetings and mock interviews with her to prepare for my assessment centre, building up my confidence and interview techniques. Students can also be benefit from skills workshops, mock assessment centres, and guest lectures. With the SoM Careers service, you are never alone on your way to geting a job!
Are you looking forward to joining? Equip, empower, and enjoy yourself at UCL!