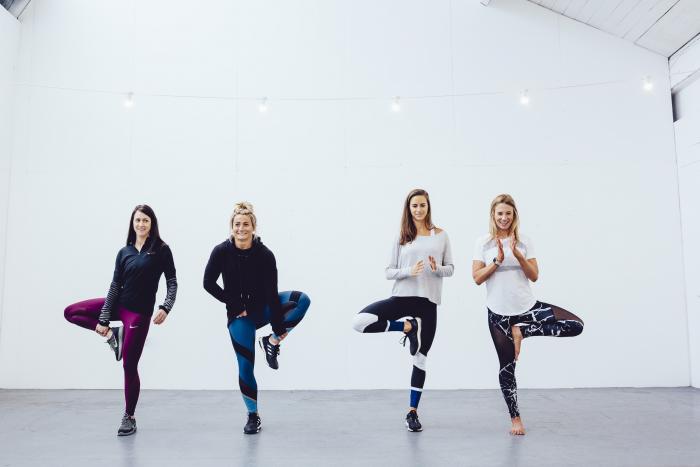 I'm Kamil Bajolek, a former MSc Entrepreneurship student, and I want to share with you my story of turning a rough business idea into Flybery - a successful startup.
What is Flybery?
Flybery is an online aggregator specialising in women's sportswear. We work daily to find the best deals from hundreds of brands and bring them to you all in one place. We currently operate in the UK market only but plan to expand to other countries as well as men in the near future.
Establishing the business
Coming to UCL, I didn't have a clear idea regarding my business but I knew that I wanted to further explore opportunities in the retail and fashion market. As long as I can remember, my whole family has been involved in the fashion industry in Central Eastern Europe and let's just say that I inherited the passion for this sector and I'd always dreamt about launching my own business in the market.
During one of our lectures, Devin Hunt shared with us the story of the business he co- founded – an aggregating platform for high-end fashion. All of a sudden, the idea of a sportswear aggregating platform came into my head.
My family and I are really active people, who love sportswear and do a lot of shopping online. I also noticed when researching business ideas and talking to different people at my gym and some running events around London, there seemed to be an on-going theme. People were frustrated when shopping for sportswear online, it was not easy to find what they were looking for, it was taking time going from website to website, trying to find the best prices and styles in their size.
This was the starting point and I saw an opportunity in which I could solve everyone's problems, and so we launched our very first version of the platform a couple of months later!
What inspired the name?
We didn't have a name initially, we knew that we wanted to offer a better online shopping experience, but we also wanted to inspire and motivate people. This is where the 'Fly' comes into Flybery. We want people to 'fly' higher, to set goals and to carry on being motivated. We've since created a community of women called Flybery Women to inspire and motivate each other via social media as we felt that people felt pressure to look or be a certain way, and we want to change the perception of the fitness industry.
The 'bery' in Flybery honestly came after countless nights of brainstorming, there's no genius answer to it, we just liked the way it looks!
Flybery's success
We started off slowly as we needed time to research and select potential partners to collaborate with Flybery. We knew we needed to develop the platform and grow awareness of the brand, as the sportswear industry is really competitive with marketing giants monopolising the marketplace.
Things took off once we had our first partners on board (ASOS & Nike among others) and now Flybery work with 51 different stores and have more than 50,000 products from over 400 brands online. Month on month we're acquiring new partners and strengthening our position in the market.
This month Flybery is officially 2! It's been a long process, but we knew that we needed to be patient and build a strong background before we started scaling the business and now we're starting to see real results.
Looking to the future
The future looks really positive - we actually feel we're still at the beginning of the journey and massive changes are just ahead of us. There is still a lot of work which needs to be done – we constantly talk to our customers in order to get their feedback and make sure we're delivering them with the best service.
2017 ended really well sales wise, every month we improved our results and beat the sales record. We plan for 2018 to end even better, watch this space!
Our first marketing campaign, 'Who am I', has recently launched
Studying MSc Entrepreneurship
I started studying at UCL in 2014 – I studied full time and I graduated in August 2015.
It was definitely a tough year with many ups and downs, which strongly shaped my character and changed my overall approach to work and life. I came to London being a bit uncertain about my language and my skills – I still remember first days when everyone around seemed to be really confident and I was rather as quiet as a mouse. During the first weeks, I tried to do my work as best I could - every assignment, every small success made me more confident and finally, the results made me believe that nothing is impossible.
These studies appeared to be totally different to what I studied before in Poland and I have to say that they fully met my expectations. Although I really benefited from studying Finance & Accounting before, I was looking for something which enabled me to spread my wings, left more space for creativity and unorthodox solutions – that's exactly what I got at UCL. We were actively encouraged to think outside the box all the time. More importantly, I learned that everyone makes mistakes so you need to learn from them and make the right conclusions.
Flybery was born at UCL – the people I met there and the knowledge I gained definitely helped me to take my first steps, so I should definitely give huge credits to the university. I still really value the opinions and advice from my ex-supervisors, I'm in touch with some of them and although their comments often were negative, I'm really grateful for all their effort. Actually, the more doubtful they were about the business, the more I was motivated to prove that it would work!
What's next for me, and for Flybery?
We've just launched our first campaign 'Who Am I?' and we'll be putting all our efforts into it during next weeks. The campaign shows the stories of 4 Flybery Women who are extremely active but still run 'real' lives. For example, we share the story of marathon runner who is also a full-time lawyer, and also a yoga teacher who is also a mum of four. The campaign shows that anyone can live an active lifestyle regardless of how busy their lives seem to be.
There are a couple of things on our to-do-list for this year. We'd like to continue setting up new partnerships and increase the number of partners to 100 and reaching 100,000+ products. We also want to add some additional features on the site to enhance the customer shopping experience and also make it more personalised.
Finally, we have started working to expand into new markets, concentrating particularly on Central Eastern European (CEE) markets. We've noticed that these markets are quickly growing, customers are becoming more demanding, they are looking for higher quality, more specialised products. However, it seems that the sportswear market is a bit behind – many brands are strongly focused on the Western countries meaning that their offer is either not available or very limited in CEE countries.
Introducing Flybery to CEE, we'd like to open these markets to many brands and help them to introduce their products to masses, which initially seems to be really interesting for them.
When it comes to my future, Flybery is my main focus at the moment as we have a lot of opportunities over the coming year. I'm also supporting my family business so it's important that I don't take on too many challenges and focus on the ones I'm currently involved in.