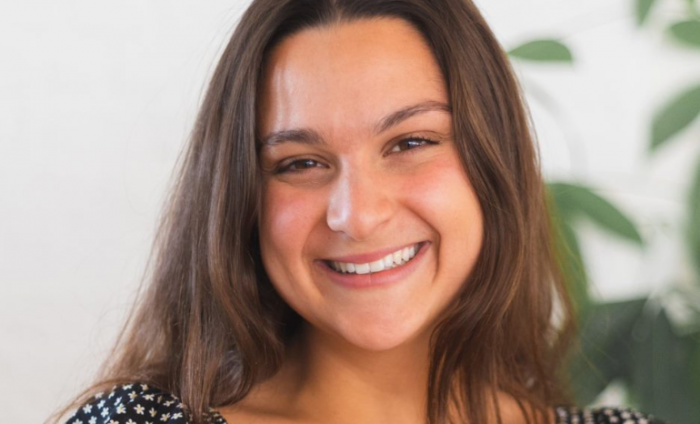 UCL School of Management alumna Senda Ben Abdallah has recently launched a podcast designed to support young professionals that are just starting on their career journeys. TL; DL (Too Long; Don't Listen) is an experience-sharing platform that showcases the inspirational stories of both international and UK-based professionals and documents the paths that led them to where they are today.
From a politics graduate now working for Google in New York to a banker that took a sabbatical to cover the World Cup in Qatar, Senda's podcast showcases the many avenues open to graduates today. We recently caught up with Senda to learn more about the TL; DL podcast.
Can you tell us a little bit about yourself?
My name is Senda and I'm originally from Tunisia. After graduating from the UCL School of Management's BSc Information Management for Business programme, I spent a year in California in the heart of the Silicon Valley interning at Cisco where I developed my interest for marketing. Following this internship, I returned to London where I pursued a postgraduate Strategic Marketing degree. After graduating, I joined a tech Startup in London as a Product Marketing Manager.
tell us about the tl;dl podcast
After graduating, I would often receive messages from students seeking career advice. Depending on their question, I would either share my own personal experiences from my early career journey or I would try to connect them with someone else who may be able to help better. I wanted to make this process more accessible and open to a broader range of students across the globe. As an international student myself, I know how difficult this can be, and I wanted to find a way to help. I personally love podcasts and there are several that I listen to on a regular basis. From Steven Bartlett to Espree Devora, I was inspired by their way of interacting with guests and sharing such powerful stories that inspire others. If they can do it - I can too!
That's why I decided to start my own podcast, 'TL;DL (Too Long; Don't Listen)' with the aim of inspiring students and young professionals in their career. From a politics graduate who's now working at Google in New York, a banker who took a sabbatical to work for Fifa during the World Cup in Qatar to three graduates who quit their corporate jobs to raise funding for their startups in London, the TL; DL podcast currently offers 15 episodes that feature a range of profiles and inspiring stories.
what are the main issues or topics you will touch upon throughout the series?
The biggest challenge we face as students is to overcome the pressure of doing what's right. We always think there's an optimal career path, when in reality, it's okay to spend time figuring things out. Most of the TL;DL guests touch upon the fact that they shifted from one focal point to another in a matter of years, while maintaining the same level of passion and drive. It's beautiful to see what people can achieve when they cut through the noise and let their passion and true talent drive their decisions.
what do you hope people will take away from the podcast?
There are three primary messages that I hope are conveyed in the podcast:
Surround yourself with the right people. Whether it's friends, mentors, or people you look up to, you should feel inspired and/or challenged, which will ultimately help you on your journey to success - whatever that looks like for you!
Listen to your gut feeling. Make decisions that you feel most comfortable with - it's okay to let your gut feeling take the lead sometimes.
Understand and capitalise on your strengths. Focus on what you're good at and find a way to utilise those skills - you can spend more time focussing on your weaknesses later.
what are the main issues facing those just starting out on their career path and what advice would you give them?
Throughout the series, I've noticed that barriers preventing success can occur in the following scenarios:
Not being in the right environment to learn and grow
Feeling like they're not working towards something impactful enough to 'keep them going'
Falling in the repetitive tasks trap
Workers not being passionate about what they do
The biggest advice I can give is that if something doesn't feel right, it's probably because it's not. It's ok to make radical changes in your career as long as you believe they'll get you closer to where you want to be.
can you tell us about your time at ucl school of management?
My three years at UCL SoM were probably the best years I've had academically. I learned so much and met incredible people who contributed to shaping the person that I am today (some of them are guests on the podcast too!). The network at UCL SoM is a great place to surround yourself with the right people and contribute to different societies.
During my time at UCL SoM, I was a Student Representative for 2 consecutive years, which really helped identify my love of leadership - a skill that is still relevant to my career today. I believe the BSc Information Management for Business programme equipped me with the right tools to begin my career in tech and helped me to find the right balance between business, management and IT - especially when it comes to communicating with different stakeholders.
what advice would you give to your younger self?
Don't waste too much time worrying about the future. Learn to appreciate the present moment, because each chapter matters, and will get you closer to where you want to be.
Check out TL;DL on social media or listen to the podcast here.