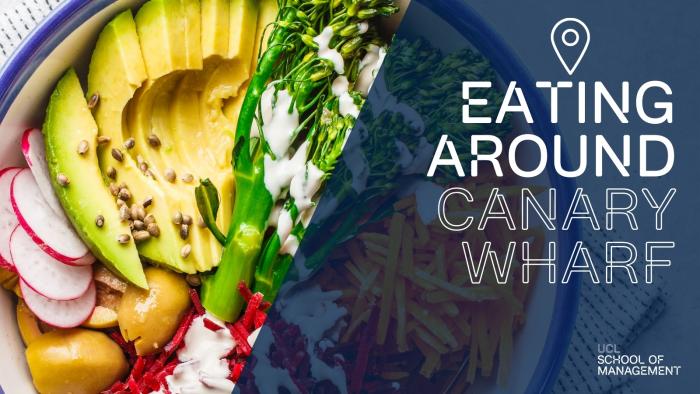 As students, we always want to budget but sometimes we just don't have the time to cook and take food to lectures. For any news starters finding your way around Canary Wharf can take some time, so I am sharing five of my favourite places to eat around Level 38 UCL School of Management in Canary Wharf.
I already miss grabbing something to eat at these spots. I hope you enjoy them too!
Crussh bar
My favourite pit-stop before class was this juice bar. As soon as you enter the store you are greeted with a huge smile. Even if want to change your mind you will definitely feel guilty for leaving because the staff are so welcoming. My favourite juice was the Energizer with apple, carrot and ginger which was very refreshing. I would also strongly recommend the Crushberry Blast which has yoghurt, strawberries and blueberries. There are a variety of juices to pick from, smoothies, raw juices and protein shakes.
They also have nice quinoa and chicken salads, which you can grab during your lunch break. My standard go-to salads were the black quinoa and sweet potato and the chicken protein health pot. Whist on campus, I would visit Crussh bar at least three times a week. They also have a loyalty card so if you get 10 drinks you get the 11th one for free and it can be any size - do not be embarrassed to go for the large of your favourite juice and make the most of the freebie.
Prêt a Manger
Pret was my choice for a quick snack. I would always have the halloumi and falafel wrap. If I arrived late and this was sold out, I would go for the Swedish meatball wrap.
If you are vegan there is also a vegan Pret in the building, which has amazing options.
Farmer J
We had some late nights on campus because of group meetings as we tried to meet deadlines and sometimes I would leave so late I just didn't have the time to cook at home. Farmer J has great healthy food that's equivalent to something homemade. This is a buffet type of place where you pick a base and a main then two sides and a sauce.
They have chargrilled meats, a great array of choices from meats and fish, grains, roasted vegetables and salads. I would usually get brown rice, harissa chicken, mac and cheese and cauliflower with tahini sauce. They also have really tasty banana bread that I would always get for dessert.
Natural Fitness Food
My friend introduced me to this one, and I am glad they did! Natural Fitness Food is a great place to stop by after your workout. You build your own protein shake with all the ingredients you want. The shakes are so filling and tasty. You can also have guilt-free snacks like the protein pancakes which come with their homemade strawberry and cherry compote and Greek yoghurt. I also enjoyed their plant-based breakfast cookie, which is made with oats, banana, pumpkin seeds, sultanas and coconut oil.
Starbucks
On your way to class, it is essential to grab a hot drink to keep you warm and alert. In one of our classes, if you were late you had to come in with a coffee, which would be given to a classmate. So if you are running late you might as well grab one from Starbucks for yourself and one for someone else.
There are many great options around Canary Wharf if you want to sit in. Sometimes for group meetings, we would go to Wahaca for lunch, the Parlour to celebrate our results and we went to Roka for a farewell lunch just before the Christmas holidays. There are so many great places to eat at Canary Wharf, give them a try!