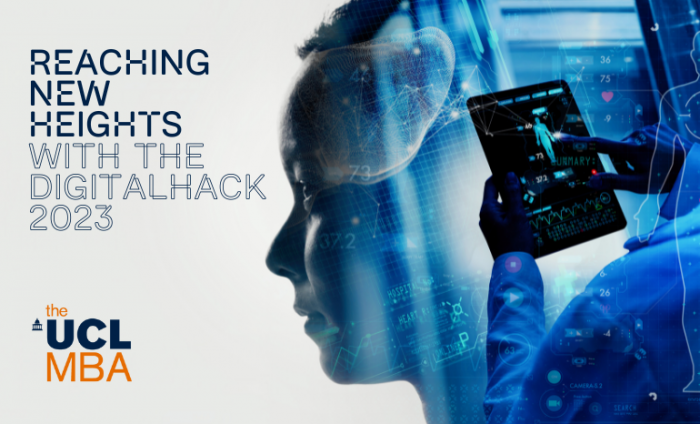 Finding tech-led viable solutions that can be implemented quickly and efficiently is of critical importance to all organisations. More than ever, this applies to the healthcare sector both in the UK and around the world. Healthcare solutions rely on a complex ecosystem of partners coming together to accelerate innovation.
Recently, the DigitalHack with the UCL MBA brought together senior healthcare leaders from the NHS, AstraZeneca and Nuffield Health, as well as current UCL MBA students and alumni, young professionals from across health-related industries, and UCL Digital Pioneers. The project aims to develop impactful health and wellbeing solutions aligned to the UN Sustainable Development Goal 3: Good Health and Wellbeing.
The digitalhack 2023
The DigitalHack is a virtual and global team challenge that enables diverse teams to address critical planetary and societal challenges at a rapid pace. UCL School of Management Associate Professor Dr Rikke Duus and Hult International Business School's Dr Mike Cooray are the architects of the DigitalHack Methodology.
This year, 24 participants from organisations including AstraZeneca, dunnhumby, Nuffield Health, Tracksuit, Kensington, Q8, Stevenage Borough Council, NYU Abu Dhabi, JoVE, Holistic, tmtFirst and the NHS took part in the DigitalHack with the UCL MBA. This year's theme was 'Tech-led Health and Wellbeing Solutions'.
The aim of the DigitalHack is to facilitate diverse and cross-industry teams to come together in a fully virtual environment to develop new solutions to complex and multi-stakeholder challenges using a structured approach.
The DigitalHack was delivered in two parts: Part I was the Briefing Session, which enabled all participants to meet their team members for the first time for virtual networking and initial ideation. Part II was a 1-day intensive and digitally-enabled event, where teams took their initial ideas from the Briefing Session through a progressive set of Acceleration Tasks leading to the Pitch Presentations at the end of the day.
Darren Billings, a current UCL MBA student and member of Team 3, shared his thoughts on the event:
"Participating in the DigitalHack was a really great experience. Working as part of an interdisciplinary group created a rich and creative learning experience and required rapid adaptations to leverage each person's strengths. The day was complex, challenging, and hugely rewarding, and to get to the end of the day having crafted a credible business proposition in such a short period was only made possibly because the structure was incredibly well thought through and brilliantly executed."
the teams and the challenge
Four interdisciplinary teams participated in the DigitalHack, consisting of senior healthcare leaders, current UCL MBA students and alumni, as well as young professionals and UCL Digital Pioneers. Each team had a wealth of experience and expertise to draw upon during the ideation, reviewing, and concept development phases of the DigitalHack.
Fayola-Maria Jack, UCL MBA Alumni and member of Team 2, shared her thoughts on the event:
'The DigitalHack is all about collaborative value creation. This was an opportunity for brilliant minds and ideas, from around the world, to come together to formulate and pitch viable solutions to current real world challenges. It was truly brilliant. This is something all industry experts, academics, digital gurus and general trailblazers should get involved with. Hackathons are not just for coders. There is no better way to create immediate, meaningful impact. It was a fantastic experience, and I'd do it again in a heartbeat!'
Not only did the event facilitate these dynamic teams to come together to drive innovation, it was also a truly international gathering with participants representing 15+ nationalities, including Canada, Sweden, Kuwait, Italy, France, Germany, New Zealand, South Africa, and the UK.
Within the broader theme of Tech-led Health and Wellbeing Solutions, each team developed solutions to a core challenge, which was aligned to the teams' specific expertise and experience, and the future-focused visions of the focal organisations.
Team 1: Data-driven Health & Lifestyle
Focal organisation: Tesco
Solution: Hyper-personalised and proactive food and nutrition plans to drive heightened consumer health and wellbeing.
Team 2: Community-based Women's Health
Focal organisation: NHS
Solution: Purpose-built digital platform offering all women in the 5 stages of life faster access to appointments and medical advice, early diagnosis of medical conditions, and earlier treatment.
Team 3: Collaborative AI-driven Treatment & Drug Discovery
Focal organisation: AstraZeneca
Solution: Use of existing health and wellbeing digital infrastructure to collate data for a large-scale repository focused on cardiovascular disease AI-prognosis and detection for at-risk citizens.
Team 4: Integrated Health and Wellbeing
Focal organisation: Nuffield Health
Solution: Integrated 360 digital platform for personalised health plans, focused on prevention, treatment, and mental health.
To develop impactful pitch presentations, teams utilised the STRIDE UN SDG-led innovation process developed by Dr Mike Cooray, Dr Rikke Duus, Joanne Carmichael (Arup) and Marius Sylvestersen (University of Copenhagen) to present their new collaborative initiatives.
Ginny Ramella Pollone, UCL Digital Pioneer and a member of Team 3, reflected on her experience of participating in the DigitalHack for the UCL MBA:
"The DigitalHack was an exciting challenge that united individuals from diverse backgrounds, including healthcare experts, to collaboratively address a real-world problem. Through a fully online collaboration, our interdisciplinary team seamlessly merged healthcare expertise with innovative thinking, resulting in the creation of 'Data 4 Fit', a device for preventing cardiovascular diseases. This experience not only highlighted the incredible power of collaboration but also emphasised that innovation knows no limits when individuals with unique perspectives and expertise come together for a shared objective."
Find out more about The UCL MBA.