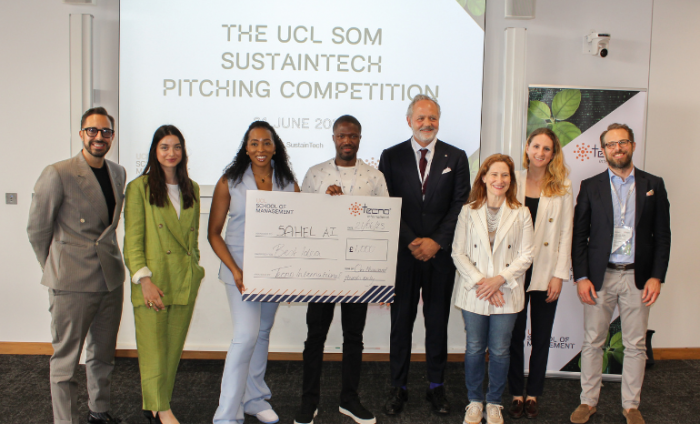 In partnership with Tecno International, UCL School of Management recently hosted the inaugural Pitch Day of the UCL SoM SustainTech Pitching Competition. Our finalists pitched their ground-breaking startup ideas to a panel of experts and competed for one of three prizes: Best Pitch, Best Idea, and Audience Choice Award.
Taking home the prize for Best Idea was Sahel AI, an innovative startup aiming to accelerate sustainable and responsible AI adoption in Africa by developing localised AI solutions, implementing AI risk management and promoting AI-driven research and education. We recently caught up with the team behind Sahel AI to find out more about the future of their business and how it felt to win the Best Idea Award.
can you tell us about sahel ai?
Sahel AI is accelerating responsible artificial intelligence adoption in Africa through localised AI solutions and AI Risk Management. Our goal is to build AI solutions for African enterprises and government agencies especially in the healthcare, logistics and agricultural industries.
what inspired you to create this business?
According to the Brookings Institute, AI has the potential to address Africa's greatest challenges. PwC also pointed out in a report that AI can contribute $15.7 trillion to the global economy by 2030. Despite these promising prospects, AI adoption in Africa is low as most AI solutions are not tailored to the unique African context. Our goal is to address this by building localised AI solutions for Africa.
how DID YOU FIND THE SUSTAINTECH COMPETITION PITCH DAY?
The SustainTech Pitch Day was a defining moment for us as it was the first time we publicly presented Sahel AI. We enjoyed the entire day, especially the opportunity to have meaningful interactions and network with attendees. The presence of other impressive startups was also inspiring.
how did it feel to win the best idea award?
Winning the Best Idea Award was both surprising and humbling, considering the tough competition from other impressive projects. This recognition has reinforced our belief that Sahel AI has the potential to bring about significant positive change. The award serves as a source of motivation for us to continue building and developing our vision.
where do you see sahel ai in the next 5 years?
While we are currently focusing on building custom AI solutions and managing AI risks for African organisations, we aim to extend our reach within the next 5 years. Our goal by year 5 is to develop AI talent across Africa by empowering the next generation of AI researchers and entrepreneurs.
Considering that more than 70% of Africa's population is under 30, we are uniquely positioned to create a thriving AI ecosystem for our continent.
what's next for your business in the immediate future?
Our immediate plan is to begin creating localised AI solutions tailored to the needs of African enterprises. We're currently conducting market research to gain deeper insights into the specific sectors where our solutions would be most beneficial. This step is integral in our approach to ensure we deliver the most value and impact.