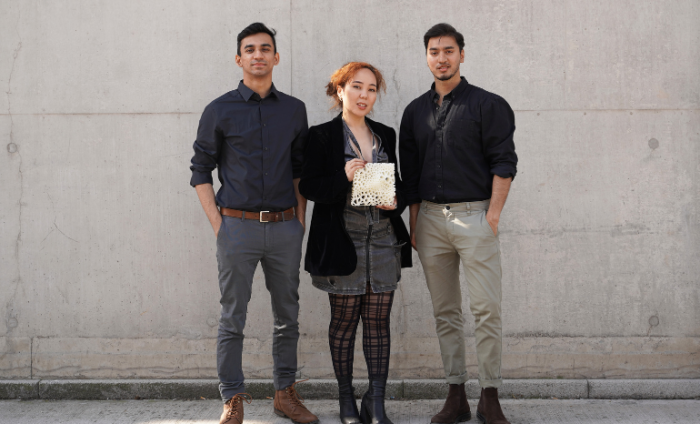 In partnership with Tecno International, UCL School of Management recently hosted the inaugural Pitch Day of the UCL SoM SustainTech Pitching Competition. Our finalists pitched their ground-breaking startup ideas to a panel of experts and competed for one of three prizes: Best Pitch, Best Idea, and Audience Choice Award.
After pitching their innovative modular panel system known as Apia, Phyta Biodesign won the audience over and took home the Audience Choice Award. Providing a safe haven for solitary bees in large cities, Phyta Biodesign's products are made from natural and sustainable materials that are easily attachable to a large number of urban infrastructures. We recently caught up with the team behind Phyta Biodesign to learn all about their entrepreneurial journey so far and the future of their business.
can you tell us about phyta biodesign?
Phyta Biodesign is a dynamic firm that is based at the intersection of biotechnology, sustainability and design. In an era where the need for eco-friendly solutions is paramount, Phyta emerges as a catalyst for change, advocating for a greener future, promoting biodiversity and rewilding our urban environments. Our mission is rooted in the belief that biodesign holds the key to addressing pressing environmental challenges and reshaping industries. By embracing the transformative power of nature and integrating it into our architectural endeavours, we are at the forefront of shaping a greener, more sustainable world. We believe in a harmonious coexistence between humanity and the environment.
Our firm is structured in three domains that propel our mission to design ecologically responsive products. In our computational design domain, we harness real-time environmental data simulations to drive architectural concepts that adapt and respond, optimising energy efficiency and minimising waste. Our material research realm explores the potential of micro-organisms, enabling the development of cutting-edge biomaterials that form the sustainable foundation for our architectural solutions. Lastly, through advanced digital fabrication techniques like robotic manufacturing, we transform visionary concepts into physical reality with precision, ensuring the highest standards of quality in our sustainable designs.
what inspired you to create this business?
As a team of passionate individuals, we were inspired to create this business by our shared belief in the transformative potential of biodesign. We recognise the pressing challenges our world faces and are driven to make a positive impact. With a deep understanding of the power of design, we are dedicated to raising awareness and providing innovative solutions through biodesign, addressing the need for sustainable and impactful designs in today's world.
how did you find the sustaintech competition pitch day?
The SustainTech Pitch Day organised by UCL School of Management provided an invaluable platform for us to showcase our work and engage with like-minded individuals who are passionate about sustainability. We thoroughly enjoyed the event as it allowed us to highlight the importance of biodiversity and raise awareness about the transformative potential of biodesign.
Being able to discuss the environmental impacts of early-stage start-ups was crucial, and we are grateful to UCL School of Management for creating a space dedicated to these conversations - not to mention the view from One Canada Square! We believe our pitch resonated well with the audience, and we are excited about the possibilities that lie ahead as we continue to drive positive change through our sustainable initiatives.
how did it feel to win the audience choice award?
Winning the Audience Choice Award was truly a pleasant surprise for us. We entered the competition with enthusiasm, but we did not anticipate the level of excitement and support our idea received from the audience. Seeing their genuine interest and positive reactions towards our prototypes was incredibly gratifying.
We are grateful to everyone who has supported us and contributed to our journey thus far. This award serves as a reminder of the impact we are making and further motivates us to continue pushing boundaries in the realm of biodesign.
where do you see phyta biodesign in the next 5 years?
In the next five years, we envision Phyta Biodesign as a leading force in the realm of biodesign and sustainability. Our firm is deeply committed to promoting biodiversity and fostering rewilding initiatives. We aim to offer a comprehensive range of products and services that support this cause, catering to multiple industries. By providing innovative solutions and guidance, we strive to assist organisations in achieving their biodiversity goals.
Through strategic partnerships and collaborations, we aim to expand our reach and influence, driving positive environmental impact on a larger scale. As we continue to grow, our vision is to be at the forefront of transforming industries by integrating biodesign principles and championing a harmonious coexistence between human activities and the natural world.
what's next for your business in the immediate future?
In the immediate future, our business at Phyta Biodesign has several exciting plans in motion. Firstly, we are dedicated to further developing our existing products and exploring new ideas to expand our offerings. We are actively seeking opportunities to raise funds that will fuel our manufacturing capabilities and support our growth trajectory.
Additionally, we anticipate expanding our team in the coming months, welcoming talented individuals who share our vision and can contribute to our mission. Ultimately, our immediate focus is on bringing our innovative products to real-life applications, making a tangible impact in the field of biodesign and sustainability.