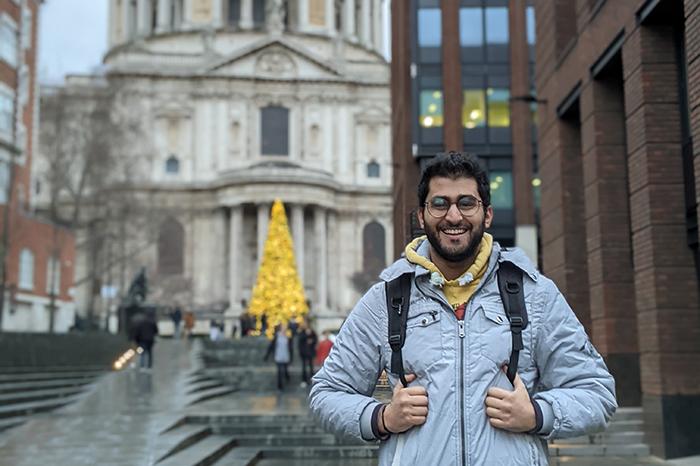 The Chevening Scholarship is one of the most competitive and sought-after scholarship programmes across the globe, so individuals who receive one are often incredibly proud of their achievements. In our latest blog, we spoke with Sultan Al Awar, a 2020/21 MSc Business Analytics student from Lebanon who has been awarded a Chevening Scholarship, to find out what it means to him, and how he plans to use his education and experience at UCL School of Management as a force for good.
Sultan, could you explain a bit about the Chevening Scholarship Programme?
Chevening is a prestigious UK scholarship which aims to help develop future global leaders and change-makers who are capable of adapting to challenges and are committed to establishing impact in their communities. In fact, this purpose has mainly inspired me to apply because it aligns with my leadership vision and communal drive. Chevening has a strong network of scholars and more than 50,000 Alumni since 1983 from around 160 countries across the globe. The scholarship enables students to study in top-ranked universities and get immersed in diverse cultures and innovative institutions in the United Kingdom, a country which is known for its authentic international student experience.
What did you have to do to earn the scholarship?
In my opinion, earning the Chevening scholarship culminates my hard work, perseverance, passion, and recognizes my accomplishment to become a first-generation student. During a 4-year transformative journey as a scholarship student at the American University of Beirut, I was keenly engaged in student life, community service, and civic engagement opportunities. I completed more than 300 hours of volunteerism, and I founded and led a new student organization: 3D "Discuss, Debate, and Discourse" club which promotes youth activism. I also designed and implemented the Youth Initiative for Engagement in Leadership and Development which boosts civic engagement and social entrepreneurship in rural areas as a means to contribute towards the achievement of the Sustainable Development Goals. Upon graduation, I was granted two elite awards from the Olayan School of Business which signify my contribution to university life and recognise my potential in education and community development.
How proud are you to be a Chevening Scholar?
I am honoured to be part of the Chevening cohort 2020-21. This year's selection process has been exceptional and competitive amidst a global pandemic. The scholarship has been my portal to achieve my ambition and fulfil my potential through earning a master's degree at a leading global university. I also believe that I am now keenly inspired and empowered to initiate and lead change and I am determined to embrace Chevening's influence and to utilise my data analytics skillset to address comprehensive business, economic, and social challenges in the Lebanese community and beyond.
What do you hope to use the scholarship to achieve?
As Lebanon is facing a severe economic and financial crisis associated with various social and political problems, I am determined to utilise my knowledge, expertise, and skills from my degree and Chevening to support inclusive economic development and job creation, and to foster educational opportunities among young people. I am aiming to occupy a business analyst in a leading consultancy firm, through which I am looking to advise Lebanese businesses and third sector organisations on how to make data-driven decisions and support digital innovation. I am also keen to implement a social intervention program which empowers youth with the needed analytical and programming skills to participate in fighting corruption and supporting e-governance mechanisms.
Why did you pick UCL SoM and your programme?
I have always considered UCL as a leading educational institution, with its prestigious ranking among the top 10 global universities which will allow me to utilise London's range of cultural, academic, and business resources.
Additionally, I was certain that my experience at the School of Management will be transformative and inspiring with elite faculty members and diverse top-notch talented colleagues. It will also enable me to enhance my interpersonal and technical skills and boost my professional network.
This master's degree in Business Analytics is a fundamental pillar in my future personal and career plans whereby it equips me with the knowledge, tools, and skills needed to analyse data, build models, and make effective data-driven decisions. The programme includes a consultancy project, which will be my gateway to engage with a local UK organisation and to implement the master's takeaways in a real business environment.
How have you found the programme so far?
I would describe the Business Analytics program as unique, challenging, nurturing, and practical. It is well packed with various important topics and crucial skills. I have been able to follow a steep learning curve, whereby we just completed the first semester and I am happy that I was able to learn python programming, econometrics, marketing analytics and more about business strategies. The most interesting part is that we had the opportunity to complete hands-on group projects and individual assignments which utilise what we learnt in the modules so far, and provide an innovative simulation for what we will be encountering in our future careers, whether as a business analyst or a data scientist.
Have you managed to develop your network?
I always aim to diversify my network and create new professional relationships. The BA program is a great networking opportunity whereby it includes around 160 students from cultural backgrounds. Each time I meet different students, whether online through the live sessions or in person through the enrichment activities, I believe that every fellow student is intellectually unique and has something to share and teach.
How do your Undergraduate degree in Lebanon and your Master's degree in London compare?
Both journeys have been my window to academic success and excellence. My undergraduate study at the American University of Beirut has empowered me to unleash my capacity and to embrace intrinsic values of leadership and civic engagement. On the other hand, my master's degree at the University College London has been my portal to push my personal growth and to augment my skillset beyond my boundaries within a challenging, demanding, and life-changing master's program.
Your reflections on 2020
The tragic explosion that devastated our beloved Beirut in August 2020 - I was 4 minutes away from it - where thousands were injured, and hundreds were killed has added to the severe economic crisis, political instability, and the collapse caused by COVID-19. I am still grateful to earn the Chevening scholarship at this very timely and relevant period whereby I will be dedicating this master's degree to contribute towards the ongoing Lebanese revolution demands and economic revitalisation.
What are some of your favourite things to do in London, despite COVID-19?
I usually walk around the city, visit parks, and taste different food and beers. Some of the beautiful places that I visited before are: Hyde Park, Saint James Park, Prim Rose Hill, London Eye, and Southbank.
Learn more
Applications for 2021 entry to our Business Analytics programme are now open.
If you would like to learn more about Chevening Scholarships, visit https://www.chevening.org/