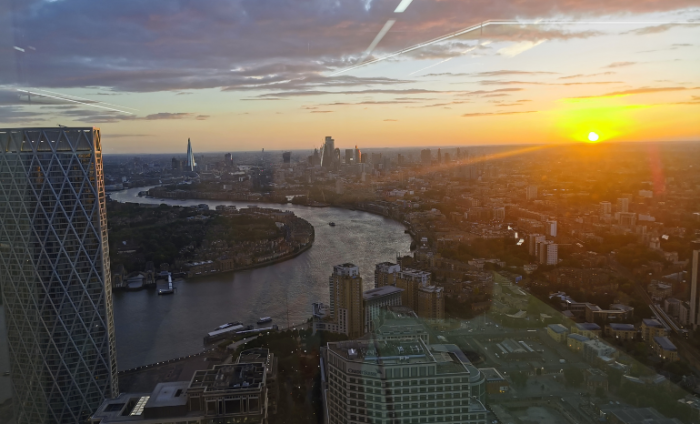 Vivienne Westwood once said, "There is nowhere else like London. Nothing at all, anywhere."
In her most recent blog, MSc Management student Aleksandra Lazarevic tells us all about her experience moving to London and what it is about this city that has captured her heart. As a UCL Student Ambassador, Aleksandra is always there to help new and existing students with their transition to life both in London and as a student at the UCL School of Management.
Got a question about studying at UCL School of Management? You can find Aleksandra on our Unibuddy Student Ambassador platform.
the global city
London is a truly global city; it has so much to offer young and ambitious people who want to write a perfect chapter in their lives, maybe even a whole novel if they fall in love at first sight. Who knows? Life is a journey of uncertainty.
They say that the lucky are those who have many chapters to write. One moment could be enough to write a single chapter if you live in that moment. London inspires. If you happen to live in or visit London, try to stop for a moment and embrace the sights, the horizon, the sky, the sounds of the traffic, and the conversations of the city's people. Seize the moment and try to discover a new world hidden in different corners of the city and the beauty that surrounds you.
It is not just about what London offers: museums, galleries, parks, events, concerts, conferences, and exhibitions, but more about the soul and the spirit, the beauty, and sounds, the smiles on the faces of random strangers that pass you. You will be dancing alongside singers and performers at Leicester Square with a drink you just bought at Tesco express. You can get a cheap thrill everywhere you go - even a walk to the supermarket will bring you a new experience.
The energy of the people that say goodbye with "have a nice day," the bus driver that waits for you while you are running to catch it, and the underground staff that will always help you feel warm and welcome. Public transportation is very clean and convenient in London. You can make it across the city quickly while you enjoy the beautiful sights of London's streets. If you are travelling via the tube, you'll see people reading books, listening to music, or simply enjoying a nice conversation.
A diverse community
London is a global city, full of diversity, brilliant minds, beautiful places, and peaceful parks. The weather is mild, but often warmer than other parts of the UK, and it is not as rainy as they say. Believe me. Besides, there is always the rainbow after the rain, and there is something mysteriously miraculous about this city.
In London, you will meet people from all over the globe, from small islands you may never have heard of to those that hail from the Himalayas. You can try food from all over the world and enjoy the city's diverse culture. You have to embrace the differences and learn a lot from others. Diversity is key to any success in life. Diversity makes us richer, and meeting people from different backgrounds and listening to their perceptions is essential. After all, it is not about being right or wrong. It is about you being open to listening and learning. That is how you grow.
London is vivid. You can feel the energy all around. It is incredible how coincidence or fate could work in all aspects of your life. As a student, you will live your best life in London. You may find it difficult to balance studies, work, and social life. However, the social circle and people around you will make it go smoothly. Just always remember to choose the people around you wisely.
London has that European charm that is stunning, and there's nothing that quite compares to London life. Its architecture is an amalgamation of the past, present and future. Every corner hides a different story, and every pub secretly reveals something hidden deeper within people's hearts with just a glass of Pimms or a pint of beer.
London is synonymous with opportunity. As a global city, it is a place you will love because of the many career options waiting for you. You should be brave enough to knock at any door you want while pursuing your goals and be bold and persistent during the process.
Every day is a new chapter that you should write in the best possible way while living your best life. You hold the pencil, so make sure you write a good story. And do not forget the people around you. After all, what is unique about London as a global city are the people, people from all over the world. Global citizens.
London means love, kindness, beauty, positivity, smiles and good vibes. London is all about that. I've fallen in love with London too, so maybe I might be the one that writes a novel. I wish the same for you - to fall in love with your time in London - so we can all write the perfect novel about our lives.