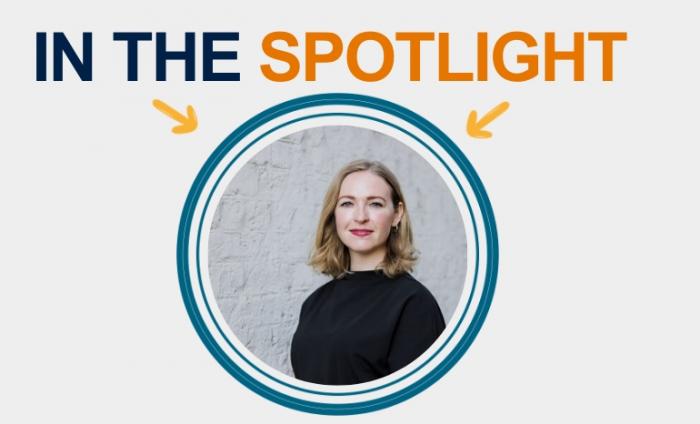 Introducing Wren Loucks, a student on the UCL MBA, our classroom-based MBA that's delivered online.
Tell us about your time at UCL and some of your previous studies/experience
I started the part-time UCL MBA in January 2020. Prior to this, I studied Fine Art & Art History at Queen's University, Canada and I have a Post-Graduate Diploma in Architectural Interior Design from the Inchbald School of Design in London, UK. My background is in mental health advocacy and architectural interior design – I have a special interest in design for wellbeing.
Alongside the part-time MBA, I am Head of Design at Motionspot. Motionspot is an industry leader in accessible design, helping to transform spaces and lives through beautifully designed, accessible environments that deliver independence for anyone with a disability.
For our commercial clients, we provide inclusive designs and design strategies to enable their environments, whether it be offices, care homes or hotels, to cater to a wide range of cognitive, sensory and physical abilities.
For our residential clients, we have just launched Fine and Able (www.fineandable.co.uk), our own accessible bathroom range, which provides affordable bathroom designs.
What is it like studying on the UCL MBA
Inspiring. Since I started the MBA, I have felt energised by the new skills I'm learning alongside my new community of talented professors and fellow students. The flexible nature of the MBA also makes it manageable alongside a demanding job.
Tell us about your non-academic pursuits
Before lock-down, I really enjoyed entertaining and hosting dinner parties. I also love art – whether it's creating oil paintings myself or wandering around the Tate, drawing inspiration from other artists and their alternatives ways of seeing and experiencing the world.
What has been keeping you busy during locdown
I have developed a deeper appreciation of nature and look forward to long walks in the park, with a podcast or audio book. I have also really gotten into zoom Pilates!
What advice would you give to people during this time
To remember that there is a global pandemic going on – which has affected everyone and everyone differently. That it's okay to feel waves of emotions, fluctuations in energy and anxiety. To be kind to yourself and regularly check in with how you're feeling.
Advice you would give to your younger self
To be more confident.
Who would be your dream dinner guests
Hmm… this is a hard one! As it's hypothetical, I'll travel back and time and have to say, I'd love to have a long chat with the Surrealists from the 1920s – Man Ray, Lee Miller, Andrea Breton. I'd equally love to have dinner at Charleston house with the Bloomsbury Group.
What is your favourite album, film, and novel
Film: Café de Flore by Jean-Marc Vallee
Album: Currently it is Bon Entendeur, an electronic French band
Novel: Hmm… this is hard. The Poetics of Space by Gaston Bachelard stands out, as it really affected the way I started to think about the relationship between the built environment and memories.
What would it surprise people to know about you
Ha! This is a good question; I think I surprise people a lot! Perhaps my background is a bit surprising –
I grew up in rural Canada, in a town of about 1500 people. After completing a Fine Art & Art History degree, I decided to study architectural interior design in London UK. I was 20. I worked really hard to save money and figure out a way to make it work, despite many people encouraging me to take an easier route and move back home and start working.
At the time, I'd never been to Europe or the UK (I wasn't well travelled at all) and I didn't know anyone in London. When I got accepted into Inchbald, I just packed a large suitcase and moved here. Looking back, I surprise myself in my sense of adventure and determination!
What is your favourite place
My favourite memory place is painting flowers with my grandma in her garden, as a young child. But otherwise, anywhere near the sear or in the mountains – I love large open expanses – they are great places to daydream and think.