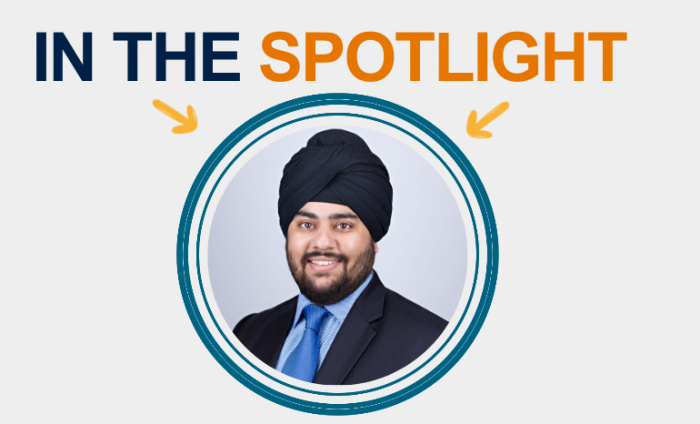 MSc Entrepreneurship alumnus Chitraj (Raj) Singh, a former Risk Specialist turned Entrepreneur and founder of mental wellbeing start-up MindHug
What was it like studying at UCl School of Management?
The UCL School of Management has been an incredible experience. I studied entrepreneurship. Everything i.e. the course structure, the lecturers, support staff and the swanky canary wharf campus, was bang on. As students, we really felt valued and well looked after.
There was also incredible diversity amongst the students. I now have friends in every continent barring Antarctica!
The course also prepared and inspired me to look at innovation and entrepreneurship beyond the comfort and safety of my former financial services career. After the course, I have developed a deep relationship with the UCL Hatchery incubator. Being selected to join the UCL Hatchery has provided a real springboard to our startup, MindHug. A lot of what I am doing today, what I am today, is thanks to the UCL School of Management. As a startup we are also really keen to give back to the UCL family and this will become more apparent when we launch on October 10.
Tell us about your academic and non-academic pursuits? I believe you have a strong interest in promoting positive mental health.
I have a BSc. Economics from the London School of Economics and Political Science (LSE), and an MSc. Entrepreneurship from the UCL School of Management. I am also a qualified ACII Chartered Insurer from the Chartered Insurance Institute.
You are right about my interest in mental health. It's what I am completely devoted to at the moment, with my start up called MindHug. It's a personal and professional passion. We are devoted to helping individuals find what works best for their mental wellbeing – and I am on my own journey on this as well. I do also still flex my experience in innovation, financial services, FinTech, investment, risk and regulation. I undertake consulting and advisory work in these areas.
I am a huge cricket fan. I also enjoy cooking and gastronomy.
You are currently working on MindHug - what is it?
Absolutely. MindHug is something that evolved out of my personal experiences and subsequent research. We understand that what works for one individual may not work for someone else's mental wellbeing. And we want people to be able to find what works best for them. We want them to be able to overcome therapeutic barriers due to lack of knowledge, access and affordability. That's where we come in. We are helping therapists deliver a tailored range of affordable, evidence-based activities and therapeutic solutions e.g. Therapeutic Art, Music Therapy, Sound Wave Therapy, Yoga and Mindfulness. We will improve affordability through digital media and community-led solutions. We will provide credible therapies to complement counselling and medication.
The soft launch of MindHug will take place on October 10. We are very clear about giving back to the UCL family. They will get special access rights. You can keep up to date by following our blog.
What have been doing during these past months in the so-called 'new norm'?
People have never needed MindHug more than they need it now. So interestingly, for us, work has increased and accelerated. Our strategy has become even more urgent and pressing and we are forging ahead. It's a weird time for everyone and we want to try and make a difference in our own way.
On a personal front, I am enjoying my home a lot more. I am spending a lot more time with my wife and being curious and trying new things and experiences. The situation has given me the pause I needed to start to meditate again and explore some of the therapeutic tools we will be offering at MindHug. This has really helped me centre and ground myself.
I also continue to enjoy watching Netflix and am even trying to learn to code! New situations present new opportunities.
What advice would you give to people during this time?
We actually wrote a blog and had a fireside chat about this at MindHug. Broadly speaking, we like to consider 4 lines of defence. Leveraging positivity, embracing relationships, upholding balanced living, and enjoying flexibility.
For positivity, it is important to shield yourself against triggers such as negative news and social media. It's good to stay informed, but not entrenched in pessimism.
As far as relationships go, use the time to enjoy family life and nurture friendships and relationships. Check-in on each other. Yes, there is social distancing, but it really should be called physical distancing. We have the technology today where we can be incredibly social without being in close proximity.
Balanced living is vital. It's important that people are still paying attention to their diet, exercising their bodies and mind and getting ample sleep. Sometimes forcing a little bit of structure can go a long way.
Having said that, it's also important to enjoy the flexibility. Learn a new skill and make small goals. As we say at MindHug, one size does not fit all in mental wellbeing. Find your rhythm and what works for you. Try Art, Music, Sound Therapies and Mindfulness to help anchor you in the present moment. We have recordings from free tasters on our social media in case anyone is interested. Our app will obviously have a lot more once we launch.
We can use this time as a period to unwind and reset ourselves and that is a positive to come out of this situation. As Winston Churchill said "Never let a good crisis go to waste".
What Advice would give to your younger self?
Oh, there is so much I would say. Retrospect is always 20/20.
From a mental health standpoint, I can hand on heart say, I did not understand mental health issues till I went through them. I would say it's important to know most people are fighting battles you may not understand. Just because you do not understand it does not diminish the impact of those battles.
As an entrepreneur, the one thing I have learnt is you need to take risks. Not be overly precious of your idea. Be willing to spend money (albeit smartly). Individuals and businesses should think differently about spending money. An individual consumes and a company invests. Consuming and investing are very different goals and should be approached differently.
Finally, I would tell my younger self that ideas are cheap. Ideas are a good start but they do not make you an entrepreneur. It's about validation and execution.
Who would be your dream dinner guests?
I am very passionate about the mind and consciousness (for obvious reasons) and their link with physics, in addition to bio-chemistry. If there was no restriction on the era the individual belonged to, it would be pretty cool to have Scientists Roger Penrose, David Bohm and Albert Einstein (who thought of consciousness a lot more than people give him credit for). I would love to have them in the same room as Sigmund Freud, Elon Musk and the Dalai Lama, who have all looked at the mind in their own unique way. Could you imagine how awesome it would be if MindHug, or a company focussed on the mind, had some or all of these individuals as advisors!
Having said that if I wanted to have a varied and entertaining evening while placating the awe-struck child in me, the guests would be:
Nelson Mandela, Leonardo da Vinci, Sachin Tendulkar, Don Bradman, Muhammed Ali, Neil deGrasse Tyson, Steve Jobs and Roger Federer. I tend to have large dinner parties.
What is your favourite album, film, and tv series?
Associative memory is a magical thing. Firsts are always special. The first album that I received and it really shaped my taste in music was 'So Far So Good' by Bryan Adams. I have since had other albums that hold a special place as well such as 'Keep the Faith' by Bon Jovi, 'Dangerous' by Michael Jackson or the soundtrack of Top Gun.
Favourite Film, from a purely associative memory of a nippy Autumn evening in Cambridge, Massachusetts is 'A River Runs Through It'. But the one movie that had me thinking for weeks afterwards was 'Prisoners' with Jake Gyllenhaal and Hugh Jackman. Having spent my early years in India, USA and the UK, I have been shaped by Bollywood as well. I definitely recommend watching '3 idiots' and 'Lagaan'.
In terms of TV shows, I am all for the classics like 'Friends'. I also really enjoy 'Stranger Things' and enjoyed 'Suits', 'Homeland' and 'The Big Bang Theory'.
What would it surprise people to know about you?
I think it always surprises people to learn about the duration and severity of mental health challenges I faced. I am living proof that it can happen to almost anyone and living proof that it can and will get better.
Another interesting fact is I fell off a cliff while rappelling and lived to tell the tale (granted, it was only during the final 2 metres!).
What is your favourite place?
So far, it's been Iceland (in winter!). Had our honeymoon there and it's one of those places that is hard to describe in words. Snowmobiling in a Blizzard, hiking on a Glacier, walking on volcanic black sand beaches, watching the northern lights. It's something you have to experience.