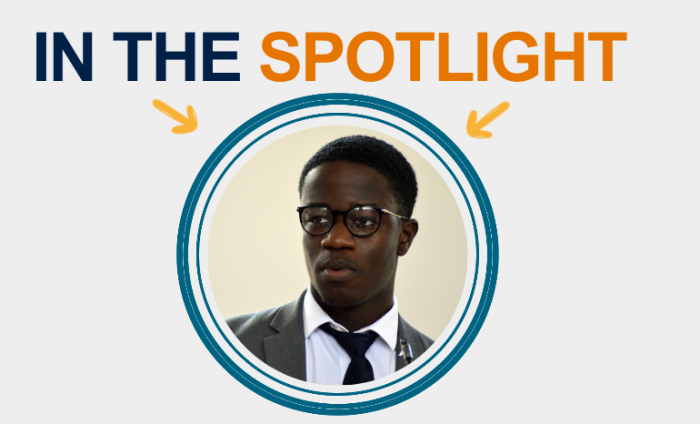 Introducing Isaac Codjoe, first-year representative on the BSc/MSci Management Science programme
Tell us what made you decide that UCL was right for you
I've always regarded UCL to be one of the best institutions in the world. Not only because of its consistently high global ranking but also because of the diversity. I believe being around motivated, driven people from a multitude of different backgrounds can only be a good thing and lead to disruptive thinking, which in return can lead to great outcomes! Also, after living in London for almost a month now, I can truly attest to the statement that London is one of the best cities in the world!
What about your non-academic pursuits
Academically, I've always been interested in business, economics, entrepreneurship and management. That being said I really do believe that management science is the right course for me as it perfectly incorporates all of these passions together into one!
Non-academically however, I have always had a passion of fighting for social justice. For two years (2018 – 2020) I was a member of the UK Youth Parliament representing Ipswich. During my time as MYP (Member of Youth Parliament), I campaigned mostly against knife crime and hate crime as it was, and still is, not only a concerning issue in my town but also nationally. I also gave a speech on the topic in the House of Commons which is available to watch here: https://youtu.be/angECn7n30Y
Another key issue that I wanted to address in my town was the lack of youth representation, as I believed and knew there were a lot of young people with things to say that simply didn't have the platform. I tackled this issue by formally establishing my towns first youth council whereby the aim of the group is to create change for young people, led by young people.
What else keeps you busy?
I do really enjoy playing sports. Namely rugby, football, basketball, table-tennis and tennis in terms of playing, but watching I'm a huge Manchester United fan! Having only recently moved to London, I'm also quite keen on exploring the city and finding new spots that are cool so feel free to message me with suggestions!! I also take an interest in going to concerts and fashion.
How have you kept yourself busy during the pandemic?
During quarantine, I'd mainly been working on various social action projects, taking part in online courses and internships and overall just trying to readjust and ensure that I'm constantly trying to better my skill set while maintaining overall happiness. The new norm has also meant that everything seems to have moved online so I've found that a lot of my time is now spent on Zoom, which obviously isn't ideal, but I do believe that it can have its advantages.
What advice would you give to people during this time?
I would strongly suggest to everyone to take a minute to pause. During the pause, I would reflect on everything that you're doing and make sure that what you're doing is in line with your passions. I feel as if we can all get overwhelmed sometimes especially with the current situation and lose sight of our overall end-goal. Establish what your end-goal is, reach for it with both hands and don't let go!!
What Advice would give to your younger self?
I would say, believe in yourself more. Looking back now, from being a shy boy to seeing the person I've grown into is truly amazing. Never as a kid did, I imagine that by the age of 18 I'd have accomplished the things I have and actually made it into my dream university. I would also say to my younger self to also do what truly makes you happy and to be not scared to ask for a helping hand, as we all need a shoulder to lean on sometimes!
Who would be your dream dinner guests?
Jesus, Rosa Parks, William Wilberforce, Leonardo da Vinci, Bruce Lee, Kobe Bryant and Kim Jong Un and a translator!
What is your favourite album, film, and tv series?
Favourite Album: Psychodrama – Dave
Film: Shawshank redemption
TV series: Naruto
What would it surprise people to know about you?
I still can't swim despite having lessons from year 4 to year 9 .
What is your favourite place?
Primrose Hill. It's such a beautiful park and the view of the London skyline at night is just incredible!