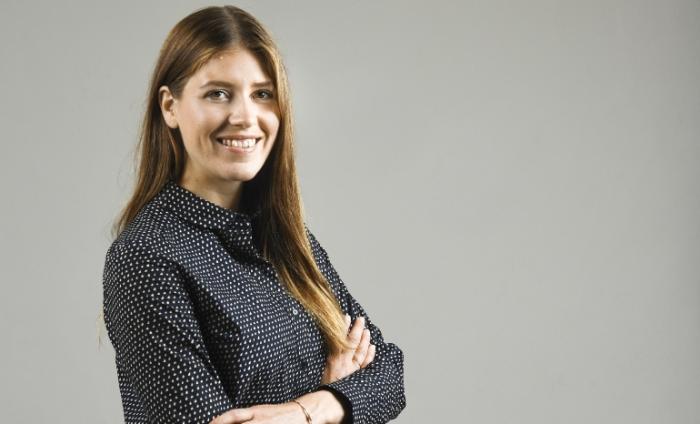 Congratulations to UCL School of Management alumna Magdalena Kron for winning the Young Leader of the Year Award. Since graduating with a Master's in Entrepreneurship, Magdalena has been leading innovative startups to disrupt the financial industry using technology on a global scale.
She shares her experience in the industry and what winning the Young Leader of the Year Award means to her, as well as the FinTech trends to watch this year and exciting news of what 2021 has in store for her.
What have you been doing since you graduated?
When I graduated from UCL School of Management in 2012 with what was then called an MSc in Technology Entrepreneurship, now the MSc Entrepreneurship programme, I started working at UCL as a teaching assistant whilst also working on my own startup ShiftSwap.
ShiftSwap was designed to build a mobile app for retail chains to manage their flexible workforce. After a year with ShiftSwap I decided to use the knowledge and skills I had gained from building my own company and move on from running my own business, so I joined Capital Enterprise (CE). My role at CE was to build up a network of startups, investors and advisors to support and accelerate the time it takes for early-stage ventures to raise seed money for their business. During my two years with CE I met over 400 entrepreneurs and had the opportunity to work on many exciting projects such as the launch of The London Co-Investment Fund, a £25 million seed fund supported by the Mayor of London. The London Co-Investment Fund was set up to make seed investments alongside established investors in over 200 tech startups based in London.
After a year and a half with Capital Enterprise, I was presented with the opportunity to go to Singapore with my partner for six months and I embarked on a new adventure exploring the tech startup scene in Asia. I worked with local investors and startups to learn about the differences between East and West and I also launched GeekGirl Meetup Singapore.
Returning to London in 2015, I joined Barclays. As one of the first banks founded in the UK, Barclays had the vision to connect with the evolving tech startup ecosystem and explore how the bank could not just bank founders but innovate alongside these brilliant entrepreneurs. I joined the Rise team and have spent the last 5 years building out a network of the best and the brightest people building the future of financial services. I truly think I have the best banking job in the world.
Do you think your experience on the programme and the skills you learnt have helped you in your successes?
100% yes. I've taken a lot of the knowledge gained from my undergrad but in particular my Master's degree into my professional life. Bringing everything I learnt about startup methodology into a corporate environment has helped me considerably and differentiated my skillset from others.
What has your experience as a woman in finance, a predominantly male-dominated sector, been like so far?
To be honest I have not personally experienced that I'm working in a predominately male-dominated sector. As a part of the innovation team at Barclays, I've been very fortunate as we've always been a strong gender-balanced team.
However, when you look at the senior leadership and executive teams in financial institutions it is evident that women are underrepresented. I'm actively working to influence and champion the women I work with and support women in the industry through a mentoring scheme.
Furthermore, I see a huge lack of female founders in tech and FinTech. I support many initiatives that are looking to change the entrepreneurial stereotypes we traditionally see in founders. Of course, there is always more work to do in this area.
What does winning the Young Leader of the Year Award mean to you?
It means a lot to me! It's so humbling to be recognised for your work and accomplishments. I think it was even more important after a year like 2020 where I found myself in a completely new environment and a very different role with new responsibilities. It has been a huge transition to work remotely, being removed from the Rise physical space and missing all those opportunities to connect with people and network which is a big part of my job.
What projects are you currently working on?
Currently, I am thinking about what 2021 will look like and how, as a FinTech platform, we will create a hybrid model between the physical and virtual. Rise wants to continue to be the #HomeOfFinTech in our physical locations but also online.
What are your plans for the future?
Continue working with the change-makers who are looking at how they can transform and disrupt finance. Although, taking a small break in 2021 as I'm expecting my first child in April.
What are the main challenges you have faced in your career and how have you overcome them?
I think I've been lucky and don't feel like I've had huge hurdles to overcome. I guess this is because I'm quite good at adapting to situations and trying to be agile in how I approach difficulties.
My number one tip for navigating challenges is to seek advice from mentors and the people you look up to. When you face a challenge find out how others would go about solving it and find your path in others experience. This does not have to be one person, I often see my network as a board of advisors to help me navigate the different challenges I face both professionally and personally. It's important to know that you don't have to do everything yourself.
Who is your role model and why?
I have many! I find role models in many of my close friends and colleagues that are investing passion and building out projects they truly believe in. I'm inspired by numerous FinTech entrepreneurs who have taken the leap and started their own businesses. Anne Boden, CEO of Starling Bank is someone I highly respect and I think what she has accomplished is fascinating!
What excites you most about Fintech?
Potential of change in so many areas of financial services is huge and the banks are reliant on new smaller incumbents to rethink the industry. Collaboration is key to move forward.
Are there any trends or developments in the industry we should be keeping an eye on?
I'll make it easy and list a few areas that are especially interesting in 2021:
Credit – including access credit and how new technologies are changing underwriting models
Wealth – how to help people invest money better, more easily and securely
Big data and AI – this is a trend that has been around for a few years now but there's so much more to do in this space
Open banking - the connectivity it brings into finance
How do you think companies can diversify the Fintech industry?
The industry has to work really hard to promote a culture that invites people from different backgrounds, ethnicities, gender and disabilities. Banking has in the past been known to be a bit cut-throat but that's not the future.
We need smart, creative, analytical and agile people to help change the industry for good. Companies need to make an effort when they hire talent and find new avenues to reach out to a diverse audience. Tech is increasingly important for finance but the top talent in tech still want to go and work for the Google, Amazon and Big Tech companies. Finance needs to evolve to attract key talent!
What is your advice for young women aspiring to work in the industry?
Just do it – no need to overthink it. If it ends up not being your cup of tea you can always pivot!
The world of finance and fintech has the reputation of being quite fast paced and intense, how do you find your downtime?
Interesting question, especially as the line between work and home life has been increasingly blurred as a result of COVID forcing us to work from home.
I think the most important thing is to learn how to set boundaries and know that if you take care of yourself you'll have more energy and will be able to produce better results.
As an example, for me, my mornings are sacred, I wake up 6 am to go for a swim or a long walk with the dog, I squeeze in some meditation and have a yummy breakfast. Not until I've prioritised my own wellbeing, am I'm ready to jump into a busy day. I also find downtime in small projects, this year it has been pottery and making kombucha, next year I'll find something new or perhaps it'll be all about learning how to take care of a little baby.
Thanks for having me!