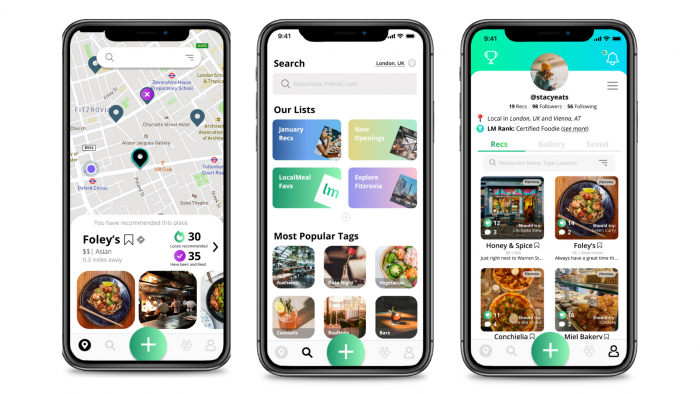 Final year BSc Management Science students Isabella Mandich, Derin Mutlu, and Noah Deron have created a statup after meeting on the programme at UCL School of Management. Their business, LocalMeal, is a restaurant discovery platform that promotes smaller and independent businesses that are often overlooked by consumers for more established chain restaurants. Since its conception, LocalMeal has gone on to develop thousands of followers on Instagram and has even been selected by Innovate UK EDGE as a startup with IP/Commercialisation potential.
What is LocalMeal?
LocalMeal is a restaurant discovery platform that promotes small and local places that typically do not receive the consumer visibility they deserve on popular platforms like Yelp or TripAdvisor. We provide our users with a restaurant discovery experience that is personalised, convenient, and local.
Essentially, LocalMeal brings the trust that comes through word of mouth to mobile restaurant discovery.
How does it do this?
Chain restaurants do not appear on the app and only locals are only able to recommend restaurants in their city, meaning that when consumers travel, they will finally be able to differentiate between the tourist traps and the local gems.
LocalMeal offers categorised lists for any occasion. Think of Spotify playlists: curated lists, but for restaurants. You'll be able to find a new restaurant for the perfect date or the best pubs for a Sunday roast more easily.
Of course, since everyone has different tastes and preferences, LocalMeal applies machine learning to provide its users with recommendations they will actually like!
what was the purpose behind localmeal?
LocalMeal was born organically. We didn't create LocalMeal for the sake of building a startup. It was our conviction that the restaurant discovery space was flawed, which was the catalyst that kick-started the company.
The three of us (co-founders Isabella, Derin and Noah) were in a group for our Entrepreneurship minor and were asked to explore a real problem people face. The more we dug into it, the more glaring the current distrust in mobile restaurant discovery was, which made us consider the transition from LocalMeal as a university assignment to LocalMeal as an actual startup endeavour.
From there, we received much enthusiasm from our peers within the School of Management, which motivated us to turn this idea into a credible business plan. We realised that, after the pandemic, this is the ideal time for an authentic and trustworthy platform for London's hidden gems. When restaurants shut down due to the pandemic, we realised that restaurants offer so much more than just delicious food. They are a channel for us to share meaningful experiences with our friends and loved ones. LocalMeal was born out of a mission to help consumers rediscover these special experiences in the most trustworthy way possible.
what have been the highlights of localmeal's journey so far?
Throughout the LocalMeal journey, we have experienced innumerable highlights, including:
Being selected by the Hatchery incubator and chosen by Innovate UK EDGE as one of their clients as a startup with IP/Commercialisation potential
Growing our Instagram followers rapidly (we amassed 2.3k followers in only five months), and receiving engaging interactions from our following. For example, we've received over 750 'saves' on our recommendations and we're noticed that people love to message us with their own local recommendations
Completing the development of the LocalMeal beta
Receiving overwhelming support from the UCL community, including LocalMeal featuring on student podcast, the Red Payphone
Being approached around UCL locations by supporters that tell us how much they enjoy our recommendations and work, showing us that they are rooting for LocalMeal.
What are the key challenges you've faced in the creation of localmeal?
As full-time students, it's our first time undertaking such a large-scale operation and our greatest challenges have probably been:
Developing the confidence to pursue an initiative like this while studying full-time. However, as our final year at the School of Management is soon coming to a close, we can all say we're really happy we made the decision to launch LocalMeal.
Before we started building LocalMeal, we were all in our respective home countries. However, when we all came back to London, our passion for LocalMeal really took over and we decided to launch the business and go from there.
Dealing with criticism and accepting full responsibility for the startup was something we had to get used to, but we always view feedback as a positive and simply believe in doing our best!
How has your programme at the ucl school of management helped you to create this business?
The School of Management has been invaluable to the founding and development of LocalMeal. First, we would not even have met each other if it wasn't for the Management Science programme. And, as previously noted, LocalMeal was born out of an assignment in our Entrepreneurship module. Who would have thought that one assignment would essentially be career-defining?
Of course, we've gained skillsets which have been useful to LocalMeal from all of our modules. For example, our Data Science modules have been essential in understanding LocalMeal's personalisation and analytics potential. Additionally, the entire LocalMeal product was the result of the Design Thinking process, which we were exposed to through our Design module.
More generally, our professors have given us the foundation to consider complex business decisions and we have certainly faced a few of these. These few short paragraphs only touch the surface of how the School of Management has helped us and our business, but we can confidently say that we are extremely grateful for the knowledge and support we've received.
Meet the team behind LocalMeal! To find out more, visit their website or follow them on social media.