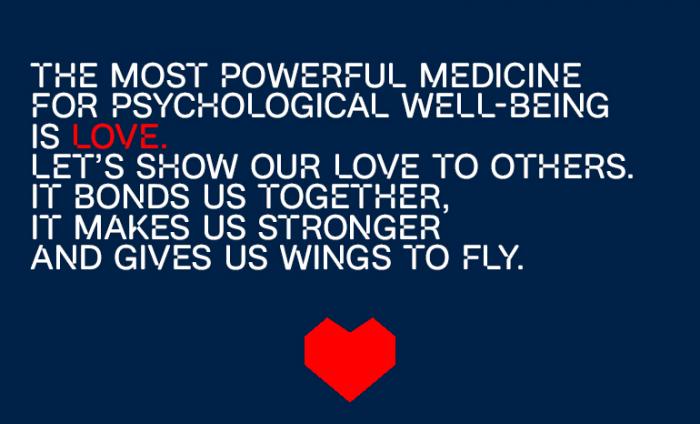 The current global situation poses significant challenges to our psychological well-being. We sat down and had a think about positive ways to stay mentally healthy and happy. We have pulled together our top 10 recommendations, and hope these will help everyone to remain positive.
One
Social distancing, self-isolation and quarantine do not mean total disconnection from society. One of the most positive things we have experienced in recent days has been an increase of video-calls with friends from all over the world, checking in with one another and sending love. The good old-fashioned telephone and other online channels of communication all provide ways to connect with our loved ones. Let's promote kindness and positivity in our networks to increase our morale.
Two
Meditation and Yoga are powerful tools to achieve mental peace. Two of our favourite yoga apps are Down Dog and Yoga With Adriene. Both offer online courses for beginners and advanced yogis.
Three
Be careful what you tell yourself: work on your mantra. Your inner dialogue plays a huge role in how you feel. For example, you can remind yourself throughout the day: "I am strong, I am healthy, I am full of love." Try them when you need a pick-me-up, they are powerful.
Four
We are what we eat. Take some time to cook some healthy food and up your vitamin intake with fresh fruit and veg (frozen fruit and veg are good alternatives with a longer shelf life). Drink plenty of water and hunker down with a cup of your favourite tea.
Five
Helping others promotes wellbeing. Think about how you can help others, especially your elderly neighbours, or other vulnerable people in the community. Maybe you could volunteer to collect food supplies or medicines for someone who needs the help. These positive actions will bring us closer together and increase our own happiness as well as the wellbeing of others.
Six
Start a new hobby. Remember that book you bought and never read? How about your new/old guitar? Or the language you've been meaning to start learning on Duolingo? This is a time for creative, out-of-the-box thinking and putting our minds together, if not our hands.
Seven
Music is an instant mood booster. Listening to music you love will make your brain release more dopamine – the "feel-good" chemical that plays an important role in how we feel pleasure. Anything goes.
Eight
Create a healthy environment around you, both with regards to the people you live with and to your physical environment. As Jordan Peterson famously said, tidy your room! Take the opportunity to organise your space and make the place look lovely; you'll benefit from a greater sense of stability and calm.
Nine
We are united in our fight against a virus, not against other people. If we remember this, we will not allow this situation to divide us. This is a time to come together, listen and learn. Make this a time that will be remembered as an example of the power of collective action for the greater good.
Ten
The most powerful medicine for psychological well-being is love. Let's show our love to others. It bonds us together, it makes us stronger and gives us wings to fly.
We hope these humble recommendations might be of help throughout this time. We have written this post with love for you all and our best wishes for your health and happiness. Please feel free to share.
Authors:
Marcos Fuentes teaches at UCL School of Management. Marcos is completing his PhD at UCL School of Construction and Project Management. His research is focused on the co-creation of value for organisations.
Lucie Verver has completed a MA in Comparative Literature at UCL. Lucie is an incoming Project Management Graduate at Babcock International.