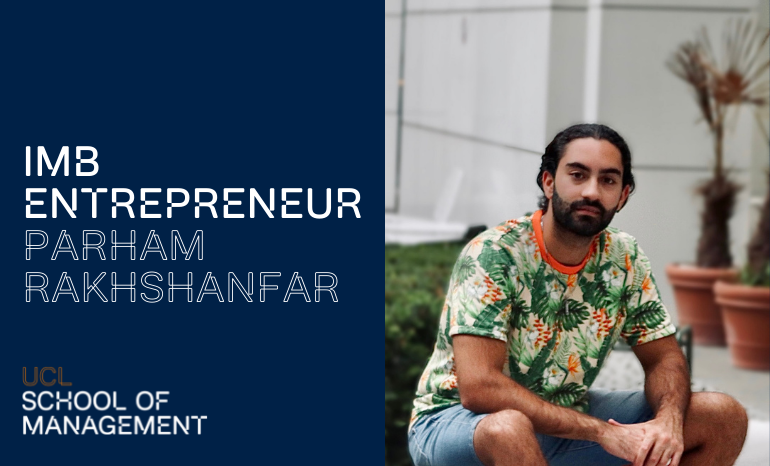 As a part of our BSc Information Management for Business (IMB) Entrepreneurs Series, we are catching up with IMB alumni to learn more about their entrepreneurial journeys, the challenges and successes and why they feel the IMB programme helped them prepare and succeed in the competitive environment.
Since graduating from our BSc Information Management for Business programme in 2021, Parham Rakhshanfar​'s startup, Huzzle has continued to grow and in just over a year since its launch has a team of 14 people and has released its fourth version of the app. Huzzle is a platform supporting students to find their perfect career from the early stages.
​What does Huzzle do and how did the idea come about?
Huzzle is a career companion that guides students from 'Freshman to Graduate Jobs'. Most career platforms get students jobs when they already know what they want. Huzzle starts earlier, when they're lost. Almost all conventional job platforms only serve those with an intent or a concrete search query. Huzzle works with broad interests and helps students develop an intent as they move through university. We do this by matching students with flexible career opportunities such as workshops, student projects or hackathons that help shape their career goals early on. Once that's accomplished, we connect them with the most relevant internships and graduate jobs that align with their goals.
We started Huzzle because we felt that students were lost and needed guidance at the most critical moments in their careers during university. With 49% of today's students entering a phase of depression after graduating, we want to fix their early career journey. The idea came about after we hosted the London Startup Fair in 2020 where we had over 1,000 students and 50 startups attend. We experienced students' and recruiters' problems first-hand and felt that the early career journey for students was difficult and unfavourable. So we set out to build something that put students at the centre.
What have been your biggest challenges as an entrepreneur?
I believe the biggest challenge by far has been persistence. As a founder, you'll have to wear many different hats and that means you'll face an array of challenges from raising money from potential investors to getting feedback from users, and of course, convincing people to come work for you and support them when they do. Things will go wrong many times, but it's that relentless belief in your idea and persistence in what you are building which will get you through the difficult times.
Do you think the skills you learnt on the IMB programme helped you navigate the entrepreneurial process and overcome these challenges?
During the first and second year, we worked on a lot of group projects with big teams of up to eight people. Teamwork is difficult in the professional world and it's even more difficult when you're working towards an individual grade. This means you need a lot of persistence to get things over the line and that's something I learned early on in the programme. Other than that, having the bridge between business and technology as well as a large practical component in most of our courses prepared me for a lot of different things we do on a day-to-day basis at my startup.
Why did you decide to study IMB at UCL SoM?
As it turned out, this was a bit of a lucky coincidence. Initially, I was more interested in programmes that were only business-oriented and for that type of programme UCL only offered IMB, so I applied. I have to admit that it was not my first choice, but due to some confusion with my grade predictions, I didn't get my first choice, but these were rectified by the time it came to UCL and I got in. Looking back on it now, I see this as a lucky coincidence because if I were to go back in time I would have definitely made UCL and IMB my first choice.
What is it that you think makes the IMB programme so unique?
I believe the combination of both business and technology-focused modules with an emphasis on practical learning is what makes IMB special. This provides a great foundation for students to find the area that really interests them and complements that with a wide range of skills that they can apply in the field they choose.
What were your top three takeaways from the programme that enabled you to pursue entrepreneurship?
The first two would be, studying a wide range of modules (such as accounting, finance, programming, project management, market research and user experience) and carrying out practical projects in those areas that would apply to the real world. These modules gave me a great base of understanding that I used when starting Huzzle. For example, one of the first things we did at Huzzle was a ton of interviews with students and recruiters, and it was the skills I had gained from my market research lessons that enabled me to carry these out in a professional manner from the outset. Since then I've done hundreds of interviews at Huzzle, using those same skills.
Lastly, the supportive nature of the academic team and their help in building a network. I got feedback on the first interviews we did at Huzzle from my Marketing Professor, Debra Eddy. When building our financial model and going into our first funding round, I got guidance from Barry McCarthy who also connected me to other people in the VC and startup space. Most of all, Mark De Freitas from the Careers team was incredibly helpful in giving feedback on what we were building for students and helping to promote it, and still does to this day!
What are your future aims for Huzzle?
In the next five years, we want Huzzle to accompany students all around Europe on their career journeys, from Freshman to Graduate Jobs. In the next 10 years, Huzzle will accompany every student in the world on their career journeys. At Huzzle, we believe that young people's career decisions are decisions about the world's future and it is our responsibility to help create a better future. We want people all over the world to find purpose and fulfilment in their careers, and we'll do that by guiding them toward the right jobs. People will be happier and more productive as a result, helping humanity to advance.