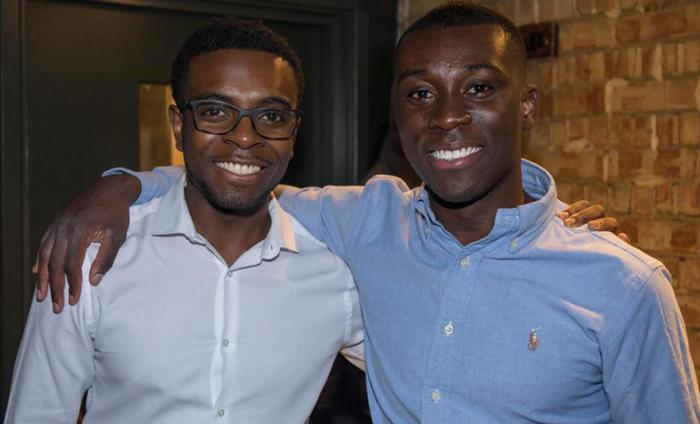 Although marked with overwhelming loss and hardship due to the pandemic, the new decade has also ushered in remarkable swathes of solidarity and support for numerous socio-political issues worldwide. In May, the unlawful killing of George Floyd by US police officers catalysed an increase in support for the Black Lives Matter movement and saw people across the globe take to the streets in protest. Many institutions, companies and brands used this as an opportunity to educate themselves and explore systemic racism, racial discrimination, and how they continue to manifest in a plethora of ways and at multiple levels.
It was this series of events and personal reflection that allowed our alumnus Nii Cleland and his cofounder, Darrell Coker, to rapidly and successfully manoeuvre their start-up into a product serving current community needs and demands.
The pandemic has disrupted many industries and businesses with the entertainment and sports industries having been no exception.
Flair, originally Flair Football, was founded as a football social media platform for youngsters to observe and track their performance over time. It had tens of thousands of users and was available on various app stores. However, drastic changes to the economy have resulted in government funding and support to be more focused on long-established, highly profitable business models, leaving many small business and start-ups struggling. This combined with the changing cultural landscape led Nii and Darrell to rebrand their up and coming business and re-establish themselves.
We caught up with Nii to celebrate Flair's perseverance and examine how the pandemic has brought a new opportunity out of hardship.
Why did you decide to set up Flair and what does it do?
Darrell and I initially launched the Flair Football app in September 2018 as a way for young football players to track their matchday performances. Very similar to Strava, it was a social platform but for Sunday League football, allowing the creation of seasonal performance graphics. We managed to organically grow our community to over 20,000 users in the UK and Ireland.
What has been Flair's biggest achievement so far?
Our biggest achievement is marked by the hires we have been able to make. We currently have a team of six full-time staff members who are exceptionally talented and committed to Flair.
How did your time studying at UCL School of Management help you succeed?
Being at UCL School of Management placed me in an environment where the key aim was to form a startup. Prior to my studies, I was very narrowminded in my approach to launching a business and it really helped me to ideate quickly. My time at UCL SoM most definitely helped me to get to where I am today.
What has been the most challenging part of your entrepreneurial journey?
Definitely 2020. Everything about this year has been uncertain and uncertainty is the toughest part of entrepreneurship.
How has the global pandemic affected Flair?
I suppose it was the first spark in our complete pivot as a company. When the lockdown was announced, we saw usage of the app dramatically fall and we began thinking about new problems to solve, as we were sceptical that football would return to any sort of 'state of normal' in the near future. Aside from that, the global pandemic has made fundraising and generating revenue very difficult. Also, very painfully, it has caused us to let go of some of our most talented employees.
What has Flair done to overcome the effects of the pandemic?
The pandemic forced us to innovate, as our old product was completely unsuitable for a world where sport was not being played. We essentially had to start afresh and search for a new problem where there might be a demand.
On 25 May 2020, everything changed for us. It was the day George Floyd was killed and the Black Lives Matter movement began to resurge. Over the next few weeks, Darrell and I found ourselves intertwined between two huge battles - the battle for equal treatment for our race and the battle to save our company.
It led to an intense period of reflection of our own experiences of being Black. We realised just how early in our lives we had been exposed to racial inequality and discrimination and began to question why there was such little intervention and discussion about what was happening. It dawned on us that one of the main reasons was that when we were young, we were never asked about our own experiences and perceptions on the matter. This was amplified by the feeling of not being able to discuss it and voice our opinions about what we were experiencing and feeling to our elders.
We consequently decided to build a product that helped children and young people share their experiences and perceptions of race. Our initial target market is the independent school sector.
Our product involves an independent, repeated audit, using a 4-step process:
Surveying
We design a survey that is sent to students and staff, helping schools to understand the levels of racial inclusivity, racial awareness, racial diversity and racial experiences of its members.
Visualisation
We provide clear and concise visualisations for the leaders of the school to understand the school's strengths and improvement areas regarding these racial issues.
Recommendations
We provide data-driven recommendations on how the school can improve its results.
Comparison
By repeating the survey at set intervals (e.g. annually), the school can see how its results trend over time, and can also compare results to a school-wide benchmark.
Earlier this year, you launched a crowdsourcing campaign to support Flair, how has this helped the organisation?
Thanks to the support of our network, friends and family and some good Samaritans, we were able to raise over £26,000 in donations using GoFundMe. Ultimately, this bought us three more months of life as a business and may eventually prove to be one of the key moments that saved our company.
What are your top tips for others to stay focused in this difficult time?
I have been using the pandemic as an opportunity to speak to people more. People are staying inside much more and are generally freer to chat. I have ended up rekindling lots of friendships this year and received support from many old friends. So, I would say my top tip is just to accept that it is a really hard time and to not be afraid to seek others' support and guidance.
What is next for Flair?
The most important thing for us now is survival. We are getting our product into the hands of as many schools as possible.
If you could give your younger self one piece of advice, what would it be?
Learn to code! It is the one skill that I have no idea how I let slip me by.
Who inspires you?
Our team. It is a pleasure working with them every single day.
Flair is a data-driven platform allowing companies & schools to capture the voices of students and staff through anonymous surveys on racial issues. Flair leverages technology, presenting clean visualisations and highlight key data. Flair provides unbiased, logic-based recommendations and an easy way to tracking progress over time. Find out more information about Flair.