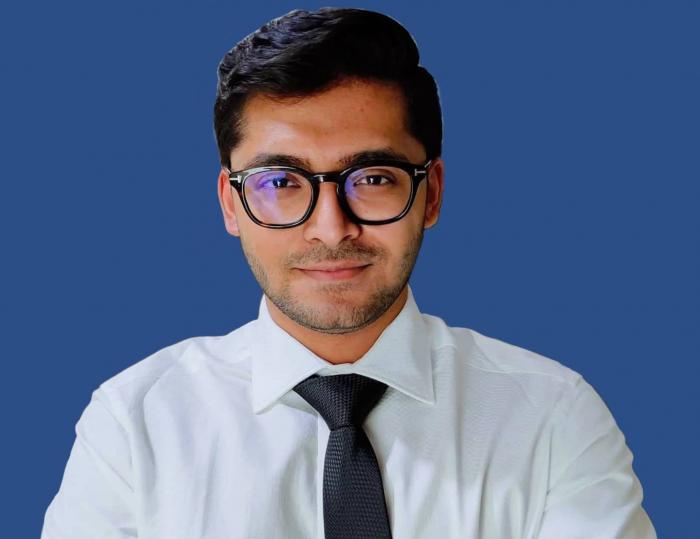 As a part of the MSc Business Analytics programme at UCL School of Management, students undertake a practical consulting or independent research-based project with business and support in finding a solution to a problem the company needs solving. Using the skills and knowledge they have developed on the programme students analyse the data and come up with solutions to help the organisation, better its business, change a process or just get more of a thorough understanding of its customers and target market.
Kunal Kalani from the Class of 2021, shares his experience from the project working at Utilidex, an organisation that delivers a range of integrated software products supporting end customers, consultants, and energy suppliers for data management, billing, trading, budgeting, and energy management.
Kunal shares why he decided to study MSc Business Analytics at UCL SoM and the advantages and challenges of the programme and the project, as well as how his time on the programme helped him secure his current role as a Business Associate at PwC.
Why did you want to study Business Analytics at UCL School of Management?
I had previously completed an integrated Master's in engineering (MEng Food Engineering) for my undergraduate degree from Sheffield Hallam University after which I moved back to India for work. However, I always wanted to follow up with another Master's degree to help me build more commercial skills as opposed to the technical skills I acquired from the MEng programme. When the pandemic struck, I decided it was the best time to get back into education as the business world did not seem to be moving forward quickly. Hence, I decided to apply to UCL for the MSc Business Analytics programme. It was perfect for me as I could use my mathematical skills from my undergrad while developing new skills around business and programming which would help me further my career.
When did you graduate and what have you been doing since you graduated?
I have not formally graduated yet, but I have submitted my dissertation during August 2021, so I am awaiting my final result before I can "officially" graduate. Since submitting my dissertation I have been working with PwC in London as a Business Associate on their graduate programme. I was fortunate enough to join PwC in February 2021 whilst I was studying at UCL.
What problem or need was investigated through the student consulting project?
The company (Utilidex) wanted to explore the space of Combined Heat and Power (CHP) optimisation through software in order to generate maximum cost savings for heat and power for the users of CHP technology. These costs were mainly dependent on the market prices of gas and electricity along with industry constraints arising from various forms of technology and regulations. The goal was to create a proof of concept of an "Optimiser" which could make decisions around when to run the CHP system every day in order to maximise savings.
How do you think the skills that you learnt on the MSc Business Analytics programme helped you support Utilidex?
The skills I learnt on the programme were absolutely critical for me to be able to support Utilidex. Firstly, the whole project was dependent on the use of Python for programming and optimisation using MILP (Mixed Integer Linear Programming). These were skills that I picked up on the programme and I had no background in. Secondly, I was able to deliver more value to Utilidex through looking at the short-term and long-term vision of the company with regard to the project as well as understanding their business landscape. These were some of the points I paid attention to because of the business-focused modules on the MSc Business Analytics programme.
What did you learn from the project?
I learnt a great deal from the project about the energy industry and energy trading as well as optimisation techniques and the variety of ways in which they can be used. It opened my mind to the endless possibilities where Business Analytics can be used to drive value and make positive contributions. Apart from the project itself, I learnt a lot about business and professional skills from Mike McCloskey who helped and mentored me throughout the project. Mike has also recently shared his experience of the project in a blog.
What was the most challenging part of the project?
The most challenging part was working with limited data and making sure that appropriate conclusions were made. Often, the variety and structures of data you want is not available to you when you work on a data analytics project. However, that is where all the preparation from the programme helped me to make sure that the data I had could be used fully through different techniques and that meaningful conclusions could be achieved based on that data.
What was the most rewarding part?
The most rewarding part was the feedback I got from Utilidex on the project. I was very happy to see that my work could bring some value to the company. Also, I made connections with professionals within the energy space that may be very helpful during my career going forward.
How do you think the project helped prepare you for your current role?
The project gave me a good understanding of how to work in a fast-paced work environment where you have to communicate with professionals and experts while making sure that the project is progressing to be delivered on time. These are aspects I see in my role and I am a lot more confident because I completed the project with Utilidex right before I started at PwC.