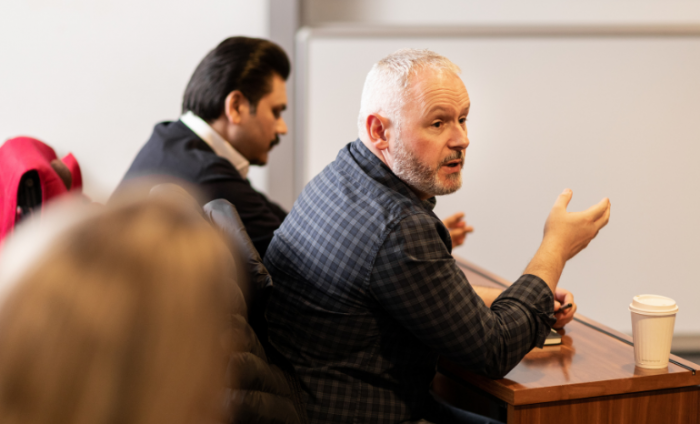 Designed to provide experienced professionals with the skills, knowledge and insights required to address complex organisational challenges and progress in their careers, the UCL MBA has recently graduated its first cohort of students. To celebrate the success of our first MBA graduates - The Founder's Cohort - we'll be sharing their stories and the paths that led them to join us at the UCL School of Management and hearing how the programme has enriched their lives and careers.
Iain's story
Iain Cooper joined the UCL MBA programme in October 2019 off the back of a well-established career in finance. Working as the Financial Controller and Deputy CFO for a programme management joint venture between Jacobs, Saudi Aramco and the Saudi Arabian sovereign wealth fund (PIF), Iain had over twenty years of professional experience, working for American, Australian and British multinationals across all five continents. As one of the MBA programme's most professionally accomplished candidates, Iain joined the programme with a distinct focus on improving and updating his capabilities working with data and was also keen to enhance his knowledge of the digital economy and business transformation.  Another key aspect of Iain's decision to pursue an MBA with UCL was his desire to be a mentor to other business professionals, sharing his knowledge with other students from across the globe:
"I have been fortunate enough to work with some highly experienced, capable and successful senior executives in some of the world's largest companies and I have taken the opportunity to learn from them whenever I can. I welcomed the opportunity to share my career experiences while being open to learning from the experiences of others in my cohort."
When joining the UCL MBA, Iain set a long-term career goal "to be a future CFO in a high-growth early venture or more mature multinational corporation".  Since graduating, Iain has been appointed Senior Director - Finance within Jacobs' People & Places Solutions line of business, partnering with the business in the built environment, infrastructure and environmental services markets.  He is hoping to further develop his finance career at Jacobs and hopes one day to lead the finance function of one of Jacobs' two lines of business or one of the corporate finance functions.  He aspires to one day become a C-suite executive, or to move into entrepreneurship:
"This MBA programme provides a roadmap for how to take an idea from ideation to execution and scaling. I find myself torn between…the corporate trajectory" and going "forward in … entrepreneurial roles which I've been asked to get involved with. I haven't quite decided which it's going to be yet, but it's a good problem to have".