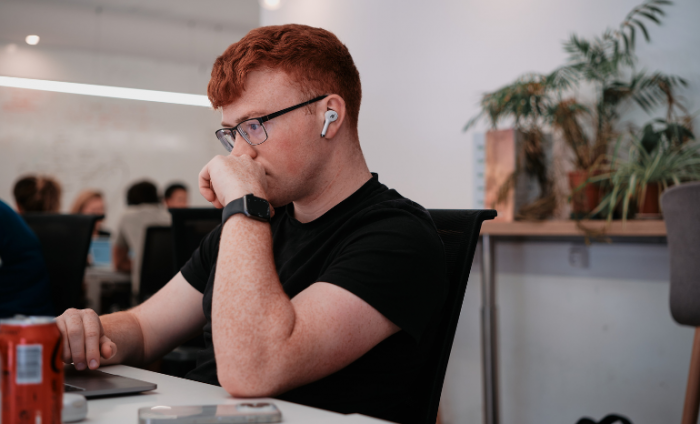 During the early stages of the COVID-19 pandemic, UCL School of Management student Conor Kelly launched Zero Fog, a microfibre cloth specifically designed to prevent glasses from fogging while wearing a mask. Within only a few weeks, the product had gained significant social media following and, within a few months, it had received celebrity attention and featured in a number of high-profile media outlets, such as The Late Late Show & Newstalk.
Now almost 3 years on, Conor is studying an MSc in Business Analytics at UCL School of Management and is set to launch Zero Fog's latest gadget - an anti-fog glasses cleaner that can attach to your keys. We recently caught up with Conor to find out more about how our Business Analytics programme is supporting his entrepreneurial journey, as well as the advice he would give to aspiring entrepreneurs and his latest AI endeavour, GenieMail.
can you tell us a little bit about yourself?
I'm from Dublin and did my undergraduate degree in Business & Economics at Trinity College Dublin. I graduated in the height of the pandemic and went straight into an accounting role. I knew quite quickly that accounting wasn't the best fit for my ambitions so I began to think outside of the box about where I could take my career. Soon after, while still working in the same firm, I saw an opportunity to launch a product called Zero Fog.
Zero Fog is a reusable anti-fog cloth for glasses that was launched during the pandemic to stop people's glasses fogging up when wearing a face mask. It was pretty much a rollercoaster once I launched it – within only a couple weeks I had a fully fledged business on my hands. The business moved rapidly during the rush of the pandemic and once it had come to an end, it stabilised and then I began to think about where I could take my career. I left the accounting firm and started learning to code at Le Wagon (10-week bootcamp). Once I started learning to code, it became apparent to me that the next generational opportunity will be in AI, so I decided to enrol in UCL to study Business Analytics.
The pace of progress in AI at the moment is unlike anything we've seen in the past, and I believe that this era will create opportunities that my generation (Gen Z) will be unlikely to see again in their careers. This is where I plan to focus all of my academic and entrepreneurial endeavours going forward and I'm tremendously excited about it!
WHAT IS zero fog and why did you create it?
Like any classic Irish success story, it starts with my mother. We were a couple months into the pandemic, and I was constantly complaining about my glasses fogging up when I wore my face mask. One day, my Mam came home from the opticians with an anti-fog cream for glasses. To my amazement it worked – but it was messy, difficult to use and didn't last very long. Nevertheless, it was intriguing enough for me to go and look for ways that it could be improved upon and brought to market.
I spent the next couple weeks researching all kinds of products, solutions and cloths before eventually coming to the design for Zero Fog, a microfibre cloth which is infused with a hydrophilic solution and sealed in an airtight package. Simply wipe your glasses using Zero Fog and they won't fog up for 24 hours. You can then reuse the cloth hundreds of times until in dries out. The product was a clear problem solver. I then quickly created the brand, designed the packaging/website and began sampling it to customers.
Once initial customer feedback was positive, all focus came down to distribution. I went direct-to-consumer and marketed the product heavily on social media, doubling down on campaigns that worked to scale the product. It was pretty much a rollercoaster from there – thousands of customers overnight, millions of views on social media, purchase orders from the biggest names in pharma, collaborations with the biggest influencers, interviews with national media, etc.
Things moved rapidly during the rush of the pandemic. Once it started coming to an end, I was able to stabilise the business and begin thinking about where I could take my career next. I left the accounting firm and started learning to code. At this point it became apparent to me that the next generational opportunity will be in AI, so I decided to enrol in UCL to study Business Analytics.
have you always demonstrated signs of entrepreneurial talent?
I've certainly always been consistent in my efforts to create value! During my undergraduate years, I ran music events for students, set up a student business news site and was involved in the start-up scene with a couple of ventures through societies and accelerators. However, I also believe that talent is overrated in entrepreneurship. We have this notion that founders are the most peculiar people with extraordinary talent and, although this is somewhat true for big tech, it's not representative of the majority.
Entrepreneurship is fundamentally a skill which you can get better at with practice. If you are persistent in trying to create value, you'll be quick to learn what works and what doesn't. And eventually, you'll start to get it right. Most entrepreneurs I know will agree with this and say that it's important to embrace failure. I really believe this to be true and I've always approached entrepreneurship with this mindset – failing fast in order to learn. It's no coincidence that in the US, the country which has produced some of the world's best entrepreneurs, failure is celebrated.
your product has featured in a number of high-profile outlets, including the late late show and newstalk. How did these features come about?
One of the best things I've learned from starting a business is that it doesn't take much for you to get noticed. The world is small and if you're doing interesting things and have a story to tell, people will reach out and support you. Media coverage accounted for about 30% of first year revenue and this came at a total cost of €0. This was because I had a story, told it and used whatever good fortune that came to my advantage. For those looking to do the same, I'd offer the following advice:
1. Put yourself and your brand out there with utmost confidence
No one is going to find you unless you take the initiative. Forget about what others might think and just remember that there's an entire world of people out there who want what you have to offer and will support you once they find you. But you have to put yourself out there first!
2. When you run into good fortune (and you will), know that the probability you'll be fortunate again is exponentially higher than before
When one door opens, you get the keys to open ten more. Be acutely aware of this and use whatever good fortune you've had to your advantage. I got my first lucky break with Zero Fog early on when a celebrity radio host found my product and shared it online. Knowing this would be a pivotal moment, I reach out to other media channels with reference to this. More channels became interested, and this created a spiral effect which led to endorsements from Ireland's biggest influencers and TV shows.
In my view, combining these two principles is a deadly combo for success.
how has the business analytics programme supported your entrepreneurial ambitions?
Essentially, UCL School of Management's Business Analytics programme gives you the necessary knowledge and tools to leverage data-driven technologies in a business context. If you're a data-driven entrepreneur - the opportunity and support you'll find in this programme is next to none. The range of projects you can pursue on the programme is intentionally flexible because there is an endless number of things you can do with data. As an entrepreneur, this is huge.
My background is in e-commerce, and I've been able to use tools learned in the programme's Marketing Analytics module to improve my customer acquisitions. As part of a group project in Strategy & Analytics, I used all of Zero Fog's data to create a long-term strategy for the business – this was tremendously exciting and insightful. On the AI side of the course, I'm using the Natural Language Processing project to build a model for my latest venture and my dissertation will also be based around building a product for this venture.
how do you find the entrepreneuruial community at uclsom?
The entrepreneurial community at UCLSoM has felt incredibly unique. There's so much ambition and it's super energising to be around it. The design of the School of Management makes it ideal for striking up conversation - everyone has a story to tell and the layout of the communal space creates an ideal environment for people to get to get to know each other.
The students at UCL come from literally all over the world and it's always incredibly interesting to hear about what it's like starting a business in different countries - Qatar, Singapore and Cyprus are just a few that come to mind! What's been particularly unique is discovering the range of businesses that other students have started. From retail to hardware to e-commerce to ed-tech, it's amazing to learn from other people's journeys. When you're 750ft up in the centre of Canary Wharf surrounded by a global community of entrepreneurs – it's difficult not to feel inspired!
what would be your top three tips for any aspiring entrepreneur?
1. Invest in your skillset
Your skillset will determine the opportunities you're exposed to and your ability to seize them. It's crucial that you invest in your skillset early on – learn to code, understand finance, get comfortable with data etc. The more skilled you are, the greater your odds of success.
"Luck is what happens when preparation meets opportunity" – Seneca
2. Create the right environment for you to be your best self
Creating the right environment will shape who you become. You are the product your environment, but you have a lot more control over it than you think. If you bring healthy habits to your mind and body and surround yourself with people who want the best for you, you will become the best version of yourself. If you can achieve this, you'll be successful no matter what.
"I'm not what happened to me, I'm what I chose to become" – Carl Jung
3. Treat entrepreneurship as a skill that you can practice and find your place in the value chain
The more products you ship, the faster you learn, and the sooner you'll get to where you want to be. Take every opportunity you can to pitch, build, sell and learn about business. You'll make tangible progress towards your goals before you even know what they are. The end goal is to figure out where you lie in the value chain. This will determine what you work on, who you work with and where you end up. Generally speaking, you will either be a builder or a seller and you will need to work with someone who complements the skills you don't have. But you won't figure any of this out without practice!
"Learn to build, learn to sell – if you can do both you'll be unstoppable" – Naval Ravikant
what's next for zero fog?
At Zero Fog, we have developed a unique glasses cleaner that attaches to your keys and will stop your glasses from fogging up. It's a real game changer and we will be launching it soon! However, personally I'm looking at opportunities with greater leverage potential. The pace of progress in AI at the moment is unlike anything we've seen before and this will create opportunities that my generation (Gen Z) will be unlikely to see again in their careers.
My next product is called GenieMail and it is an AI-powered emailing assistant. It makes emailing faster and more effective. With very little user input, GenieMail will do all of your emailing for you. What's better is that GenieMail understands the context of your conversation and will generate perfect emails which are tone-appropriate and personalised. If you spend a lot of time sending emails or struggle to write emails in a professional context, GenieMail is the perfect tool for you. This is the first in a range AI Tools which I plan to roll out thoughout the year.
Interested in learning more about Conor's story? Reach out to him on LinkedIn!