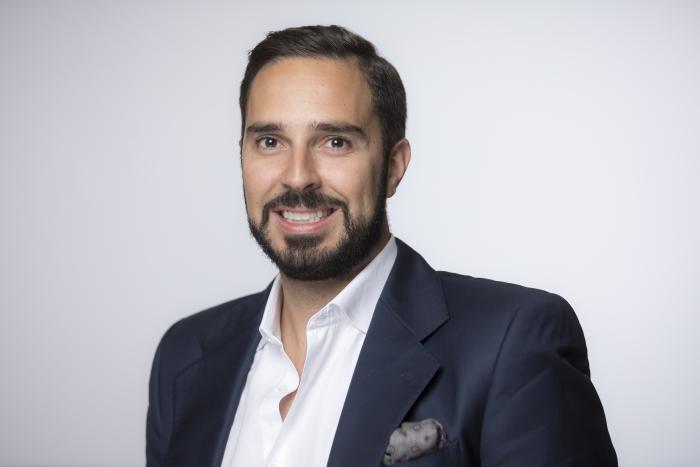 We recently caught up with the School of Management's newest member to the Senior Management Team, Paolo Taticchi, to discuss everything from; effective online learning methods, the invaluable skills you learn from an MBA, to his passion for motorcycles, fishing and his family.
As Paolo joins UCL School of Management he will be teaching modules on sustainability and competitive advantage, strategy and consulting and leading on the development of the school's MBA and international programmes. He has teaching experience in 15 countries in total and has won numerous awards for his work, primarily in the fields of sustainability, MBAs and online and international education.
Paolo's academic and professional experience
With a background in mechanical engineering and his father's career as a chemistry professor, academia has always been a passion for Paolo, however, upon graduation, his entrepreneurial spirit kicked in and he wanted to explore the world of business. Pursing his two passions, he simultaneously started a PhD and part-time MBA, which led him to study at NYU Stern, the University of Perugia and Bradford's School of Management, and in this time, he also launched his first company, an engineering firm operating in the field of renewable energy and energy-efficient projects in Italy.
After completing his PhD Paolo went on to research and teach at NYU as a visiting scholar and became an Assistant Professor at the University of Perugia, but his passion for business led him to launch an International MBA and open a campus in Italy for Bradford School of Management and his Alma Mater - the University of Perugia. He became the School's MBA Director of Studies, which at the time made him the youngest MBA Director in the world at the age of 30. As an intrapreneur, Paolo successfully co-founded and directed six New York-based international summer schools associated with prestigious universities and co-founded an international internship programme between Taiwan and Italy, that is still running today and is currently in its 11th edition.
After moving to London Paolo continued to work for NYU and became one of the first to create an entire module based on online learning, teaching live from London to two different campuses in New York. In 2014, Paolo joined Imperial College Business School where he directed the top-ranked MSc Management programme, the weekend MBA and the top-ranked Global Online MBA and the Global Student Experience Team.
Do you think online teaching is getting easier with the new emerging technologies or do you think there are still some fundamental issues that need to be addressed?
"This is a difficult one, technology was an issue ten years ago, but today the technology is much better. In my opinion, the problem is not the technology - what many institutes do not understand is that you really need to train the faculty to become familiar with the right pedagogies for online education. The methods and pedagogies most teachers use are effective in the classroom, but the online environment is completely different so you need to develop different tools to be an effective teacher online.
COVID-19 has pushed everyone globally to engage with online learning. Which has been useful for the education industry as it has acted as a worldwide experiment, and when you experiment you can of course fail, but you can learn from it. And I think in the past few months universities have learnt a lot. Secondly, it has addressed the stigma surrounding online education, with many feeling that online education was a second-rate education. The crisis has further demonstrated that online education can be a premium education.
In fact, this is one of the things that attracted me to UCL School of Management. Moving into the MBA market through an online programme took courage, which demonstrates the school's commitment to the new model, as online education is a tough game. In the years to come, I think we will see a lot of change and online education will become more popular and although I am an ambassador for online teaching, I do love being in the classroom and think a blended approach will be widely adopted."
Why did you study an MBA?
"Coming from an engineering background, I developed excellent problem-solving and quantitate skills, but I lacked some business skills and needed to develop these quickly, so the MBA was the perfect solution to that problem."
What were the best skills you learnt from your MBA that you continue to use in your professional life today?
"It made me realise the importance of networks. I believe one of the big reasons for studying an MBA in a top school like UCL is to access an incredible network of professionals around the world and that is extremely valuable in the short and long term. I believe knowledge is also key. In today's society, our jobs are complex and they call for a multitude of skills and the reality is that it is not enough anymore to study an undergraduate and postgraduate degree at a top school, and then just work forever, you must keep studying every few years. This concept of continuous education, is shaping the future and studying my MBA made me appreciate that and understand something like strategy, for example, changes over time, what I teach in my strategy classes today is very different to what I learnt in my MBA 15 years ago. And I believe this appreciation of knowledge is something that comes with an MBA. And last but not least, it was through the alumni network that I met my wife, and one of my classmates actually became a co-founder of two of my businesses."
Why did you want to join UCL SoM?
"There were a number of reasons that led me to UCL, its reputation and the impact it has on the multiple industries all over the world. As an engineer, the multidisciplinary environment was also a pull factor, being in a STEM institution is key for shaping education in the future.
I was also very impressed by the results and achievements of the School of Management in recent years, in terms of trajectory, results, rankings, the brand and reputation. It is definitely the most promising business school in the country, and it is a pleasure to join an organisation that is in such a trajectory.
The leadership at the School of Management was also a pull factor. The school has a consolidated and stable leadership team full of ambition who believe in the vision and have devised a clear strategy.
Lastly, my area of expertise is sustainability, MBAs and international education and I believe that I can really help the school to further develop in these areas and I intend to make a real impact."
Given the current economic climate, do you think graduates with an MBA will be more resilient in the job market?
"It is hard to say, however generally speaking I agree with the statement as MBA students should be able to cope better with these crazy times, simply because they are trained to be very flexible and they are trained to be proactive and not reactive to situations. They learn how to look at problems with an open mind, and these are good skills that are very much aligned with the idea of having resilient leaders in the industry and government. I think an MBA prepares you for competition and driving organisations in tough times, and this is a tough time."
What is your proudest achievement to date?
"Firstly, I felt very honoured when I was put in the list of the Poets and Quants best 40 under 40 professors list in 2018. That was completely unexpected and of course, it was a great achievement.
This also led to another moment in my life I am particularly proud of, which was being knighted by the president of the Italian republic for the impact of my academic work.
And of course, my two children and the third on its way."
What would be your advice to your younger self?
"To not to try to plan everything in life! Maybe it is because of my engineering background, but I tend to be a big planner and of course you can't plan everything in life and the reality is that it is not all a problem, so my advice would be to try and plan less."
What would it surprise people to know about you?
"I really love dogs - we actually have three dogs – I am passionate about motorcycles and fishing. All very different, dogs for comfort, motorcycles for the thrill factor and fishing for tranquillity."