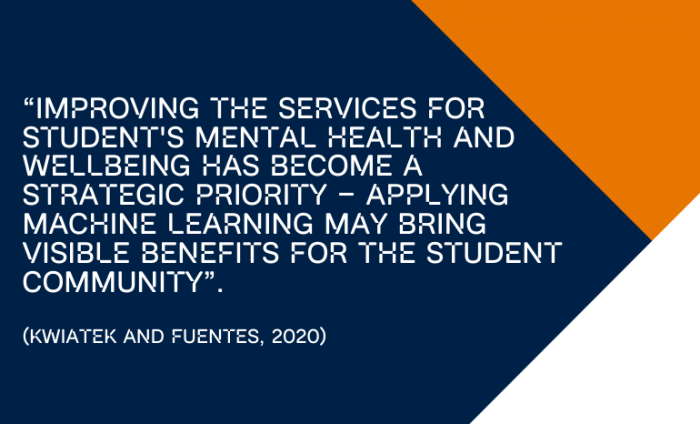 Mental Health in Higher Education
The quality of life and mental well-being in Higher Education (HE) has been severely affected by the current global health crisis. Following sector-wide disruptions to the working conditions of staff and students alike, universities are forced to embrace alternative teaching and assessment modes. As students struggle to navigate the unusual landscape of social distancing and remote learning, underlying doubt and uncertainty are taking a heavy toll on their present performance and psychological stability.
In typical circumstances, students' mental health concerns are usually addressed directly through university-administered counselling services and support teams. At University College London (UCL), such assistance is offered in the form of on-campus psychological advice by the Student Psychological and Counselling Services (SPCS). Despite continuous efforts to tackle the recent increase in demand for students' mental healthcare relief, some fundamental challenges are consistently hindering the effectiveness of university counselling services. Consequently, one question of readiness and capacity of counselling in HE arises: How prepared are universities, in particular UCL, to confront such a mass decline in students' mental health under emergency conditions?
Despite recent improvements and a notable response to the rapid changes caused by COVID-19 in the form of special coronavirus helplines and online support guides, some of the continuously persistent challenges faced by university counselling teams, for example, the SPCS at UCL, were intensified in the context of the pandemic outbreak. For instance, some of the main current weaknesses of UCL's counselling services include:
A limited number of time slots and spaces for one-to-one appointments – leading to extensive waiting times, lengthy scheduling process and an overflowing registration system
Ineffective marketing efforts – the generic and non-centralised communication strategy causing misinformation and confusion in terms of the services and resources available to students, who, due to multiplicity of informative websites and guides do not always realise what kind of help they can get and where
An insufficient number of counsellors – despite the rapidly rising demand for mental health support, the immediate psychological needs of most students remain unmet because of a limited number of professional counsellors available directly or remotely at short notice
On that account, improving the services for mental health and well-being of students has become a strategic priority of Higher Education. As a potential solution to address the current inefficiency of counselling services, we propose that universities may be able to considerably improve the quality of student support in emergencies with the help of Machine Learning. This may also fall in line with UCL's mission statement and future strategy, the main objective of which is to support and promote a holistic and comprehensive approach to resolving students' direct psychological concerns (UCL Human Resources, 2017; UCL Student Support and Well-being, 2019). According to the reports, one of the central points of UCL's well-being strategy is to enable self-help for students through various modern digital channels. That said, the use of Machine Learning may move the current services forward and directly influence the longitudinal well-being of students.
Machine Learning in Mental Health Care
The implementation of Machine Learning (ML) in general and mental health care is certainly not a new topic to management research and leadership. Fundamentally, ML solutions are usually highly disruptive in terms of the digital transformation of business models, relying heavily on the processes of data-driven automation, algorithmic training and smart information processing (Kolbjørnsrud, Amico and Thomas, 2016). Data-backed insights stemmed from ML innovation are particularly significant to customer service and communication, as they facilitate tasks such as data analysis, forecasting and decision making (Yeomans, 2015).
To elaborate on the principle of a personalised approach and extend the scope of SPCS activities in the long term, we propose several innovations that could meet the antecedent objectives of UCL's well-being strategy, as well as resolve the issues related to the newly recognised shortcomings in terms of dealing with emergencies.
The following table presents some potential Machine Learning projects that could assist UCL and other universities in addressing current and future mental health emergencies. The overarching rationale behind these project recommendations consisted of three main criteria:
Improve the transparency and clarity of information on the services offered
Increase the accessibility and convenience of remote counselling solutions
Consider the potential short-term and long-term benefits to the underlying organisational strategy
Each project is matched with potential project deliverables and its expected benefits, as well as the key problems addressed through the implementation of each proposed solution: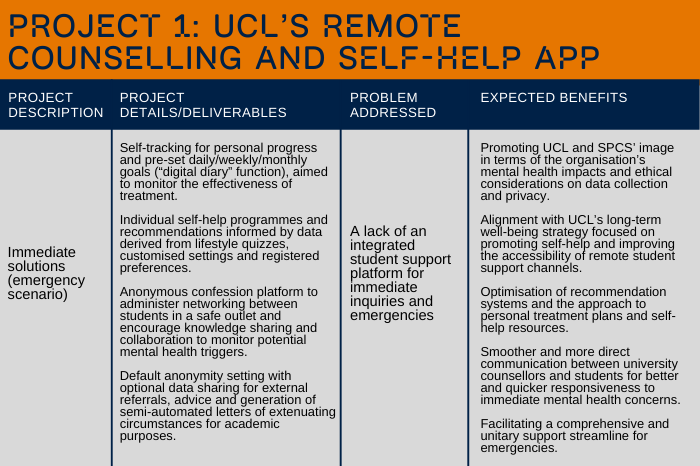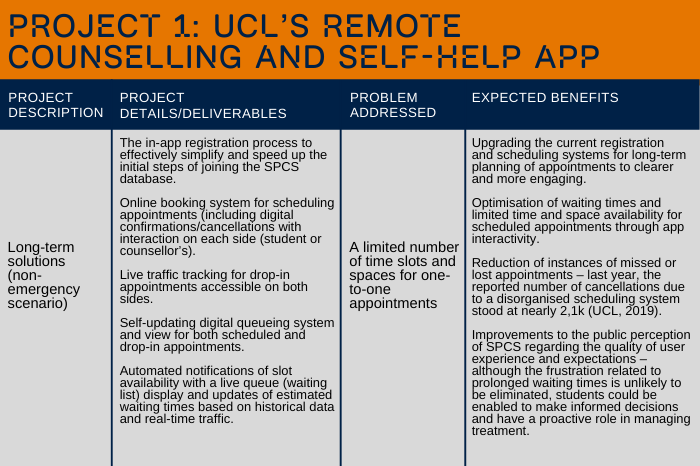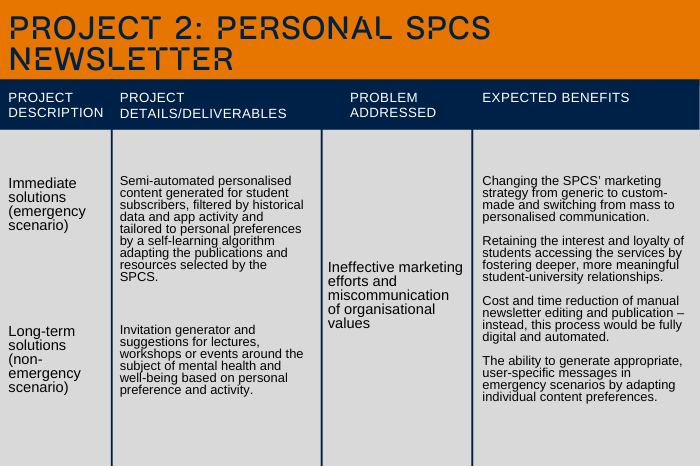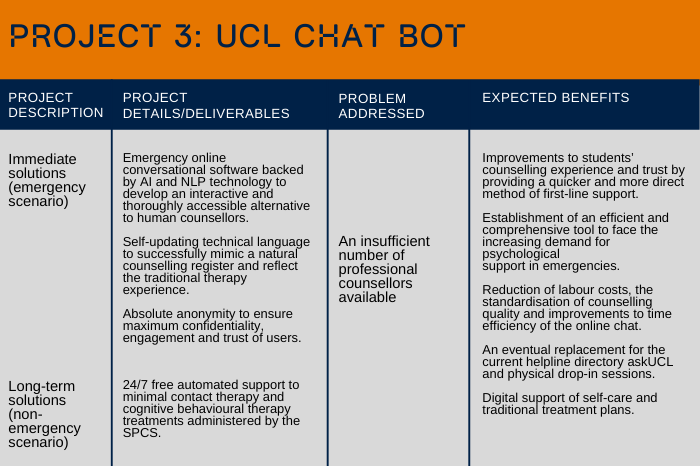 The projects outlined in the table are backed by research on tested ML applications that are already being used by private and public Mental Healthcare Institutions. The role of ML in supporting the traditional forms of therapy is primarily data collection and tracking for symptom recognition, diagnostics and the optimisation of personalised treatment plans. A notable example of that can be found in the "Every Mind Matters" self-care platform, launched in 2019 by the NHS (NHS, 2020), or the currently piloted Covid-19 track-and-trace detection app (Chowdhury, Field and Murphy, 2020). While automated data interpretation is fundamental to all potential solutions, Project 3 presented in the table was additionally inspired by Natural Language Processing technology, which is used to mimic the technical language of designated populations, for example, professional counsellors. The SPCS' system could be modelled after other conversational software technologies, such as the "Woebot" chat developed at Stanford University (Woebot, 2020). Ultimately, the implementation of big data in decision making and day-to-day operations is relevant to achieving universal business objectives, such as cost reduction, labour efficiency and the improvement of organisational value (Neff and Nafus, 2016).
Reflection
Rapid developments in ML and AI (Artificial Intelligence) offer numerous prospects for the future of remote counselling services. Following this line of reasoning, the current state of psychological and counselling services at UCL and other Higher Education institutions may be realistically improved through Machine Learning and digital updates. Through the case of UCL, it can be noted that a well-defined strategy and intentions do not necessarily translate to successful performance, as the existing out-dated systems hold the institution back from establishing a stronger relationship with its students. The evident success of Machine Learning technology across industries shows that much can be achieved with the help of adequate innovations, without the danger of weakening primary organisational capabilities. Conclusively, with appropriate consideration of risks and interdependent project attributes, the types of solutions suggested in this article have the potential to prove highly beneficial for UCL in terms of fulfilling its duty to protect students' psychological stability and well-being.
Moreover, the implementation of said innovations may bring UCL closer to becoming better equipped to handle the dynamic nature of the current and future challenges. UCL should take a proactive approach to resolve the severe implications of the ongoing COVID-19 pandemic and commit to securing students' mental comfort in the long term. If there is one thing the current situation has taught us so far, it's that we have the strength to face unprecedented challenges and persevere in times of doubt and uncertainty. It seems like the best course of action for students at the moment is to admit vulnerability and openly seek support whenever required – and it should be the top priority of Higher Education institutions to lead this fight and ultimately help us help ourselves.
Authors:
Aleksandra Kwiatek is currently completing an undergraduate degree in Joint Management Studies at UCL with an interest in Strategy and Marketing.
Dr Marcos Fuentes teaches Strategic Project Management at the UCL School of Management. His research is focused on the creation of value for organisations. Learn more about his research.
References:
Chowdhury, H., Field, M. and Murphy, M., 2020. NHS Contact Tracing App: How Does It Work And When Can You Download It?. [online] The Telegraph.
Kolbjørnsrud, V., Amico, R. and Thomas, R., 2016. How Artificial Intelligence Will Redefine Management. [online] Harvard Business Review.
Neff, G. and Nafus, D, 2016. Self-tracking. Cambridge, MA: Massachusetts Institute of Technology, p.136.
NHS, 2020. Every Mind Matters: One You. [online] Nhs.uk
UCL, 2019. Re-schedule your appointment. [online] UCL Student Support and Wellbeing.
UCL Human Resources, 2017. UCL Wellbeing Strategy 2017 - 2022. [online] UCL Digital Media.
UCL Student Support and Wellbeing, 2019. UCL Student Health And Wellbeing Strategy 2019-2021: Action Plan. [online] Ucl.ac.uk.
Woebot.io. 2020. About Us: Who We Are. [online]
Yeomans, M., 2015. What Every Manager Should Know About Machine Learning. [online] Harvard Business Review.